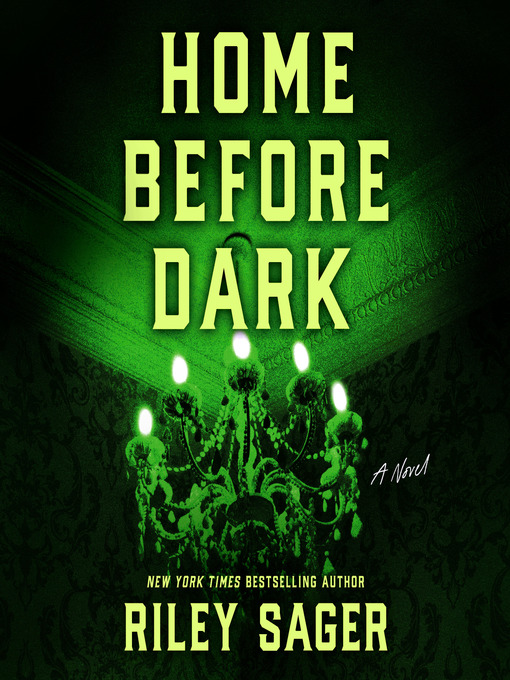 Home before dark a novel
Format:

OverDrive MP3 Audiobook

2020

2020

OverDrive Listen

Availability:

Unavailable

0 of 7 copies
28 people on waitlist
Summary
THE INSTANT NEW YORK TIMES BESTSELLER • One of USA Today's Best Books of 2020 "A haunted house story—with a twist….[Sager] does not hold back"(Rolling Stone) in this chilling thriller from the author of Final Girls and Survive the Night.   Every house has a story to tell and a secret to share. Twenty-five years ago, Maggie Holt and her parents moved into Baneberry Hall, a rambling Victorian estate in the Vermont woods. Three weeks later they fled in the dead of night, an ordeal her father recounted in a memoir called House of Horrors. His story of supernatural happenings and malevolent spirits became a worldwide phenomenon, rivaling The Amityville Horror in popularity—and skepticism. Maggie was too young to remember any of the horrific events that supposedly took place, and as an adult she doesn't believe a word of her father's claims. Ghosts, after all, don't exist. When she inherits Baneberry Hall after his death and returns to renovate the place and sell it, her homecoming is anything but warm. The locals aren't thrilled that their small town has been made infamous, and human characters with starring roles in House of Horrors are waiting in the shadows.   Even more unnerving is Baneberry Hall itself—a place where unsettling whispers of the past lurk around every corner. And as Maggie starts to experience strange occurrences ripped from the pages of her father's book, the truth she uncovers about the house's dark history will challenge everything she believes.

Published Reviews
Booklist Review:
"Maggie Holt's nearly lifelong nemesis is her father's best-seller, House of Horrors, the tell-all story of her family's haunting at Baneberry Hall. When Maggie was six, her family moved into the historical manor, unaware that the home's price was slashed because of a recent murder-suicide. After two weeks of supernatural events, including Maggie's alleged interactions with a malevolent spirit called Mister Shadow, serpents bursting from the walls, and the disappearance of the housekeeper's teenage daughter, the Holts fled, and Ewan Holt launched a writing career based on their haunting. But Maggie doesn't remember any of it, and she's convinced that House of Horrors is a complete lie. Despite her efforts to distance herself from the book, she remains the little girl tormented by Baneberry Hall's ghosts. So, when she unexpectedly inherits Baneberry Hall from her father, Maggie, now a house flipper, resolves to confront her buried past and prepare the house for sale herself. Another breathtaking hit from Sager, who's proven himself a master at crafting new twists on classic horror tales."
From Booklist, Copyright (c) American Library Association. Used with permission.
Publisher's Weekly Review:
"Interior designer Maggie Holt, the heroine of this outstanding supernatural thriller from bestseller Sager (Lock Every Door), is shocked to learn after the death of her father, Ewan, that he has left Baneberry Hall, near Bartleby, Vt., to her. She hadn't realized that Ewan still owned the spooky mansion that Maggie, Ewan, and her mother moved into 25 years earlier. Maggie's parents were able to buy the house cheaply, because of a recent tragedy there--the prior owner smothered his six-year-old daughter with a pillow before killing himself. The Holt family had their own traumatic episodes in Baneberry Hall, including Maggie's visions of a ghostly figure, which led to their fleeing one night. Ewan later wrote a bestselling book about their experiences. Maggie, who still suffers from night terrors, decides to move into Baneberry Hall to get a better understanding of what happened to her and to determine how much of her father's book was true. Sager, who makes the house a palpable, threatening presence, does a superb job of anticipating and undermining readers' expectations. Haunted house fans will be in heaven. Agent: Michelle Brower, Aevitas Creative Management. (July)"
(c) Copyright PWxyz, LLC. All rights reserved
Additional Information