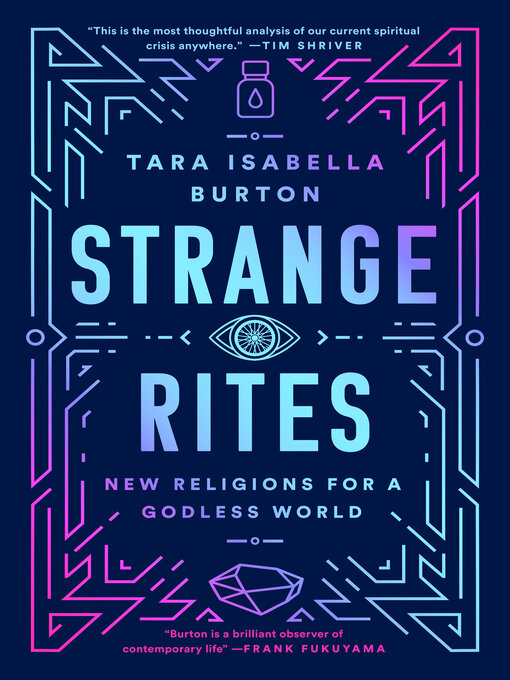 Strange rites new religions for a godless world
Format:

Kindle Book

2020

2020

Adobe EPUB ebook

OverDrive Read

Availability:

Unavailable

0 of 1 copy
3 people on waitlist
Summary
"In Strange Rites, Tara Isabella Burton takes a tour through contemporary American religiosity. As traditional churches continue to sink into obsolescence, people are looking elsewhere for the intensity and unity that religion once provided. We're carrying on a longstanding American tradition of religious eclecticism, DIY-innovation and "unchurched" piety (and highly effective capitalism)"--

Published Reviews
Booklist Review:
"Novelist and theology scholar Burton (Social Creature, 2018) blends research with historical and cultural analysis to suggest that, in a country some believe to be godless, faith is actually surging in forms that privilege personal intuition over institutions. People Burton refers to as "Remixed" blend elements of traditional religious practice with a personal spirituality that emphasizes feelings and experiences. They form contemporary "tribes" to supply the four main pillars of religion: meaning, purpose, community, and ritual. Rather than advocating for a preferred way of being, Burton invites readers to view current religious practice in context. Remix culture is tied to the internet's decentering of power, achieved by rendering geography less significant and developing platforms that level fan voices and authorial voices. To understand Remixed practices, Burton embeds herself into subcultures that might seem ideologically disparate: Harry Potter fandom, wellness culture, witchcraft, polyamory, kink, atavism, techno-utopianism, and social justice warriorism. She reveals that they actually share a common infrastructure. In each, one finds a shared mantra: you (not an institution) know what's best for you. Burton's writing is challenging, educational, and electric, combining big-picture thinking with deep-dive immersion, while offering her own experience in Remixing. Readers will come away with enlightened and altered thinking."
From Booklist, Copyright (c) American Library Association. Used with permission.
Publisher's Weekly Review:
"Religion News Service columnist Burton (Social Creatures) chronicles the increasingly common scene of "intuitional" spirituality, or what she calls "religiously Remixed" culture, in this engaging if limited study. Burton's approach mixes reportage and personal encounters to illuminate what's happening with those looking for "knowing, for belonging, and for meaning" in places readers might at first find unlikely. Whether it be the "religious-but-not-really-but-actually-kind-of-yes" energy of Harry Potter fandom, the "self care" and "wellness culture" embodied in communities surrounding SoulCycle, Gwyneth Paltrow's Goop, or hypermasculine alt-right groups, Burton argues that "new gods are everywhere." A particularly insightful chapter, "The Magic Resistance," explores the melding of "occultism" and "New Age, Neo-Pagan, or Wiccan" spirituality with mass progressive movements, such as the mass "hexing" of then Supreme Court justice nominee Brett Kavanaugh organized by occultists. Burton's smart book, contrary to its subtitle, has a frustratingly narrow focus, centering primarily on analysis of religious hybridity in America. Nonetheless, this is a revelatory survey of the increasingly transfigured American spiritual landscape. (June)"
(c) Copyright PWxyz, LLC. All rights reserved
Additional Information