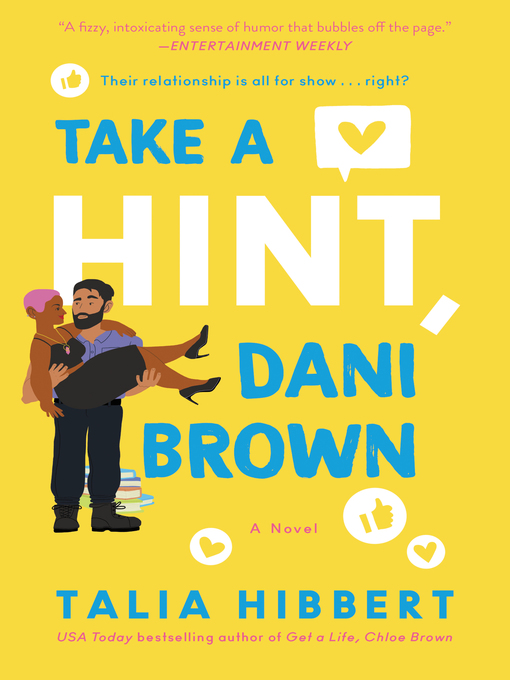 Take a hint, Dani Brown a novel
Format:

Kindle Book

2020

2020

Adobe EPUB ebook

OverDrive Read

Availability:

Unavailable

0 of 11 copies
53 people on waitlist
Summary
One of Oprah Magazine's 21 Romance Novels That Are Set to Be the Best of 2020 USA Today bestselling author Talia Hibbert returns with another charming romantic comedy about a young woman who agrees to fake date her friend after a video of him "rescuing" her from their office building goes viral... Danika Brown knows what she wants: professional success, academic renown, and an occasional roll in the hay to relieve all that career-driven tension. But romance? Been there, done that, burned the T-shirt. Romantic partners, whatever their gender, are a distraction at best and a drain at worst. So Dani asks the universe for the perfect friend-with-benefits?someone who knows the score and knows their way around the bedroom. When big, brooding security guard Zafir Ansari rescues Dani from a workplace fire drill gone wrong, it's an obvious sign: PhD student Dani and former rugby player Zaf are destined to sleep together. But before she can explain that fact to him, a video of the heroic rescue goes viral. Suddenly, half the internet is shipping #DrRugbae?and Zaf is begging Dani to play along. Turns out his sports charity for kids could really use the publicity. Lying to help children? Who on earth would refuse? Dani's plan is simple: fake a relationship in public, seduce Zaf behind the scenes. The trouble is, grumpy Zaf is secretly a hopeless romantic?and he's determined to corrupt Dani's stone-cold realism. Before long, he's tackling her fears into the dirt. But the former sports star has issues of his own, and the walls around his heart are as thick as his... um, thighs. The easy lay Dani dreamed of is now more complex than her thesis. Has her wish backfired? Is her focus being tested? Or is the universe just waiting for her to take a hint? "Talia Hibbert is a rockstar! Her writing is smart, funny, and sexy..." - Meg Cabot, #1 New York Times bestselling author of the Little Bridge Island and Princess Diaries series.

Published Reviews
Booklist Review:
"Hibbert continues her wickedly funny romantic comedy series, The Brown Sisters, by following Get a Life, Chloe Brown (2019) with a magical friends-to-lovers tale that brings together a brainy and bewitching PhD student who is afraid of commitment with a gruff and husky security guard who is a hopeless romantic. Despite their obvious chemistry and the fact that they flirt every day at work, they are fundamentally unsuited. Fate intervenes when Zaf gallantly rushes to rescue Dani when she is trapped in an elevator, resulting in a heart-melting viral video of him carrying her out like a knight holding his ladylove. They decide to capitalize on their sudden internet fame by faking a relationship so that Zaf's children's charity can get some much needed funding, but soon their public displays of pretend-affection transform into private moments of intensely hot passion. Dani and Zaf's ability to finally push past the fear of rejection and cope with depression and anxiety, as well as their devilishly good dialogue, make for engaging and authentic diverse characters. Hibbert is a rising star, and this tale will appeal to all contemporary romance fans, including those who enjoy British romantic comedies."
From Booklist, Copyright (c) American Library Association. Used with permission.
Publisher's Weekly Review:
"Hibbert's phenomenal second Brown Sisters contemporary (after Get a Life, Chloe Brown) strikes a perfect balance of sweetness and spice. Danika Brown, a witchy, bisexual academic, is on the hunt for a friend with benefits who won't try to morph their fling into a relationship. Enter Zafir Ansari, former rugby player turned security guard at Dani's university. When Zaf rescues Dani from a mishap during a fire drill, Dani instantly believes he's perfectly suited to her needs. But behind his burly exterior, Zaf is an anxious hopeless romantic. When a video of him saving Dani goes viral and sets the internet buzzing about their obvious chemistry, Zaf asks Dani to fake a relationship with him in order to generate publicity for his non-profit. Hibbert doesn't use this rom-com staple as an easy shortcut to a happily ever after, instead allowing plenty of time for the development of emotions. The mutual respect that grows between them is a joy to witness, as Dani realizes that committing to someone doesn't have to mean giving up on her own dreams. Their loving, supportive dynamic is simultaneously realistic and aspirational, and Hibbert's characterizations, especially her careful handling of Zaf's anxieties, are masterful. Tender, joyous, and hot as all get-out, this is sure to make readers swoon. Agent: Courtney Miller-Callihan, Handspun Literary. (June)"
(c) Copyright PWxyz, LLC. All rights reserved
Additional Information