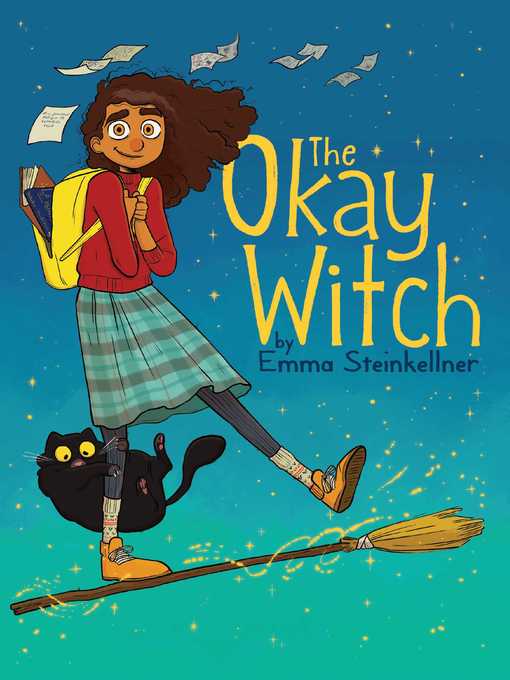 The okay witch
Format:

Kindle Book

2019

2019

OverDrive Read

Availability:

Unavailable

0 of 1 copy
11 people on waitlist
Summary
When thirteen-year-old Moth Hush learns she comes from a long line of witches, she unlocks a hidden witch world, where secrets from generations past unravel and the heart of her town and her family are threatened.

Published Reviews
Booklist Review:
"Three generations of brown-skinned witches work out their family drama over 300 years as Moth, a modern-day 13-year-old, discovers her magical heritage. While the story beats are mostly familiar, debut author Steinkellner wisely doesn't linger on the necessary tropes. Her story moves quickly, wielding a lighter tone that favors humor and pacing over world building to great effect. With the backstory out of the way, the focus turns to the compelling grandmother-mother-daughter dynamic that forms the story's racing heart. Moth's mother in self-imposed exile from her own controlling mother's witch community doesn't want her practicing magic, but when Grandma comes to indoctrinate the young girl, Moth must choose between her mother's rebellion and her grandmother's legacy. The art is perfectly inviting; smooth, colorful panels center on emotive faces, allowing for a breezy read. A school play about the town's history ties Moth's era to her grandmother's dark, colonial past and shows how prejudice can carry across centuries. This only adds richness to what is largely a fun, enchanting tale featuring complex women of color.--Ronny Khuri Copyright 2019 Booklist"
From Booklist, Copyright (c) American Library Association. Used with permission.
Publisher's Weekly Review:
"The creator of the Quince comic makes her graphic novel debut in this time-traveling yarn about gangly 13-year-old Moth, who attends school as a witch on Halloween. "You have to dress for the job you want," she tells her mother, Calendula. Her wish inadvertently comes true after she renders two bullies temporarily speechless with her thoughts. At home, Calendula reveals that witchery is "genetic.... Mommy looks a lot younger than she actually is." Calendula was 16 during a 1692 witch hunt in their hometown of Founders Bluff, Mass. Back then, local leader Judge Kramer wanted "a town of sober, obedient, lily-white Pilgrims." Her remarks put readers on alert: Calendula, like Moth, has brown skin, and as the ghosts and witches of the past reawaken, the story questions the whitewashing of American history. Meanwhile, a subplot about Moth's animal familiar--a talking black cat who specializes in borscht belt repartee--provides levity in perilous moments. In Steinkeller's fluid drawing style, the characters' body language and motions are occasionally indistinct. But contrary to the uninspired title, Moth's magic proves better than "okay," and readers will hope for a sequel for the intriguing characters. Ages 8--12. (Sept.)"
(c) Copyright PWxyz, LLC. All rights reserved
Additional Information