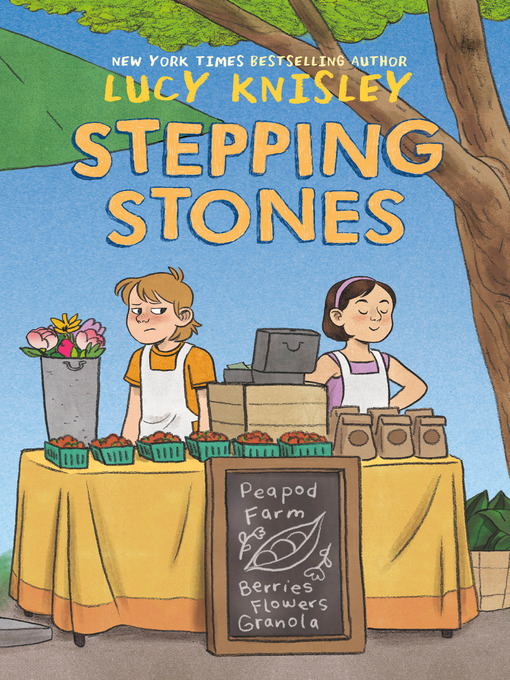 Stepping stones
Format:

Kindle Book

2020

2020

OverDrive Read

Availability:

Unavailable

0 of 1 copy
12 people on waitlist
Summary
"Jen moves out to the country and has to put up with her mom and her mom's new boyfriend, as well as his kids. Suddenly part of a larger family in a new place, Jen isn't sure there is a place for her in this different world"--

Published Reviews
Booklist Review:
"It's bad enough that Jen is forced to move to a farm in the country with her mom's new boyfriend, Walter, but when he brings his daughter Andy into the mix, Jen's feelings of isolation deepen. Walter is bossy and condescending, and Andy is "Miss Perfect." As the makeshift family establishes their farm and a booth at the weekend market, Jen's struggles with math and clashes with Andy stoke familial tensions. Knisley's first foray into children's comics--a fictionalized version of her own experience--beautifully captures the loneliness of childhood. Dropped into a new life with relative strangers, Jen's only refuge is her notebook, the doodles of which serve as full-page chapter breaks and occasionally intrude on panels. Knisley's storytelling style is a natural fit for middle-grade readers, with her clean, inviting art tracking Jen's emotional journey through subtle shifts in expression and posture. While Walter's antagonism will make readers red in the face, Jen's growth and relationships ultimately provide a heartwarming arc to this quietly charming tale."
From Booklist, Copyright (c) American Library Association. Used with permission.
Publisher's Weekly Review:
"Knisley's autobiographical comics chops are on full display in her first graphic novel for kids, a fictionalized telling of her childhood experiences. When Jen moves to the country with her mother after her parents' divorce, she is less than thrilled to trade urban comic book shops and Chinese takeout for chicken coop--related chores and her mother's disagreeable new boyfriend, Walter. Resentment deepens as Jen helps her mom at the farmers market--left alone to handle sales though math isn't her strong suit--and Walter's two daughters, Andy and Reese, begin arriving each weekend to share her room. Missing her old life and feeling unfavorably compared to know-it-all Andy, Jen tries to adjust, finding expression and self-worth in her art as she comes to love her "part-time sisters" and navigates Walter's seeming inability to treat her as equal to them. With specificity that lends itself to universality, Knisley balances humor and deeply felt emotion to capture the particular unfairness of being a child at the mercy of parental decisions. Art centers around the gentle realism of Knisley's established style, augmented with pencil drawings in the young protagonist's developing hand. Age 8--12. (May)"
(c) Copyright PWxyz, LLC. All rights reserved
Additional Information