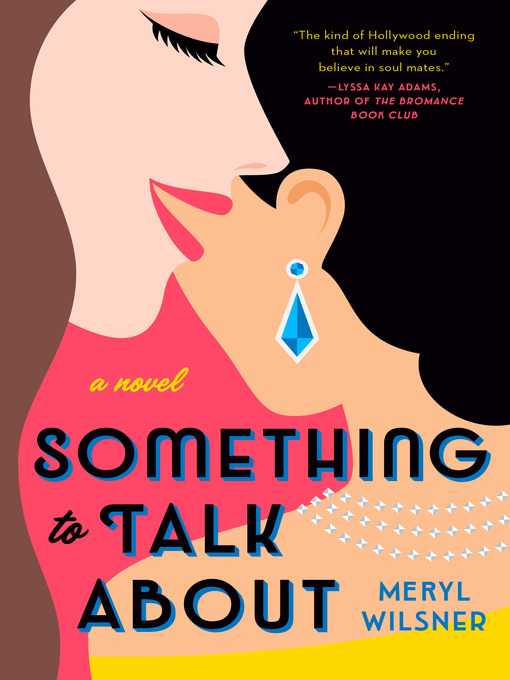 Something to talk about
Format:

Kindle Book

2020

2020

Adobe EPUB ebook

OverDrive Read

Availability:

Unavailable

0 of 5 copies
20 people on waitlist
Summary
"A showrunner and her assistant give the world something to talk about when they accidentally fuel a ridiculous rumor in this debut romance. Hollywood powerhouse Jo is photographed making her assistant Emma laugh on the red carpet, and just like that, the tabloids declare them a couple. The so-called scandal couldn't come at a worse time-threatening Emma's promotion and Jo's new movie. As the gossip spreads, it starts to affect all areas of their lives. Paparazzi are following them outside the office, coworkers are treating them differently, and a "source" is feeding information to the media. But their only comment is "no comment." With the launch of Jo's film project fast approaching, the two women begin to spend even more time together, getting along famously. Emma seems to have a sixth sense for knowing what Jo needs. And Jo, known for being aloof and outwardly cold, opens up to Emma in a way neither of them expects. They begin to realize the rumor might not be so off base after all...but is acting on the spark between them worth fanning the gossip flames?"--

Published Reviews
Booklist Review:
"Debuting romance author Wilsner delivers a fresh Hollywood romance. Jo Jones, an actress since 13 turned showrunner, has never commented publicly on her love life and isn't about to start now. The tabloids say she's dating her assistant, Emma Kaplan, after they were photographed looking cozy together on the red carpet, but it isn't true. Better to stick to "no comment," and let it blow over. Big changes are ahead. Jo is writing the newest movie in a major franchise, and Emma is aiming for a promotion. But rumors continue to circulate, putting their careers at risk. While they insist that the talk is all lies, perhaps there is some mutual attraction. This slow-burn romance has vibrant characters sure to spring off the page and into the reader's heart. Wilsner crafts the heroines' identities with a deft hand. Jo is a Chinese American lesbian, and Emma is Jewish and bisexual. Their desires and dilemmas are authentic and relatable. The writing is crisp, the banter is sharp, and the sexual tension is palpable. Fleshed out with important female friendships and a timely look at sexual harassment in the film industry, Wilsner's tale maintains a primary focus on the delightful, developing romance. Completely captivating and so satisfying."
From Booklist, Copyright (c) American Library Association. Used with permission.
Publisher's Weekly Review:
"Wilsner's sparkling debut offers a glimpse at the truth behind the tabloid headlines. When child star turned showrunner Jo Jones takes her assistant Emma Kaplan to the SAG awards to be her buffer from the press, the paparazzi capture them sharing a genuine smile, and speculation about the nature of their relationship flies. While Emma wants to dispel the rumors that she's sleeping with her boss, Jo has a policy of never publicly commenting on her love life and argues that it would only fan the flames if she were to break her silence now. They grow closer during the months of "no comment" that follow, leading both Emma and Jo to realize that maybe the tabloids got something right this time. Their romance burns tantalizingly slowly as they navigate their professional relationship and budding feelings; Wilsner makes sure the reader knows both women intimately before allowing them to be intimate with one another, making the eventual payoff that much more rewarding. The supporting cast--among whom Emma's sister, Avery, especially shines--adds depth and dimension to this charming rom-com. This is a gem. Agent: Devin Ross, New Leaf Literary. (June)"
(c) Copyright PWxyz, LLC. All rights reserved
Additional Information