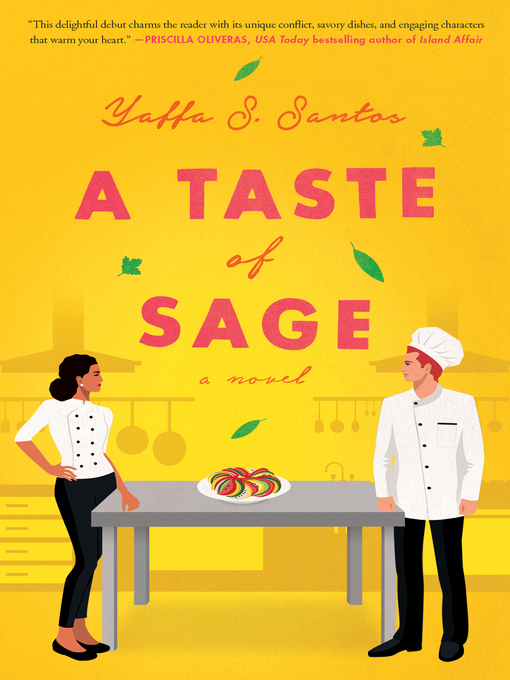 A taste of sage a novel
Format:

Kindle Book

2020

2020

Adobe EPUB ebook

OverDrive Read

Availability:

Unavailable

0 of 3 copies
10 people on waitlist
Summary
"Lumi Santana is a chef with a gift: she can perceive a person's emotions by tasting their cooking. Despite being raised by a mother who taught her that dreams and true love were silly fairy tales, she puts her heart and savings into opening her own fusion restaurant in Upper Manhattan. The restaurant offers a mix of the Dominican cuisine she grew up with and other world cuisines she is inspired by. When her eclectic venture fails, she is forced to take a position as sous chef at a staid, traditional French restaurant owned by Julien Dax, a celebrated chef known for his acid tongue as well as his brilliant smile. After he goes out of his way to bake a tart to prove her wrong in a dispute, she is so irritated by his smug attitude that she vows to herself never to taste his cooking. But after she succumbs to the temptation and takes a bite one day and is overcome with shocking emotion, she finds herself beginning to crave his cooking and struggling to stay on task with her plan to save up and move on as soon as possible. Meanwhile, Julien's obsessed secretary watches with gnashed teeth as they grow closer and becomes determined to get Lumi out of her way permanently."--Publisher description

Published Reviews
Booklist Review:
"New York City chef Lumi Santana is devastated when her cozy, cute Dominican restaurant is forced to shutter. Soon after, she takes a job as the sous chef at DAX, a French restaurant run by brooding bachelor Julien. Lumi is determined to keep her head down and focus on her craft. She never expects to fall for her boss, but their chemistry is undeniable, especially because of Lumi's unique case of synesthesia. Lumi can sense a person's emotions by tasting the food that they cook. One bite of Julien's cuisine tells Lumi everything she needs to know: Julien feels the heat too. Unfortunately things aren't so straightforward for this workplace romance. Their steamy connection is threatened at every turn by dismayed diners and Julien's jealous personal assistant. Lumi must use her mystical gift to guide them both toward happily ever after. Included throughout the story are the actual Dominican-French fusion recipes that Lumi and Julien create. This sweet and spicy tale will bring out the romantic epicurean in all who pull it off the shelves."
From Booklist, Copyright (c) American Library Association. Used with permission.
Publisher's Weekly Review:
"Santo cooks up a disappointingly bland debut romance between chefs. After the failure of Lumi Santana's experimental Dominican restaurant in Manhattan, Lumi reluctantly takes a position as sous chef in Julien Dax's traditional French restaurant. At first, Lumi and Julien butt heads, as Lumi attempts her own spin on traditional dishes, but Julien is attracted by Lumi's beauty, and Lumi--who possesses the ability to discern a chef's emotions when she eats their food--is intrigued by the depth of flavor and feeling in Julien's cooking, and the two begin a romance. After Julien's secretary, Esme, secretly assists in cooking a dessert, Lumi claims she can taste the bitter flavors of Esme's jealousy of Lumi. Still, the women's conflict fails to adequately complicate the plot, which plods along toward its happy ending with few surprises for the protagonists and little to no character development for Santos's supporting cast of largely indistinguishable colleagues and friends. Santos's creativity and humor, however, shine through occasionally in the recipes that accompany many chapters (for Lumi's Rice Chex Smoothie, preparation instructions simply read, "Don't"; others, such as a bouillabaisse with rouille, sound appetizing). Unfortunately, her recipe for romance is not equally inspired. Agent: Nick Owen, Pontas Literary & Film Agency. (May)"
(c) Copyright PWxyz, LLC. All rights reserved
Additional Information