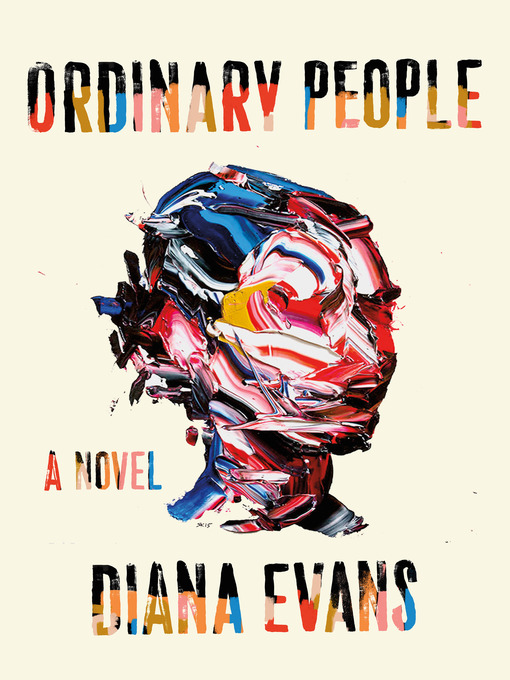 Ordinary people a novel
Format:

Kindle Book

2018

2018

Adobe EPUB ebook

OverDrive Read

Availability:

Available from OverDrive

2 of 2 copies
Summary
Evoking the sharp insight of Little Fires Everywhere and the sweep of NW, an incisive portrait of the bliss and torment of domestic love. Hailed as "one of the most thrilling writers at work today" (Huffington Post), Diana Evans reaches new heights with her searing depiction of two couples struggling through a year of marital crisis. In a crooked house in South London, Melissa feels increasingly that she's defined solely by motherhood, while Michael mourns the former thrill of their romance. In the suburbs, Stephanie's aspirations for bliss on the commuter belt, coupled with her white middle-class upbringing, compound Damian's itch for a bigger life catalyzed by the death of his activist father. Longtime friends from the years when passion seemed permanent, the couples have stayed in touch, gathering for births and anniversaries, bonding over discussions of politics, race, and art. But as bonds fray, the lines once clearly marked by wedding bands aren't so simply defined. Ordinary People is a moving examination of identity and parenthood, sex and grief, and the fragile architecture of love.

Published Reviews
Booklist Review:
"*Starred Review* Two couples navigating the mostly quiet varieties of domestic terror are at the heart of Evans' (26A, 2005) deep and addictive third novel. Though Damian doesn't feel he belongs there, he lives with his wife and their three children in the London suburb of Dorking. Their friends Michael and Melissa have the trappings of marriage two kids and an old house in South London without the rings and paperwork. Historical and pop-culture details enrich the story: the novel opens at a party celebrating the first election of Barack Obama, a John Legend album lends the book its title and gives it a sort of heartbeat soundtrack, and Evans brings to literary life the burned-down Crystal Palace that Michael and Melissa live in the shadows of. Although Michael would marry Melissa without hesitation, he's also the first to force the couple's private turmoil to the surface. Damian, meanwhile, isn't sure that he grieves his father's recent death, and he secretly pines for Melissa. Evans zooms out to build her characters' culturally rich backstories as they struggle to recognize their older selves and the relationships that have aged along with them. A probing, entertaining, and self-affirming novel of men and women getting relatably lost in the crises and hauntings of early midlife.--Annie Bostrom Copyright 2018 Booklist"
From Booklist, Copyright (c) American Library Association. Used with permission.
Publisher's Weekly Review:
"Evans's striking novel (following 26A) investigates the relationships of two sets of friends as they navigate pivotal moments during 2008. Melissa and Michael remain engaged after 13 years; Melissa misses her former job as a magazine's fashion editor, which she left to care for her seven-year-old, Ria, and infant, Blake, while Michael longs for the passionate relationship they used to have. Continually feeling rebuffed at home, Michael searches for attention from others and notices a younger woman in his office. Hesitant to be unfaithful, Michael plans an outing to connect with Melissa, but the evening falls short of expectations and Melissa withdraws further. Meanwhile, in the second narrative, Michael's friend Damian is frustrated with Stephanie, his wife of nearly 16 years, because she refuses to live in London like their friends, opting instead to raise their children in the suburbs, thereby squelching his dream of city life and ambition of being a writer. Along with coping with the recent loss of his activist father, Damian believes his wife and her family don't share his values, and instead measure their success by the size of their home and the private lessons they provide their children. With penetrating emotional and psychological observations, Evans creates a realistic portrayal of the couples as they struggle to redefine commitment. Readers looking for careful studies of relationship dynamics will find much to contemplate. (Sept.) © Copyright PWxyz, LLC. All rights reserved."
(c) Copyright PWxyz, LLC. All rights reserved
Additional Information