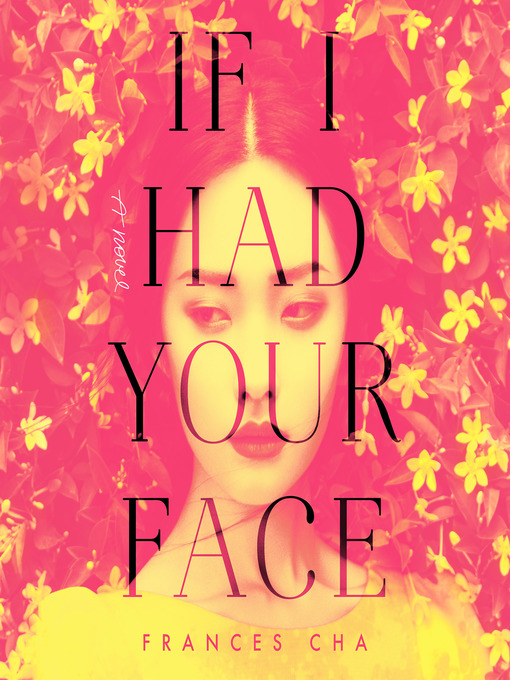 If I had your face A novel.
Format:

OverDrive MP3 Audiobook

2020

2020

OverDrive Listen

Availability:

Unavailable

0 of 4 copies
6 people on waitlist
Summary
A riveting debut novel set in contemporary Seoul, Korea, about four young women making their way in a world defined by impossible standards of beauty, secret room salons catering to wealthy men, ruthless social hierarchies, and K-pop mania "Absolutely stunning . . . If I Had Your Face marks the entrance of a bright new voice in fiction." Taylor Jenkins Reid, New York Times bestselling author of Daisy Jones & The Six Kyuri is an achingly beautiful woman with a hard-won job at a Seoul "room salon," an exclusive underground bar where she entertains businessmen while they drink. Though she prides herself on her cold, clear-eyed approach to life, an impulsive mistake with a client threatens her livelihood. Her roommate, Miho, is a talented artist who grew up in an orphanage but won a scholarship to study art in New York. Returning to Korea after college, she finds herself in a precarious relationship with the heir to one of the country's biggest conglomerates. Down the hall in their building lives Ara, a hair stylist whose two preoccupations sustain her: an obsession with a boy-band pop star, and a best friend who is saving up for the extreme plastic surgery that she hopes will change her life. And Wonna, one floor below, is a newlywed trying to have a baby that she and her husband have no idea how they can afford to raise in a brutal economic reality. Together, their stories tell a gripping tale at once unfamiliar and unmistakably universal their tentative friendships perhaps these women's only saving grace.

Published Reviews
Booklist Review:
"As former travel and culture editor for CNN in Seoul, U.S.-Hong Kong-South Korea-raised and Brooklyn-domiciled Cha writes exactingly of what she knows in her first novel. With unblinking focus, she confronts some of the darkest consequences of contemporary gender inequity by targeting the erasure of female individuality by oppressive beauty standards and expectations. Behind Korea's internationally coveted imports--especially K-dramas and K-pop--is an obsession with plastic surgery, complicated by one of the world's lowest birth rates and one of the highest suicide rates. Into that unforgiving society, Cha's magnificent tale introduces the women of Color House, an ironically all-gray Seoul apartment building. Four of its inhabitants take turns revealing their intertwined lives: hair stylist Ara, who lives with beauty-obsessed Sujin; their glamorous neighbor, Kyuri, who works in a "room salon," where men spend substantially to drink with the city's most beautiful women, and where Sujin hopes for an introduction post-metamorphosis; Kyuri's roommate, Miho, whose art earned her an NYC education and relationship with an über-wealthy heir; and pregnant Wonna, who married the first and perhaps only kind man she's ever known and who hopes she doesn't lose another baby. Despite a society designed to stifle, these women manage to nurture mutual bonds for strength and survival."
From Booklist, Copyright (c) American Library Association. Used with permission.
Publisher's Weekly Review:
"Cha shines a light on the lives of four young women living in the same Seoul, South Korea, apartment building in her winning debut. In alternating chapters, each woman narrates her difficulties and offers insight on the others. Ara, a hair stylist who lost the ability to speak after a violent attack, is obsessed with a pop star. Kyuri, who undergoes plastic surgery to make her face resemble a member of a popular girl band, holds a coveted job in a "room salon" pouring drinks for men, and has become dangerously enamored of one of her wealthy clients. Miho, Kyuri's roommate, an up-and-coming artist, strives to balance devotion to her work with a relationship to her unfaithful, ultra-rich boyfriend. Wonna, who was physically abused by the grandmother who raised her, is desperate to keep her pregnancy despite her husband's uncertain finances. Cha navigates the obstacles of her characters' lives with ease and heartbreaking realism, showing the lengths these women are willing to go to pursue their dreams in a country where they are told they "do not live for tomorrow." This is an insightful, powerful story from a promising new voice. (Apr.)"
(c) Copyright PWxyz, LLC. All rights reserved
Additional Information
Subjects
Neighbors Fiction
Female friendship Fiction
Literature
Fiction
Audiobooks.

Publisher

[Place of publication not identified] :Penguin Random House Audio Publishing Group2020




2020



Edition
Unabridged.
Contributors
OverDrive, Inc.

Participants/Performers

Frances Cha.



Language

English



System Details

Mode of access: World Wide Web.




Format: OverDrive Listen




Format: OverDrive MP3 Audiobook




Requires OverDrive app 3.0 (Windows) / 1.0 (Mac) / 1.0 (Windows Mobile)



Description

1 audio file : digital



ISBN
9780593167380
9780593167380

Other
Classic View