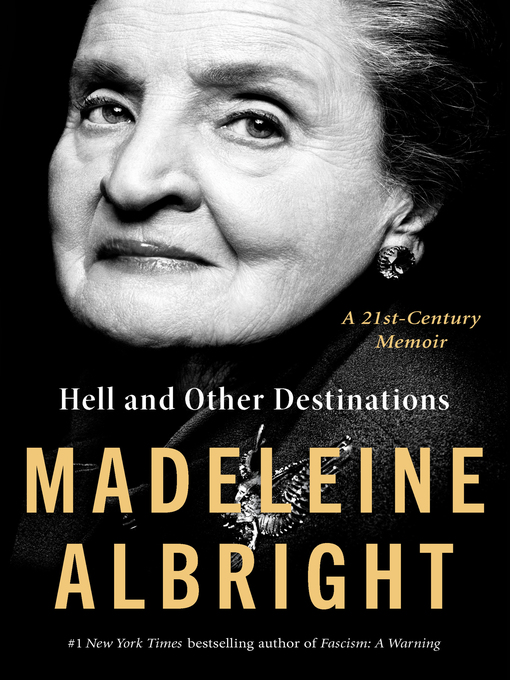 Hell and other destinations A 21st century memoir
Format:

Kindle Book

2020

2020

Adobe EPUB ebook

OverDrive Read

Availability:

Unavailable

0 of 5 copies
23 people on waitlist
Summary
Six-time New York Times bestselling author and former Secretary of State Madeleine Albright—one of the world's most admired and tireless public servants—reflects on the final stages of one's career, and working productively into your later decades in this revealing, funny, and inspiring memoir. In 2001, when Madeleine Albright was leaving office as America's first female secretary of state, interviewers asked her how she wished to be remembered. "I don't want to be remembered," she answered. "I am still here and have much more I intend to do. As difficult as it might seem, I want every stage of my life to be more exciting than the last." In that time of transition, the former Secretary considered the possibilities: she could write, teach, travel, give speeches, start a business, fight for democracy, help to empower women, campaign for favored political candidates, spend more time with her grandchildren. Instead of choosing one or two, she decided to do it all. For nearly twenty years, Albright has been in constant motion, navigating half a dozen professions, clashing with presidents and prime ministers, learning every day. Since leaving the State Department, she has blazed her own trail—and given voice to millions who yearn for respect, regardless of gender, background, or age. Hell and Other Destinations reveals this remarkable figure at her bluntest, funniest, most intimate, and most serious. It is the tale of our times anchored in lessons for all time, narrated by an extraordinary woman with a matchless zest for life.

Published Reviews
Booklist Review:
"After leaving an illustrious career in government service, most notably as the first female secretary of state, at age 64, Albright could not have been faulted for wanting to rest on her laurels. But that's not Albright. Seemingly genetically predisposed to be constantly in motion, she tackled her post-government life with the same verve and determination she brought to her globe-crossing career as the nation's top diplomat. From forming her own consulting firm with other diplomatic corps alumni to serving on corporate boards to joining with fellow ex-ambassadors to address issues of global health, wealth, and security to writing such significant works as Fascism (2018), Albright not only said yes to new opportunities, she created bold new initiatives to address old challenges, domestic and global. Her engrossing memoir of 20 years of life outside the political arena is rich with insider anecdotes, while her self-deprecating humor and droll levity are the perfect counterpoints to riveting episodes of more sobering significance. Albright is a national treasure, and her continued engagement in public service is inspiring and indispensable."
From Booklist, Copyright (c) American Library Association. Used with permission.
Publisher's Weekly Review:
"Former secretary of state Albright (Fascism: A Warning) weaves geopolitics with her own life story in this intelligent and personable memoir. Opening with her departure from the U.S. state department in 2001, Albright writes that she was determined to say "hell, yes" to all opportunities to help promote democracy and empower women. Though she criticizes fellow secretaries of state Colin Powell and Condoleezza Rice for their failure to adopt a "logical strategy" to confront terrorism after 9/11, Albright also points out her own mistakes, including an insensitive answer to a 60 Minutes question about UN sanctions on Iraq. In several chapters, she highlights personal connections with women, including family members and old friends. She also describes her relationship with Hillary Clinton and the disappointments of the 2008 Democratic primary and the 2016 election, and promotes building educational opportunities for girls. Other chapters deal with lighter issues, including a Gilmore Girls cameo. Albright ends by lauding the power of the Constitution to protect American democracy and expressing confidence that, at age 82, she's ready for new projects. She proves to be a capacious storyteller, willing to share personal disappointments, such as the dissolution of her marriage, as well as professional accomplishments. This appealing memoir will charm readers interested in contemporary politics and women's issues. (Apr.)"
(c) Copyright PWxyz, LLC. All rights reserved
Additional Information