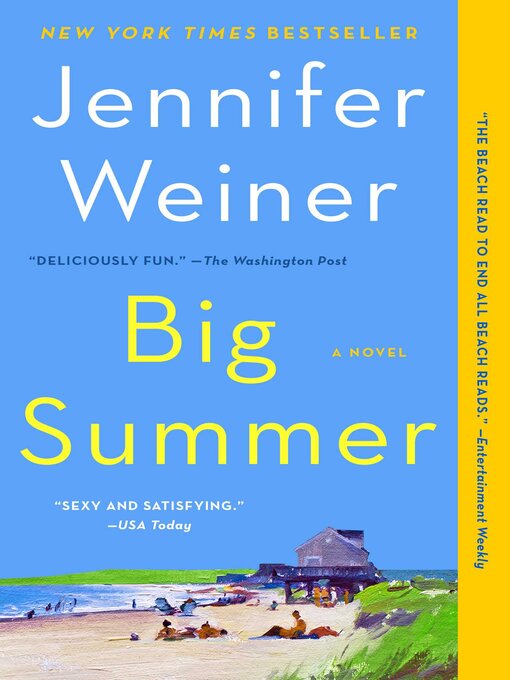 Big summer A novel.
Format:

Kindle Book

2020

2020

Adobe EPUB ebook

OverDrive Read

Availability:

Unavailable

0 of 103 copies
556 people on waitlist
Summary
The #1 New York Times bestselling author of the "nothing short of brilliant" ( People ) Mrs. Everything returns with an unforgettable novel about friendship and forgiveness set during a disastrous wedding on picturesque Cape Cod. Six years after the fight that ended their friendship, Daphne Berg is shocked when Drue Cavanaugh walks back into her life, looking as lovely and successful as ever, with a massive favor to ask. Daphne hasn't spoken one word to Drue in all this time she doesn't even hate-follow her ex-best friend on social media so when Drue asks if she will be her maid-of-honor at the society wedding of the summer, Daphne is rightfully speechless. Drue was always the one who had everything except the ability to hold onto friends. Meanwhile, Daphne's no longer the same self-effacing sidekick she was back in high school. She's built a life that she loves, including a growing career as a plus-size Instagram influencer. Letting glamorous, seductive Drue back into her life is risky, but it comes with an invitation to spend a weekend in a waterfront Cape Cod mansion. When Drue begs and pleads and dangles the prospect of cute single guys, Daphne finds herself powerless as ever to resist her friend's siren song. A sparkling novel about the complexities of female friendship, the pitfalls of living out loud and online, and the resilience of the human heart, Big Summer is a witty, moving story about family, friendship, and figuring out what matters most.

Published Reviews
Booklist Review:
"Daphne Berg is a plus-size influencer working with an up-and-coming fashion designer, which gives her plenty of fabulous, flattering clothes to wear to the social wedding of the summer. Though she and Drue Cavanaugh lost touch, they were inseperable in high school--at least when it was convenient for Drue--so Daphne is shocked when Drue reappears in her life, asking her to be her maid of honor. As the festivities on Cape Cod ramp up, Daphne recalls their complicated friendship. Already feeling like an outsider for her size and her status as a scholarship student, Daphne was so flattered by Drue's attention that even when Drue weaponized her vulnerability, she couldn't quite shake the connection. At the wedding, she meets a handsome stranger who rocks her world (several times!), but in the morning, everything changes. The plot is bonkers, but Weiner's (Mrs. Everything, 2019) fans will still find her signatures here: the believably complicated relationship between Daphne and Drue, Daphne's caring and slightly daffy parents, and Daphne's body image struggles. There's an exploration of the insidiousness of influencer culture, but, mostly, Big Summer is a big, fun summer read. HIGH-DEMAND BACKSTORY: Weiner made her mark chronicling the relationships of young women, and her return to that arena will garner lots of attention."
From Booklist, Copyright (c) American Library Association. Used with permission.
Publisher's Weekly Review:
"Weiner's story of female friendships (after Mrs. Everything) mixes a splash of romance, a dash of humor, and a pinch of mystery to create a deliciously bloody poolside cocktail. Daphne Berg, a young woman struggling with her weight and self-esteem, has become "#fiercefatgirl," a powerful plus-size media influencer with thousands of followers. Her world is turned upside down when an old high school frenemy comes looking for a favor. Drue Cavanaugh, a high-society darling, was everything Daphne wasn't in high school: rich, gorgeous, and a mean girl to rival all mean girls. Back then, Daphne did anything she could to simply exist on the fringes of Drue's world. Now, Drue is planning her splashy Cape Cod wedding to a reality TV star, and she wants Daphne to be her maid of honor amid her family's infighting and doubts about the groom. Trouble has been brewing under the surface, and Daphne finds herself at Drue's beck and call--at a grotesquely ill-fated celebration that reveals the dark side of Dru's seemingly perfect life. Weiner's surprising tale is hard to put down. (May)"
(c) Copyright PWxyz, LLC. All rights reserved
Additional Information