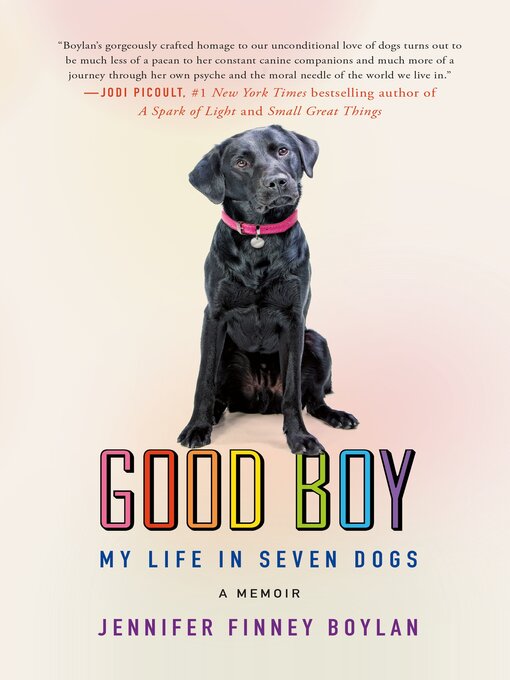 Good boy my life in seven dogs
Format:

Kindle Book

2020

2020

Adobe EPUB ebook

OverDrive Read

Availability:

Available from OverDrive

1 of 2 copies
2 people on waitlist
Summary
"From bestselling author of She's Not There, New York Times opinion columnist, and human rights activist Jennifer Finney Boylan, Good Boy: My Life in Seven Dogs, a memoir of the transformative power of loving dogs. This is a book about dogs: the love we have for them, and the way that love helps us understand the people we have been. It's in the love of dogs, and my love for them, that I can best now take the measure of the child I once was, and the bottomless, unfathomable desires that once haunted me. There are times when it is hard for me to fully remember that love, which was once so fragile, and so fierce. Sometimes it seems to fade before me, like breath on a mirror. But I remember the dogs. In her New York Times opinion column, Jennifer Finney Boylan wrote about her relationship with her beloved dog Indigo, and her wise, funny, heartbreaking piece went viral. In Good Boy, Boylan explores what should be the simplest topic in the world, but never is: finding and giving love. Good Boy is a universal account of a remarkable story: showing how a young boy became a middle-aged woman-accompanied at seven crucial moments of growth and transformation by seven memorable dogs. 'Everything I know about love,' she writes, 'I learned from dogs.' Their love enables us pull off what seem like impossible feats: to find our way home when we are lost, to live our lives with humor and courage, and above all, to best become our true selves"--

Contents
Introduction: Too dark to read
Indigo (2017)
Playboy (1969)
Sausage (1973)
Matt the Mutt (1978)
Brown (1984)
Alex (1993)
Lucy (1999)
Ranger (2018).
Published Reviews
Publisher's Weekly Review:
""Everything I know about love I learned from dogs," writes New York Times columnist Boylan in this eloquent memoir. Expanding on her 2003 account of life as a transgender woman, She's Not There, Boylan examines her transition through seven dogs who were there for her at pivotal points. The "magic of dogs," Boylan writes, is not that they love their owners unconditionally, but that their owners have an unconditional love for them, an ideal that can be harder to realize with fellow human beings. Each of the animals profiled here--including Penny, the aloof dalmatian and childhood pet Boylan outgrew; Matt, the obnoxious mutt whom a vet suggested they feminize via hormone injections; and Lucy, the "medium-sized yellow dog with a purple tongue" who never quite got over leaving her first home, a hog farm--allows Boylan to explore different areas of relationships with others, and with oneself. She touches on, among other subjects, self-doubt, confusion about her sexuality, emotional distance, and infidelity. Boylan also shares encouragement and guidance for those facing their own emotional struggles, noting that while hers weren't easy to overcome, self-acceptance awaited her at her journey's end. Filled with insight and remarkable candor, this is a sterling tribute to the love of dogs. Agent: Kris Dahl, ICM. (Apr.)"
(c) Copyright PWxyz, LLC. All rights reserved
Additional Information