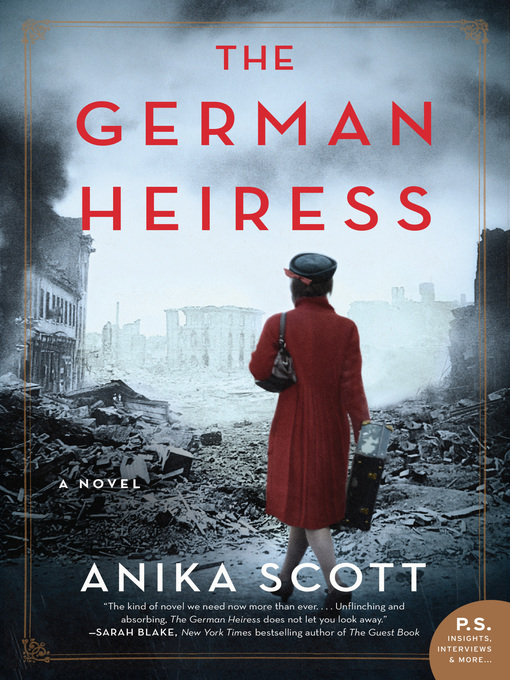 The German heiress a novel
Format:

Kindle Book

2020

2020

Adobe EPUB ebook

OverDrive Read

Availability:

Unavailable

0 of 6 copies
41 people on waitlist
Summary
"For readers of The Alice Network and The Lost Girls of Paris, an immersive, heart-pounding debut about a German heiress on the run from British authorities, who discovers dark secrets about her family's past in post-World War II Germany"--

Published Reviews
Booklist Review:
"Germany, 1946. Clara Falkenberg: aka the Iron Fräulein, a daughter of privilege, an industrialist, a nationalist symbol, and, in the eyes of some, a war criminal--although she insists that she did her best, that her actions were justified by circumstance and in the name of protecting her family's legacy. On the run and living under a false identity, Clara desperately searches for her missing childhood friend amid the postwar chaos, gaining along the way an unusual ally in Jakob Relling, former soldier and now black marketeer who has his own wartime regrets. But as Clara uncovers family secrets, she questions her own role in the sins of her country and doubts if the Falkenberg legacy is one worth preserving. This debut title has its flaws--the characters, other than Jakob and Clara, are rather flat, and a too-pat ending may divide readers--but there is something to be said for the unique perspective it offers, especially compared to many WWII thrillers. The novel delivers interesting discussions on guilt, redemption, and the actions of ordinary people in extraordinary times."
From Booklist, Copyright (c) American Library Association. Used with permission.
Publisher's Weekly Review:
"Scott's magnetic debut follows one woman's quest for survival amid the devastation of post-WWII Germany. Clara Falkenberg, the former heiress to the Falkenberg Iron Works in Essen, Germany, has been living under an assumed name in the 18 months since the war ended. Having fled Essen during the war out of fear of reprisal from the Nazis for sneaking extra rations to foreign workers transported by the Nazis from the Soviet Union and Poland to work for them, Clara now sets out in search of an old friend back in Essen. On her way, she is detained and interrogated by British Capt. Thomas Fenshaw about the workers who starved to death. Clara escapes and soon meets black marketeer Jakob Relling, who agrees to help Clara find Elisa. As Jakob uses his connections to gather information, Fenshaw, knowing Jakob is in contact with Clara, offers him extra rations in exchange for information about her whereabouts, and Jakob is forced to decide between betraying a well-connected woman he might benefit from, and providing for his family in the moment. Scott's narrative is embellished with realistic depictions of rubble-filled German cities, scavenging residents, and moral questions about Clara's family ties to the Nazi regime. Fans of WWII fiction will be intrigued by Scott's exploration of how war changes the moral compass of its victims. (Apr.)"
(c) Copyright PWxyz, LLC. All rights reserved
Additional Information