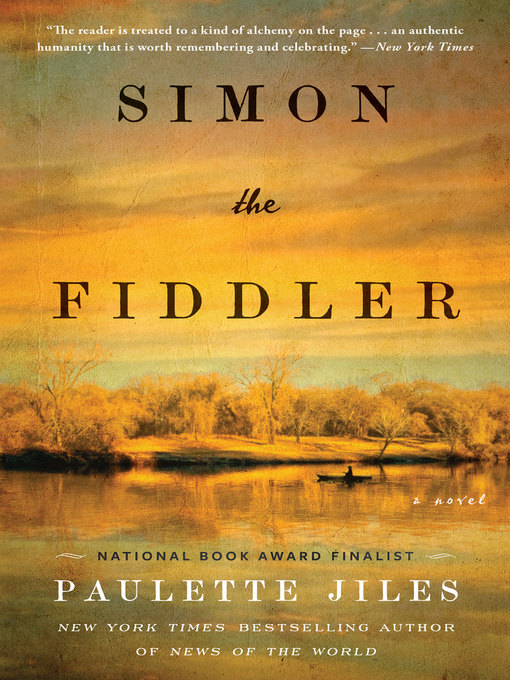 Simon the fiddler a novel
Format:

Kindle Book

2020

2020

Adobe EPUB ebook

OverDrive Read

Availability:

Unavailable

0 of 6 copies
38 people on waitlist
Summary
In March 1865, the long and bitter War between the States is winding down. Till now, twenty-three-year-old Simon Boudlin has evaded military duty thanks to his slight stature, youthful appearance, and utter lack of compunction about bending the truth. But following a barroom brawl in Victoria, Texas, Simon finds himself conscripted, however belatedly, into the Confederate Army. Luckily his talent with a fiddle gets him a comparatively easy position in a regimental band. Weeks later, on the eve of the Confederate surrender, Simon and his bandmates are called to play for officers and their families from both sides of the conflict. There the quick-thinking, audacious fiddler can't help but notice the lovely Doris Mary Aherne, an indentured girl from Ireland, who is governess to a Union colonel's daughter. After the surrender, Simon and Doris go their separate ways. He will travel around Texas seeking fame and fortune as a musician. She must accompany the colonel's family to finish her three years of service. But Simon cannot forget the fair Irish maiden, and vows that someday he will find her again. Incandescent in its beauty, told in Paulette Jiles's trademark spare yet lilting style, Simon the Fiddler is a captivating, bittersweet tale of the chances a devoted man will take, and the lengths he will go to fulfill his heart's yearning. -- provided by publisher.

Published Reviews
Booklist Review:
"After leaving a Confederate regimental band, Simon Boudlin finds himself in Texas with the twin goals of buying land and courting Doris Dillon, a young Irish governess. After catching Doris's eye at one of the band's last outings, Simon lands in Galveston while Doris continues her service to a colonel's family. The Civil War wasn't particularly kind to Simon, but starting a new band with other displaced musicians hasn't been easy, either. After scraping together enough paying gigs to keep themselves clothed and fed, the band begins to land a few higher-paying jobs. When an appealing piece of property catches Simon's attention, he begins a mission to capture Doris' heart, settle down, and continue his musical career. Imbued with the dust, grit, and grime of Galveston at the close of the Civil War, Simon the Fiddler immerses readers in the challenges of Reconstruction. Jiles (News of the World, 2016) brings her singular voice to the young couple's travails, her written word as lyrical and musical as Simon's bow raking over his strings. Loyal Jiles readers and fans of Anthony Doerr's All the Light We Cannot See (2014), and Elizabeth Strout's Olive Kitteridge (2008) will adore the author's latest masterpiece.--Stephanie Turza Copyright 2020 Booklist"
From Booklist, Copyright (c) American Library Association. Used with permission.
Publisher's Weekly Review:
"Jiles's gritty and richly atmospheric seventh novel returns to the post--Civil War Texas she explored in News of the World. In the last year of the war, 23-year-old Simon Boudlin, an orphan musician from Kentucky who has avoided a stint in the Confederate Army, is rounded up by a couple of conscription men. After the war concludes, his body and fiddle still relatively intact, Simon and some friends are commissioned to play for a formal dinner for Confederate and Union officers at Fort Brown, Tex. There he is dazzled by Doris Dillon, the Irish governess for Colonel Webb of the Union Army, and determines that he will somehow buy some land and make her his bride. Simon and Doris trade letters over the next couple of years as he and his friends become "creatures of gaslight and shadows," traveling around coastal Texas for stray saloon gigs, and Doris works off her indentured servitude for the Webbs in San Antonio and fends off unwelcome advances from the colonel. When Simon finally makes his way to Doris, trouble ensues. Jiles immerses the reader in the sensory details of the era, with special emphasis on the demands and rewards of a ragtag Texas fiddle band. Jiles's limber tale satisfies with welcome splashes of comedy and romance. (Apr.)"
(c) Copyright PWxyz, LLC. All rights reserved
Additional Information