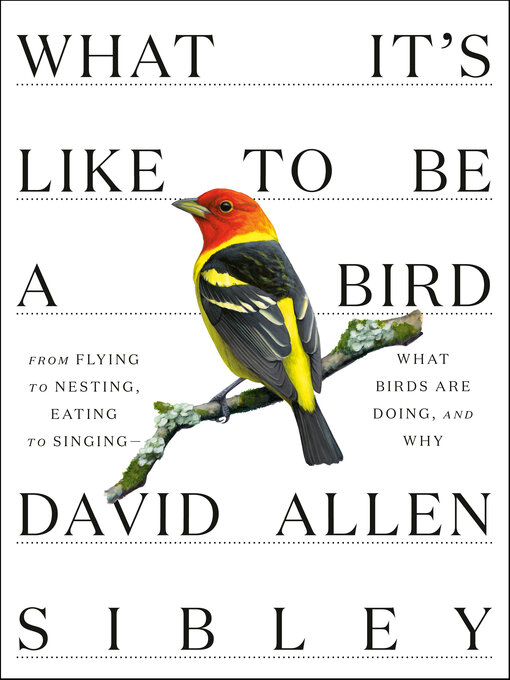 What it's like to be a bird from flying to nesting, eating to singing -- what birds are doing, and why
Format:

Kindle Book

2020

2020

Adobe EPUB ebook

OverDrive Read

Availability:

Unavailable

0 of 5 copies
25 people on waitlist
Summary
The bird book for birders and nonbirders alike that will excite and inspire by providing a new and deeper understanding of what common, mostly backyard, birds are doing--and why "Can birds smell?" "Is this the same cardinal that was at my feeder last year?" "Do robins 'hear' worms?" In What It's Like to Be a Bird, David Sibley answers the most frequently asked questions about the birds we see most often. This special, large-format volume is geared as much to nonbirders as it is to the out-and-out obsessed, covering more than two hundred species and including more than 330 new illustrations by the author. While its focus is on familiar backyard birds--blue jays, nuthatches, chickadees--it also examines certain species that can be fairly easily observed, such as the seashore-dwelling Atlantic puffin. David Sibley's exacting artwork and wide-ranging expertise bring observed behaviors vividly to life. (For most species, the primary illustration is reproduced life-sized.) And while the text is aimed at adults--including fascinating new scientific research on the myriad ways birds have adapted to environmental changes--it is nontechnical, making it the perfect occasion for parents and grandparents to share their love of birds with young children, who will delight in the big, full-color illustrations of birds in action. Unlike any other book he has written, What It's Like to Be a Bird is poised to bring a whole new audience to David Sibley's world of birds

Published Reviews
Booklist Review:
"Most people would consider birdbrained an insult; Sibley's new book may change their minds. There are a lot of bird books that describe bird behavior as observed by humans (including the Sibley Guides to Birds). The wonderfully unique thing about this book is that it examines clever avian behavior from the bird's point of view. Focusing on frequent backyard visitors (nuthatches, blue jays, and chickadees) and other easily observable species (owls, roadrunners, ducks) this selective compendium provides full-color, life-sized illustrations accompanied by engagingly curious field notes on flight, foraging, nesting, walking, swimming, navigation, hearing, smell, taste, touch, vision, and vocalization. Jays, for example, will hide their food, but if they think another jay saw where it was hidden, they will return later and hide it in a safer spot. A robin's nest building requires "thoughtful" decisions about location, construction materials, and insulation. Crows not only have the ability to recognize humans by face and to associate people with good or bad experiences but also to communicate this intelligence to other crows. This title is enthusiastically recommended for both armchair birdwatchers and serious birders and is an excellent choice for public libraries, even those with shelves already brimming with bird guides."
From Booklist, Copyright (c) American Library Association. Used with permission.
Publisher's Weekly Review:
"Ornithologist and illustrator Sibley (The Sibley Guide to Birds) offers a fascinating work that fulfills its goal to "give readers some sense of what it's like to be a bird." Through textual and colorfully visual portraits of numerous birds, ranging from the familiar American robin to more obscure species, Sibley explores various aspects of bird biology and behavior, such as hearing, nesting, and mating. He describes how birds rehearse their songs before sharing them with other birds, and then adjust their styles depending upon the audience, with rivals and potential mates hearing dramatically different songs. There are eye-opening facts on almost every page, such as crows' ability to recognize individual humans and convey among themselves whether those people are friends or foes. Despite decades of studying these animals, Sibley was still surprised, while working on this book, to learn of the complexity of their lives, leading him to conclude that birds' instincts arise, in part, from humanlike feelings, such as pride and anxiety--a position that he frankly concedes will be rejected by many as anthropomorphic. Nonetheless, even skeptics will emerge with a deeper appreciation of birds, and of what observable behaviors can reveal about animals' lives. (Apr.)"
(c) Copyright PWxyz, LLC. All rights reserved
Additional Information
Subjects
Birds Popular works
Nature
Art
Nonfiction
Electronic books.

Publisher

[Place of publication not identified] :Knopf Doubleday Publishing Group2020




2020



Contributors
OverDrive, Inc.

Language

English



System Details

Mode of access: World Wide Web.




Format: Adobe EPUB eBook




Format: Kindle Book




Format: OverDrive Read




Requires Adobe Digital Editions or Amazon Kindle



Description

1 online resource



ISBN
9780525520290
9780525520290

Other
Classic View