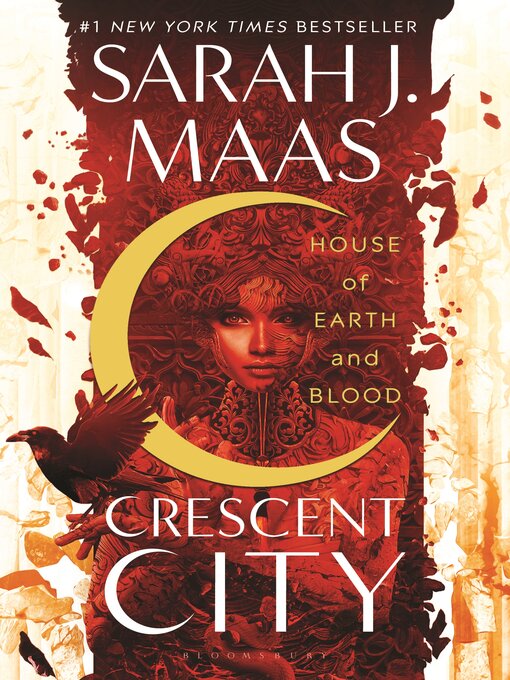 House of earth and blood a Crescent City novel
Format:

Kindle Book

2020

2020

Adobe EPUB ebook

OverDrive Read

Availability:

Unavailable

0 of 13 copies
99 people on waitlist
Summary
"Half-Fae, half-human Bryce Quinlan loves her life. By day, she works for an antiquities dealer, selling barely legal magical artifacts, and by night, she parties with her friends, savoring every pleasure Lunathion-otherwise known as Crescent City-has to offer. But it all comes crumbling down when a ruthless murder shakes the very foundations of the city-and Bryce's world. Two years later, her job has become a dead end, and she now seeks only blissful oblivion in the city's most notorious nightclubs. But when the murderer attacks again, Bryce finds herself dragged into the investigation and paired with an infamous Fallen angel whose own brutal past haunts his every step. Hunt Athalar, personal assassin for the Archangels, wants nothing to do with Bryce Quinlan, despite being ordered to protect her. She stands for everything he once rebelled against and seems more interested in partying than solving the murder, no matter how close to home it might hit. But Hunt soon realizes there's far more to Bryce than meets the eye-and that he's going to have to find a way to work with her if they want to solve this case. As Bryce and Hunt race to untangle the mystery, they have no way of knowing the threads they tug ripple through the underbelly of the city, across warring continents, and down to the darkest levels of Hel, where things that have been sleeping for millennia are beginning to stir.."--

Published Reviews
Booklist Review:
"Acclaimed YA author Maas (A Court of Thorn and Roses, 2015) steps into urban fantasy territory in her adult debut. Bryce Quinlan is your average post-grad, if you can call being half human and half fae average. Still figuring out life, Bryce spends her days working at Griffin Antiquities and her nights partying in Crescent City with her best friend and roommate, Danika. The world is theirs . . . until the night Danika is murdered. Bryce spends the next two years in a deep fog until it is revealed that the wrong person was charged with the crime. Bryce must then work with Hunt Athalar, feared demon hunter and fallen angel, if she has any chance of finding Danika's real killer. As the case progresses, so does a burning desire between them. But a more sinister plot threatens to destroy them, and the city. The first in the Crescent City series has all of the fantastic elements, colorful characters, steamy romance, and action-packed plot Maas' readers look for. The mystery element presents a stunning twist, and the emotional depth of Bryce's relationships with both Hunt and Danika is incredibly moving. Fans will eagerly await the next installment. HIGH DEMAND BACKSTORY: Maas is the latest bestselling YA author to pivot to the adult market, and her devoted fans of all ages will be eagerly anticipating this one.--LynnDee Wathen Copyright 2020 Booklist"
From Booklist, Copyright (c) American Library Association. Used with permission.
Publisher's Weekly Review:
"YA author Maas (the Throne of Glass series) makes her adult debut with this electrifying series launch set on a planet plagued by conflict between oppressed humans and upper-class supernaturals. When a demon slaughters wolf-shifter Danika Fendir and her packmates, Danika's best friend, the half-human, half-Fae Bryce Quinlan, turns from carefree party girl to traumatized loner. Bryce's only comfort is knowing that Archangel Micah Domitus and the 33rd Imperial Legion have incarcerated the man who orchestrated the attack: a human with a vendetta against the wolves. But two years later a vampire with connections to Bryce dies the same way Danika did, suggesting the pack's true murderer remains at large. Desperate to discover the truth, Micah conscripts Bryce to dig into Danika's final days, and tasks Hunt Athalar, an indentured Malakim assassin doing penance for his part in a failed rebellion, with protecting her. Despite some murky worldbuilding that occasionally undercuts the intricate plot, Maas delivers a richly imagined tale spiced with snarky humor and smoldering romance between Bryce and Hunt. The villains tend to twirl their mustaches, but Bryce is a realistically flawed heroine with moxie and heart to spare. Maas's adult readers and fans of Charlaine Harris will devour this ambitious, emotionally charged contemporary fantasy. Agent: Tamar Rydzinski, Context Literary. (Mar.)"
(c) Copyright PWxyz, LLC. All rights reserved
Additional Information