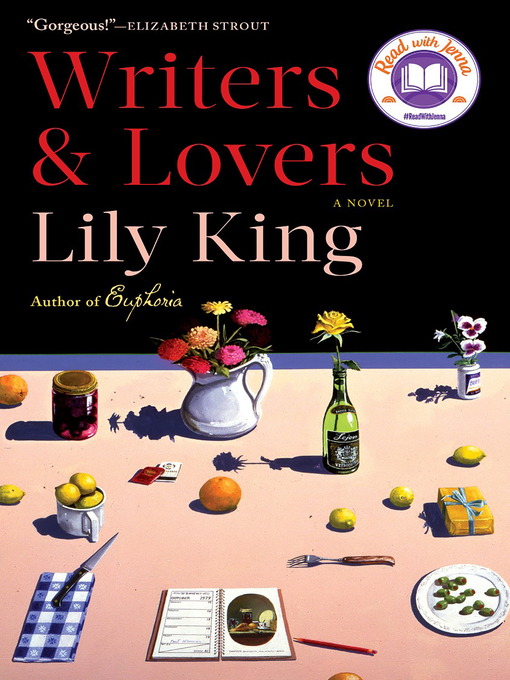 Writers & lovers a novel
Format:

Kindle Book

2020

2020

Adobe EPUB ebook

OverDrive Read

Availability:

Unavailable

0 of 23 copies
136 people on waitlist
Summary
"Blindsided by her mother's sudden death, and wrecked by a recent love affair, Casey Peabody has arrived in Massachusetts in the summer of 1997 without a plan. Her mail consists of wedding invitations and final notices from debt collectors. A former child golf prodigy, she now waits tables in Harvard Square and rents a tiny, moldy room at the side of a garage where she works on the novel she's been writing for six years. At thirty-one, Casey is still clutching onto something nearly all her old friends have let go of: the determination to live a creative life. When she falls for two very different men at the same time, her world fractures even more. Casey's fight to fulfill her creative ambitions and balance the conflicting demands of art and life is challenged in ways that push her to the brink."--Provided by publisher.

Published Reviews
Booklist Review:
"Grieving her mother's recent death, newly heartbroken, and shouldering crushing student debt, Casey lives in her brother's annoying friend's moldy Boston coach house, working on her novel in the mornings and waitressing at a swanky Cambridge restaurant at seemingly all other hours. A book-release party introduces two points of the love triangle Casey becomes entangled in: novelist Oscar, and one of his workshop students, Silas. Widowed, Oscar approaches Casey with a mix of awe and apprehension, and Casey falls easily into his life with his two young sons. Silas, meanwhile, intrigues with his humor, chipped tooth, and leather jacket, but hits the road just when he shouldn't. The romance will draw readers in, but Casey's journey as a writer, alone, is the book's strongest magnet. Despite being reminded of the foolhardy notion that women writers could have anything to say at all, she finishes a draft and isn't prepared for what this unleashes. With deep and sensationally wrought feeling Casey feels her anxiety as swarming bees, and as if she ""swallowed"" her dead mother King (Euphoria, 2014) leaves no barrier between readers and smart, genuine, cynical, and funny Casey. A closely observed tale of finding oneself, and one's voice, while working through grief.--Annie Bostrom Copyright 2020 Booklist"
From Booklist, Copyright (c) American Library Association. Used with permission.
Publisher's Weekly Review:
"King's, elegant, droll follow-up to Euphoria traces an aspiring novelist's effort to find herself after turning 30 and losing her mother. After a series of lovers and moves, Casey Peabody ends up alone in Boston, Mass., with nothing to hold onto. Her commitment to writing each morning keeps her at a dead-end waitressing job that barely covers her grungy rented room and the minimum payments for the massive debt she incurred for her undergraduate and graduate degrees. Her devastating grief for her mother, whose unexplained death occurred while vacationing abroad, can only be assuaged, she feels, by finishing the novel she's been working on for six years ("I don't write because I think I have something to say. I write because if I don't, everything feels even worse"). She begins dating the successful writer Oscar Kolton, as well as one of his students, and finds new inspiration in the romances ("Usually a man in my life slows my work down, but it turns out two men give me fresh energy"). Facing the impending loss of her apartment, she fears that living with one of her lovers would expose her "blighted" dysfunction. While King's resolutions of Casey's financial, emotional, and creative challenges don't feel uniformly convincing, the nimble, astute narration appeals. This meditation on the passing of youth is touching and ruefully funny. Agent: Julie Barer, the Book Group. (Mar.)"
(c) Copyright PWxyz, LLC. All rights reserved
Additional Information