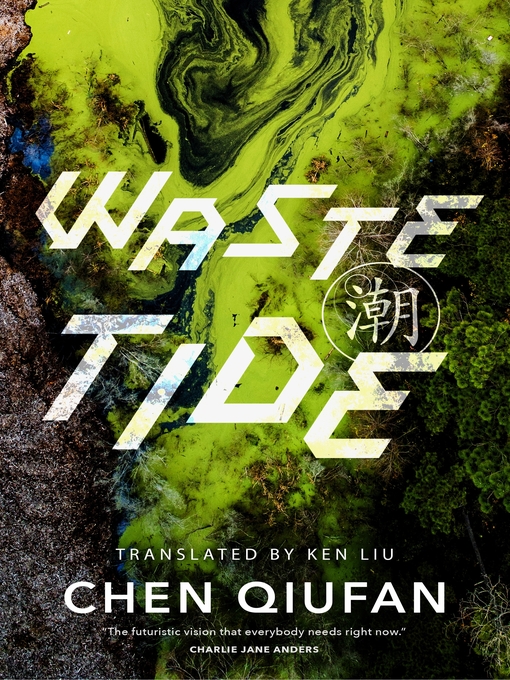 Waste tide
Format:

Kindle Book

2019

2019

Adobe EPUB ebook

OverDrive Read

Availability:

Unavailable

0 of 1 copy
Summary
"Mimi is a 'waste girl', a member of the lowest caste on Silicon Isle. Located off China's southeastern coast, Silicon Isle is the global capital for electronic waste recycling, where thousands like Mimi toil day and night, hoping one day they too will enjoy the wealth they've created for their employers, the three clans who have ruled the isle for generations. Luo Jincheng is the head of one of these clans, a role passed down from his father and grandfather before him. As the government enforces tighter restrictions, Luo in turn tightens the reins on the waste workers in his employ. Ruthlessness is his means of survival. Scott Brandle has come to Silicon Isle representing TerraGreen Recycling, an American corporation that stands to earn ungodly sums if they can reach a deal to modernize the island's recycling process. Chen Kaizong, a Chinese American, travels to Silicon Isle as Scott's interpreter. There, Kaizong is hoping to find his heritage, but finds more questions instead. The home he longs for may not exist. As these forces collide, a dark futuristic virus is unleashed on the island, and war erupts between the rich and the poor; between Chinese tradition and American ambition; between humanity's past and its future"--

Published Reviews
Booklist Review:
"Best-selling Chinese sf author Chen has created a dizzying near-future world of technological advancement and ecological calamity. Electronic prostheses are so prevalent and addictive that they are constantly traded out and tossed away on a whim. This creates a tremendous amount of trash that often contains toxic biological waste, and recycling garbage is big business for three immensely wealthy Chinese families who operate a major reprocessing center off the coast. These clans control everything on their island, a cesspool that has become so polluted it is almost beyond redemption. Poorly paid workers sort the trash and dare not defy the clan's brutal enforcers. When an American negotiator arrives with a tempting proposal, the greedy clan heads are at odds over how to deal with a proposition that would get rid of the pollution and provide improved conditions for their workers. The callous treatment of a young ""waste girl"" involved with the foreigner's translator sparks a violent conflict between haves and have-nots. Cultural details and rampant consumerism combine in an action-packed recipe for disaster.--Lucy Lockley Copyright 2019 Booklist"
From Booklist, Copyright (c) American Library Association. Used with permission.
Publisher's Weekly Review:
"Anglophone readers will cherish the opportunity to experience Chen's sweeping, complex, and deeply emotional near-future dystopian vision via this thoughtful rendition by Hugo-winning translator and author Liu that maintains the story's essential Chinese character. Guangdong Province's environmentally devastated Silicon Isle, ruled by three powerful clans, is the destination for the electronic garbage created by a world addicted to body enhancements. The rubbish is processed in hellish conditions by the migrant workers considered by the rich natives to be subhuman "waste people." Chen Kaizong, a Silicon Isle-born but America-trained translator, reconnects to his heritage and clan family while accompanying Scott Brandle, a visiting representative of TerraGreen Recycling, which wants to automate the process. Meanwhile, waste girl Mimi, on the run from the henchmen of the Luo clan after having been connected to the mysterious illness of the clan leader's grandson, becomes the central figure in a rising rebellion. Liu's careful handling of multiple Sinitic languages, as well as naming conventions that connect to class, education, and geographical origin, maintains the flavor of the setting and preserves the integrity of Chen's focus on interacting subcultures and the social opportunities available to those capable of linguistic code switching. Chen's story is extremely relevant to the current moment of throwaway culture, increasing income disparity, and technological advances progressing at such a rate that morality and ethics have trouble keeping up. Readers who crave gorgeous imagery and a thrilling narrative that also explicitly wrestles with big questions will be overjoyed. Agent: Eddie Schneider, JABberwocky Literary. (Apr.) © Copyright PWxyz, LLC. All rights reserved."
(c) Copyright PWxyz, LLC. All rights reserved
Additional Information