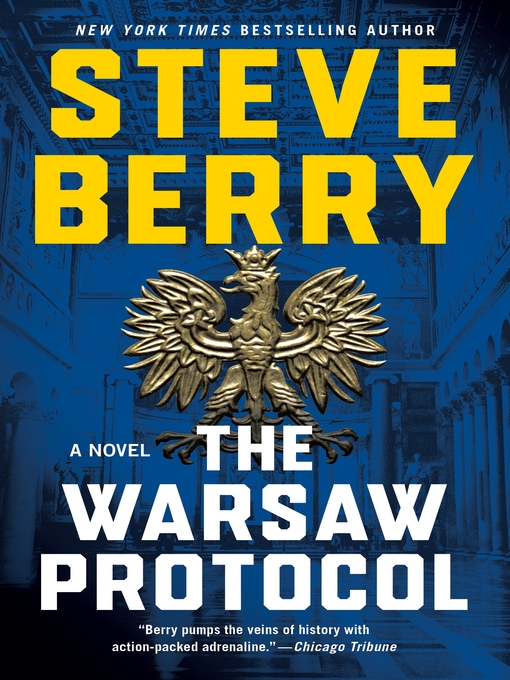 The warsaw protocol Cotton Malone Series, Book 15.
Format:

Kindle Book

2020

2020

Adobe EPUB ebook

OverDrive Read

Availability:

Unavailable

0 of 11 copies
35 people on waitlist
Summary
In New York Times bestseller Steve Berry's latest Cotton Malone adventure, one by one the seven precious relics of the Arma Christi , the weapons of Christ, are disappearing from sanctuaries across the world. After former Justice Department agent, Cotton Malone, witnesses the theft of one of them, he learns from his old boss, Stephanie Nelle, that a private auction is about to be held where incriminating information on the president of Poland will be offered to the highest bidder—blackmail that both the United States and Russia want, but for vastly different reasons. The price of admission to that auction is one of the relics, so Malone is first sent to a castle in Poland to steal the Holy Lance, a thousand-year-old spear sacred to not only Christians but to the Polish people, and then on to the auction itself. But nothing goes as planned and Malone is thrust into a bloody battle between three nations over information that, if exposed, could change the balance of power in Europe. From the tranquil canals of Bruges, to the elegant rooms of Wawel Castle, to deep beneath the earth into an ancient Polish salt mine, Malone is caught in the middle of a deadly war—the outcome of which turns on a secret known as the Warsaw Protocol.

Published Reviews
Booklist Review:
"Priceless religious relics, called the weapons of Christ, are vanishing from their highly protected sanctuaries stolen, it seems, by a shadowy organization with a dangerous agenda. Cotton Malone, the former U.S. Justice Department operative, is called out of retirement (again) to figure out what's going on, and this time he's faced not only with a powerful adversary, but also with a political scandal involving the president of Poland and information sought by both Russia and the U.S. As usual, Berry balances a historical mystery with present-day intrigue, unfolds the story at a speedy pace, and moves gracefully from one action scene to the next. The Malone series is highly formulaic, yes, and each book follows a familiar format. But if the writing doesn't get in the way of an intriguing story, and the characters are engaging enough to hold our interest, does it matter if the author isn't taking any risks? In this case, especially for Berry's adoring fans, it most definitely does not.HIGH-DEMAND BACKSTORY: Over the years and a string of best-sellers, Berry has called Dan Brown and raised him, taking the lead in the big-money game of the religious-relic thriller.--David Pitt Copyright 2019 Booklist"
From Booklist, Copyright (c) American Library Association. Used with permission.
Publisher's Weekly Review:
"With his 15th Cotton Malone novel (after 2019's The Malta Exchange), bestseller Berry once again shows there's no working author more skilled at combining thrilling adventure with engrossing historical detail. Ex-operative Malone is in Bruges, Belgium, for an antiquarian book fair when he stumbles onto the theft of a religious artifact, one of a string of international burglaries of the Arma Christi, seven holy relics of the Passion of Christ. Stephanie Nelle, head of the Magellan Billet, Cotton's former Justice Department agency employer, and Tom Bunch, a feckless adviser to corrupt U.S. president Warner Fox, task Cotton with stealing one of the remaining relics as the entrance fee to an exclusive illicit auction of Soviet-era material intended to blackmail Poland's president. Cotton, a reluctant but stalwart hero, is thrust into a deadly bidding war that could disrupt the fragile power balance between America and Russia. Berry seasons the plot with fascinating lore and vivid locations, as informative as any textbook. If only textbooks were this exciting. Agent: Simon Lipskar, Writers House. (Feb.)"
(c) Copyright PWxyz, LLC. All rights reserved
Additional Information