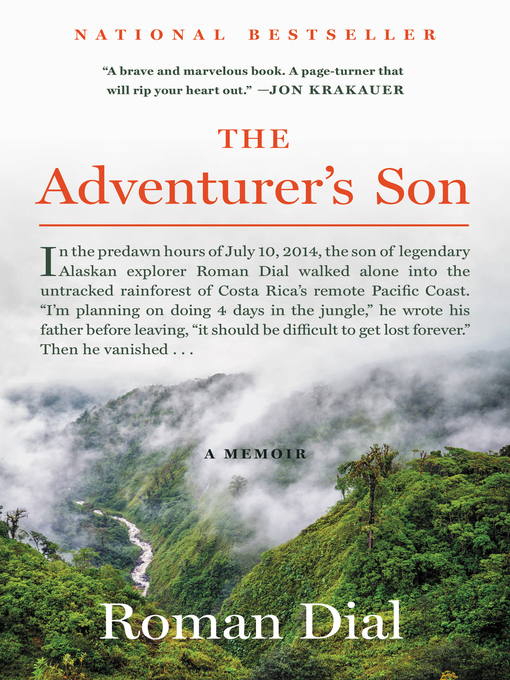 The adventurer's son a memoir
Format:

Kindle Book

2020

2020

Adobe EPUB ebook

OverDrive Read

Availability:

Unavailable

0 of 4 copies
17 people on waitlist
Summary
In the predawn hours of July 10, 2014, the son of Alaskan scientist and National Geographic Explorer Roman Dial walked alone into Corcovado National Park, an untracked rainforest along Costa Rica's remote Pacific Coast. He carried a light backpack and machete. Cody emailed his father that he would do 4 days in the jungle and a day to walk out. He was never seen again. The authorities suspected murder. Dial was forced to confront the question: Was he responsible for his son's fate? -- adapted from jacket

Published Reviews
Booklist Review:
"His son's solo trek into the Costa Rican jungle was only supposed to last a handful of days. But when 27-year-old Cody Roman Dial's father realizes it has been 10 days since he was supposed to return, and there has been no word from him, he travels to Costa Rica to search for his son himself. It would be two years before he would learn what happened to his son, and in this powerful memoir of a father's love of adventure and of his child, Dial reflects on whether he should have shielded Cody Roman from the wild journeys they took together. For a boy whose first name was inspired by an Alaskan mountain pass, Cody Roman grew up sharing his father's love for the outdoors. But the puzzle pieces that greet Dial in Costa Rica paint a much different picture, of a young man involved with a notorious drug dealer. Through the twists and turns of his search, Dial must follow his own compass to stay true to the son he knew. A complex and moving memoir.--Bridget Thoreson Copyright 2020 Booklist"
From Booklist, Copyright (c) American Library Association. Used with permission.
Publisher's Weekly Review:
"A father's outdoor adventures lead his son into danger in this gripping memoir. Dial, a biology professor at Alaska Pacific University, recounts the disappearance of his 27-year-old son, Cody Roman Dial, during a solo jungle trek in Costa Rica's Corcovado National Park. Flying down to lead the search, the author found a primeval forest full of perils--deadly snakes, falling trees, prowling drug smugglers--and bewildering mysteries: government bureaucrats blocked his searches; purported sightings of Cody accompanied by a local criminal surfaced; and Dial got enmeshed with a reality-TV show spinning a murder theory about the disappearance. Backgrounding the narrative are Dial's recollections of his own dangerous adventures--in one heart-stopping mountain-climbing incident, he leaped into a precipice to counterbalance a roped partner's plunge off the opposite side of a ridge--and of taking Cody, from the age of six, on risky wilderness excursions and white-water rafting trips. Dial conveys both his guilt at setting his son on that fateful path and the allure of that path--"y grief painted the jungle black, but the heart of the Osa's wilderness still left me awed.... I couldn't shut out forever the joy in seeing a kingfisher's blue flash or a spider monkey's graceful swing." Dial paints a riveting, richly conflicted portrait of family legacies and the call of the wild. (Feb.)"
(c) Copyright PWxyz, LLC. All rights reserved
Additional Information