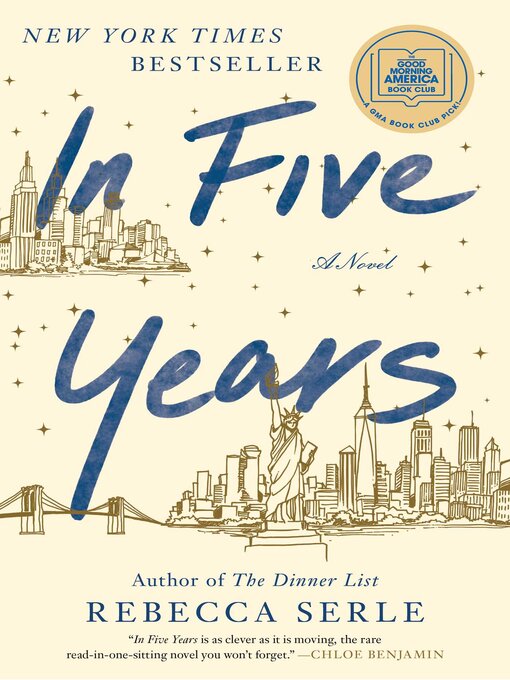 In five years a novel
Format:

Adobe EPUB ebook

2020

2020

OverDrive Read

Availability:

Available from OverDrive

10 of 80 copies
10 people on waitlist
Summary
"A striking, powerful, and moving love story following an ambitious lawyer who experiences an astonishing vision that could change her life forever"--

Published Reviews
Booklist Review:
"Dannie has her entire life planned out always has. So when she's asked about where she sees herself in five years during a big interview at a New York law firm, she knows exactly what to say: she'll be a senior associate at the firm, and she'll be married to her boyfriend (who does, indeed, propose that very night). And, then, after returning from her engagement dinner, Dannie has an experience that flips her carefully laid plan on its head: she spends an hour in her life five years in the future. And in that life, she's in a different apartment and with a different man. Rocked by her experience, Dannie spends the next four and a half years trying her best to stick to the plan, until the moment when the man she saw in her future appears in her life, courtesy of her best friend. Serle takes a fairly generic rom-com setup and turns it into something much deeper in this captivating exploration of friendship, loss, and love.--Bridget Thoreson Copyright 2020 Booklist"
From Booklist, Copyright (c) American Library Association. Used with permission.
Publisher's Weekly Review:
"Serle's bewitching story of love and friendship (after The Dinner List) centers on a young woman who plans her life down to the minute until fate gets in the way. At 28, Dannie Kohan lives happily with her boyfriend, David, in a Manhattan apartment and is poised to land her dream job as a lawyer at a top firm. Dannie expects to get married by the time she's 30; right on track, David proposes, giving Dannie a ring picked out by her best friend Bella. After accepting the proposal, Dannie slips into a deep sleep and dreams of an alternate future, where everything is off-kilter. In her dream, it's the year 2025 and she lives with a man named Aaron Gregory. Upon waking, Dannie begins to second-guess her regimented course, and as the years pass, she puts off the marriage. On a rainy day in June 2025, she meets up with Bella, now a successful art dealer, and is stunned to find her accompanied by Aaron, the man from her dream. She senses a mutual recognition, and, after Bella receives devastating news, Dannie and Aaron grow closer. While the plot hinges on well-worn tropes, the deadpan prose highlights the author's keen sense of irony. Serle's whimsical tale is book club catnip. (Mar.)This review has been updated to remove a spoiler."
(c) Copyright PWxyz, LLC. All rights reserved
Additional Information