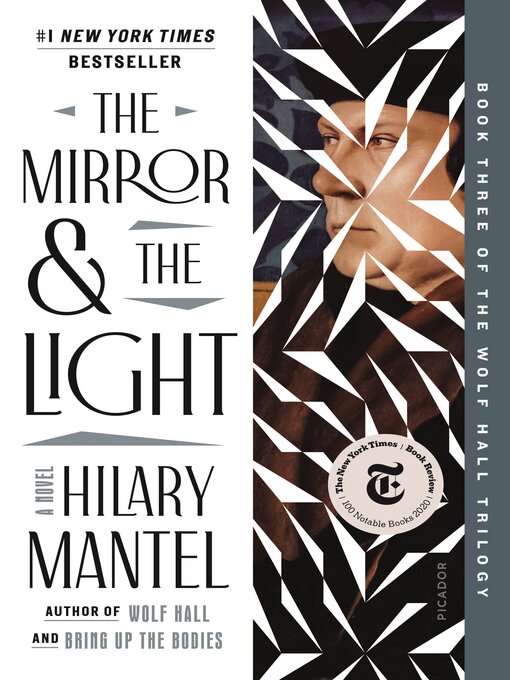 The mirror & the light
Format:

Kindle Book

2020

2020

Adobe EPUB ebook

OverDrive Read

Availability:

Available from OverDrive

20 of 23 copies
5 people on waitlist
Summary
""If you cannot speak truth at a beheading, when can you speak it?" England, May 1536. Anne Boleyn is dead, decapitated in the space of a heartbeat by a hired French executioner. As her remains are bundled into oblivion, Thomas Cromwell breakfasts with the victors. The blacksmith's son from Putney emerges from the spring's bloodbath to continue his climb to power and wealth, while his formidable master, Henry VIII, settles to short-lived happiness with his third queen before Jane dies giving birth to the male heir he most craves. Cromwell is a man with only his wits to rely on; he has no great family to back him, no private army. Despite rebellion at home, traitors plotting abroad and the threat of invasion testing Henry's regime to the breaking point, Cromwell's robust imagination sees a new country in the mirror of the future. But can a nation, or a person, shed the past like a skin? Do the dead continually unbury themselves? What will you do, the Spanish ambassador asks Cromwell, when the king turns on you, as sooner or later he turns on everyone close to him? With The Mirror & the Light, Hilary Mantel brings to a triumphant close the trilogy she began with Wolf Hall and Bring Up the Bodies. She traces the final years of Thomas Cromwell, the boy from nowhere who climbs to the heights of power, offering a defining portrait of predator and prey, of a ferocious contest between present and past, between royal will and a common man's vision: of a modern nation making itself through conflict, passion, and courage"--

Published Reviews
Booklist Review:
"At 50, Thomas Cromwell is "the second man in England," serving dangerously tempestuous Henry VIII, and his "chief duty (it seems just now) is to get the king new wives and dispose of the old." A responsibility that will catalyze his violent undoing. Mantel has imagined Cromwell's life in ways never before conceived in her resoundingly popular Wolf Hall (2009) and Bring Up the Bodies (2012), each a Man Booker winner. The longed-for final volume in Mantel's magnificent trilogy is also a stupendously knowledgeable, empathic, witty, harrowing, and provocative novel of power and its distortions. Anne Boleyn, Henry VIII's second wife, has just been beheaded, yet, desperate for a male heir, he insists on immediately marrying Jane Seymour, who subsequently dies after giving birth to Edward VI. Cromwell has many fires to stamp out, especially since Henry's annulment of his first marriage ignited a fierce battle between Catholics and Protestants. Commoner Cromwell, a disciplined and inexhaustible master of the art of coercion, is finally elevated to Lord, but he is increasingly besieged as Anne Cleves becomes Henry's fourth queen. Astute, strategic, sly, funny, poignant, and doomed, Cromwell rules these vivid pages, yet every character and setting resonates, and Mantel's virtuoso, jousting dialogue is exhilarating. Gossip, insults, bribes, lies, threats, jealousy, revenge, all propel this delectably shrewd and transfixing Tudor tragedy, this timeless saga of the burden of rule, social treacheries, and the catastrophic cost of indulging a raving despot.HIGH-DEMAND BACKSTORY: Cromwell fever is again running high; multiple copies of Mantel's finale are in order, and it's wise to check the shelves for her two previous Tudor masterpieces."
From Booklist, Copyright (c) American Library Association. Used with permission.
Publisher's Weekly Review:
"In Mantel's magisterial conclusion to the Wolf Hall trilogy, Henry VIII's fixer, Thomas Cromwell, is everywhere. Born poor, Cromwell has risen to Viceregent, Privy Seal, and Baron, with more than a fair share of blood on his hands. The story picks up where Bring Up the Bodies left off, with Cromwell, now in his 50s, witnessing the execution of Anne Boleyn. Cromwell reconciles the king to his stubbornly Catholic daughter, supervises the printing of the English Bible, and arranges the king's marriage to Anne of Cleves. Meanwhile, Cromwell reflects on his crimes and remembers his impoverished youth ("we yearn for our origins; we yearn for an innocent terrain"). In Henry's court, everyone has a grudge; key issues, whether religious, personal, or political, are decided according to who has the king's ear; and disagreement is easily framed as treason. Mantel's craft shines at the sentence level and in a deep exploration of her themes: Henry sees himself as "the mirror and light" to all other princes, but Cromwell is Henry's secret mirror, the record of the king's weaknesses and compromises. Cromwell keeps turning wreckage into building materials, until, that is, the wreckage is his. The series' first two books won the Booker Prize--the third, rich with memory and metaphor--may be even better. (Mar.)"
(c) Copyright PWxyz, LLC. All rights reserved
Additional Information