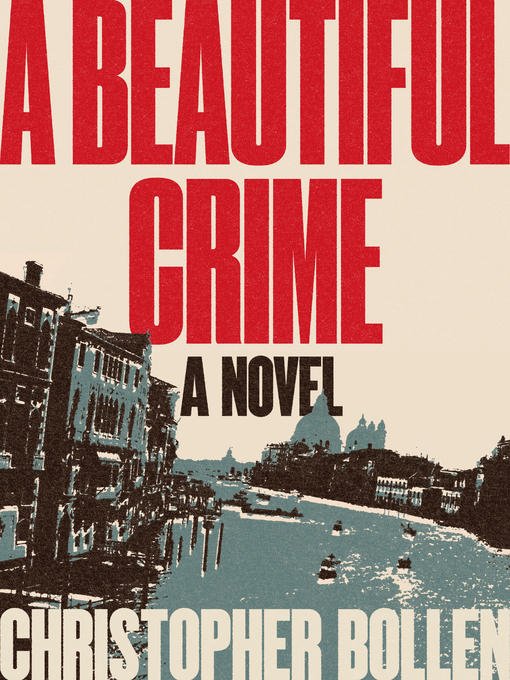 A beautiful crime a novel
Format:

Kindle Book

2020

2020

Adobe EPUB ebook

OverDrive Read

Availability:

Available from OverDrive

3 of 3 copies
Summary
When Nicholas Brink leaves New York City to join Clay Guillory in Italy, he thinks he knows what he's getting into. His more experienced boyfriend has come into a small inheritance from an eccentric bohemian artist: the windfall consists of counterfeit heirlooms as well as a share in a decrepit Venetian palazzo. Clay hopes to use Nick's connection to an antiques dealer to unload the fake silver on a brash, unsuspecting American. Clay's smarts and Nick's charm are the keys to pulling off their scheme. Nick is no naive pawn--he takes quickly to Venice's magic and beauty and embeds himself in the city's monied social orbit. Clay, meanwhile, finds in the Floating City a chance to settle old scores. After pulling off their initial con, however, Nick decides that more money can be made in Venice to set them up for life--even if their next move involves drastically greater risks. As it turns out, nothing in Venice is as it seems, and more than one life stands in the way of their happiness.

Published Reviews
Publisher's Weekly Review:
"At the start of this stunning crime novel from Bollen (The Destroyers), 25-year-old Nicholas Brink leaves his lover and life in New York City to meet his new boyfriend, Clay Guillory, in Venice. There, the two young men set in motion a supposedly foolproof con to unload counterfeit silver on Richard Forsyth West, a charming, wealthy ex-pat American for whom Clay once worked and who's immersed in Venice's renovation. Clay inherited the silver from his last partner, the much older Freddy van der Haar. The sale will allow Clay to pay off debts incurred while caring for Freddy and allow the couple a fresh start. While the swindle fuels the plot, the story gains its strength from its look at gay romance and how individuals become a couple, as well as its view of shabby yet chic Venice, with its "fugitive magic" that lacks "the reality check of poverty and ugliness and ordinary struggles." Clay and Nick grapple with their morals and greed while remaining appealing. Readers will easily root for them to get away with the con. Agent: Bill Clegg, Clegg Agency. (Jan.)"
(c) Copyright PWxyz, LLC. All rights reserved
Additional Information