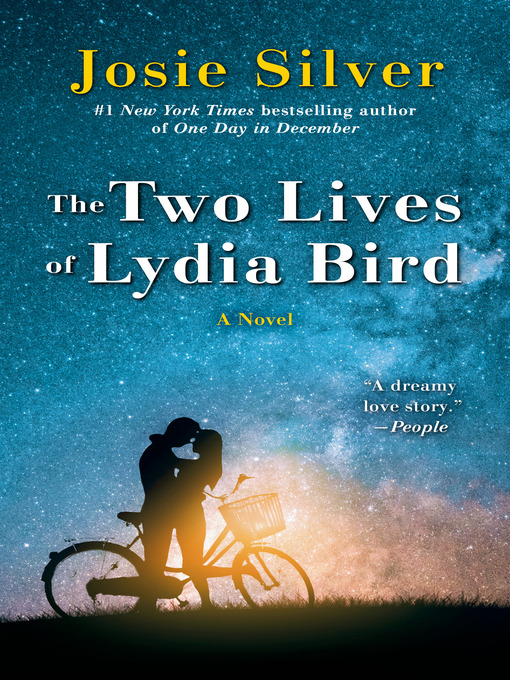 The two lives of Lydia Bird a novel
Format:

Kindle Book

2020

2020

Adobe EPUB ebook

OverDrive Read

Availability:

Unavailable

0 of 32 copies
111 people on waitlist
Summary
"Lydia and Freddie. Freddie and Lydia. They'd been together for more than a decade, and Lydia thought their love was indestructible. But she was wrong. On her twenty-eighth birthday, Freddie died in a car accident. So now it's just Lydia, and all she wants to do is hide indoors and sob until her eyes fall out. But Lydia knows that Freddie would want her to try to live fully, happily, even without him. So, enlisting the help of his best friend, Jonas, and her sister, Elle, she takes her first tentative steps into the world, open to life--and perhaps even love--again. But then something inexplicable happens that gives her another chance at her old life with Freddie. A life where none of the tragic events of the past few months have happened. Lydia is pulled again and again across the doorway of her past, living two lives, impossibly, at once. But there's an emotional toll to returning to a world where Freddie, alive, still owns her heart. Because there's someone in her new life, her real life, who wants her to stay. Written with Josie Silver's trademark warmth and wit, The Two Lives of Lydia Bird is a powerful and thrilling love story about the what-ifs that arise at life's crossroads, and what happens when one woman is given a miraculous chance to answer them"--

Published Reviews
Booklist Review:
"Lydia Bird's waking life is a nightmare. The love of her life, Freddie, has just been killed in a senseless car crash on her birthday. Without Freddie, she spends her days in misery, grief, and despair. But at night she is transported by a new kind of sleeping pill into hyperrealistic dreams, to a world where Freddie is still alive and she can be with him. Now she splits her time between her real life, where she takes tentative steps to deal with her grief, and the dream life. But can you ever really heal when you spend half your time in a fantasy? As much a meditation on healing after loss as it is a gently developed love story (Lydia eventually comes to care for Jonah, Freddie's best friend), with excellent characters who all get a chance to experience growth, Silver's wonderful follow-up to One Day in December (2018) will be sure to appeal to existing fans and draw in new ones with its humor, heart, and excellent prose."
From Booklist, Copyright (c) American Library Association. Used with permission.
Publisher's Weekly Review:
"Silver's latest (after One Day in December) is a heartbreaking, poignant tale of a woman suffused in a prescription drug-fueled dream state after a great loss. After Lydia Bird's fiancé, Freddie Hunter, is killed in a car accident on her birthday, she gets hooked on sleeping pills and retreats into a dreamworld where nothing has changed. Lydia's sister Elle and her mother push her to learn how to build a life without the man she'd been with since she was a teenager and encourage her to redefine her relationship with her late fiancé's best friend, Jonah, who survived the crash. But her dreams continue, aided by the pills, and in them she and Freddie get married, go on their honeymoon, and celebrate Lydia's birthday. After the birth of Elle's daughter, Lydia rises out of her funk and spontaneously flies to Croatia, where she considers a job offer, video chats with Jonah, and tries to imagine a future. Through lush prose, expert plotting, and richly imagined characters, Silver offers an achingly real portrait of grief transposed with the character's intoxicating parallel universe. This will stay with readers long after the final page is turned. Agent: Jemima Forrester, David Higham Assoc. (Mar.)"
(c) Copyright PWxyz, LLC. All rights reserved
Additional Information