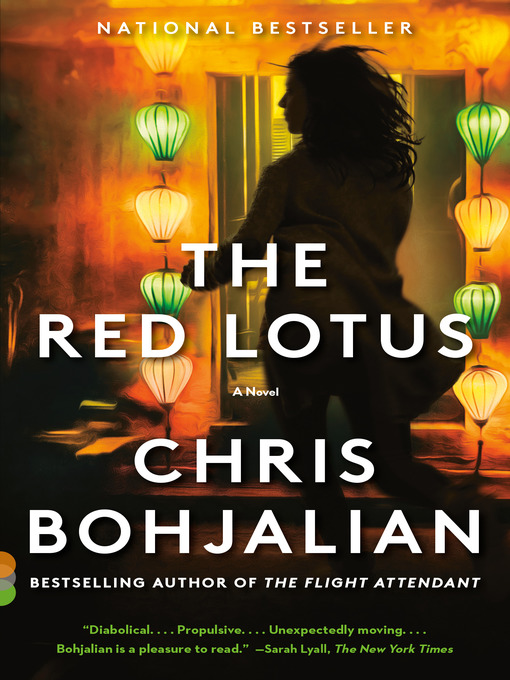 The red lotus a novel
Format:

Kindle Book

2020

2020

Adobe EPUB ebook

OverDrive Read

Availability:

Unavailable

0 of 16 copies
101 people on waitlist
Summary
"From the New York Times bestselling author of The Flight Attendant comes a twisting story of love and deceit: an American man vanishes from a rural road in Vietnam and his girlfriend, an ER doctor trained in deductive reasoning, follows a path that leads her home to the very hospital where they first met. Alexis and Austen met on a Saturday night. Not in a bar, but instead in the emergency room where Alexis sutured a bullet wound in Austen's arm. Six months later, on the brink of falling in love, they travel to Vietnam on a bicycling tour so that Austen can show her his passion for cycling and so that he can pay his respects to the place where his father and uncle fought in the war. But as Alexis sips white wine and waits at the hotel for Austen to return from his solo ride, two men emerge from the tall grass and Austen vanishes into thin air. The only clues he leaves behind are two bright yellow energy gels dropped in the dirt road. As Alexis grapples with this bewildering loss, navigating the FBI, Austen's prickly family, and her colleagues at the hospital, Alexis uncovers a series of strange lies that force her to wonder: Where did Austen go? Why did he really bring her to Vietnam? And how much danger has he left her in? Set amid the adrenaline-fueled world of the emergency room, The Red Lotus is a fascinating story of those who dedicate their lives to saving people, and those who instead peddle death to the highest bidder."--

Published Reviews
Booklist Review:
"While they're on an ambitious vacation biking through the verdant landscape of Vietnam, Alexis Remnick's boyfriend of six months, Austin Harper, goes missing. On a mission to pay homage to his father and deceased uncle, who both served in the Vietnam War, Austin had embarked on a solo ride to view the spot where his uncle died and his father was wounded. He never returns to their hotel, and Alexis is catapulted into a nightmarish quest to discover why. When his mangled body is recovered, the police initially surmise he was the victim of a hit-and-run, but suddenly the stories he told Alexis about his family's past turn out to be just that, stories, and Alexis' mission broadens to uncover the true identity of the man she thought she loved. In this tightly drawn, steadily hair-raising thriller, Bohjalian (The Flight Attendant, 2018) once again demonstrates his keen affinity for strong, capable female protagonists, while his masterful merging of setting and plot delivers a cerebral and dramatic dive into what happens when love turns to agony.--Carol Haggas Copyright 2020 Booklist"
From Booklist, Copyright (c) American Library Association. Used with permission.
Publisher's Weekly Review:
"A bicycling tour of Vietnam takes a dark turn when Manhattan ER doctor Alexis Remnick's boyfriend, Austin Harper, disappears in this intricately plotted thriller from Bohjalian (The Flight Attendant). Austin, an experienced cyclist, fails to return to the couple's hotel after a long solo ride, during which he planned to pay his respects to his father and uncle, who were American soldiers in the Vietnam War. His uncle was killed, and his father was wounded. As the hours pass, Alexis, worried for Austin's safety, contacts the authorities, and learns that Austin lied about his father and uncle. When Austin's body is found, it's suspected that he was a victim of a hit and run. But after identifying his body, Alexis has reason to suspect foul play. Back home, Alexis hires a PI to unearth the truth behind Austin's lies. Austin may have been enmeshed in a scheme with global implications, and Alexis is drawn into a diabolical plot reminiscent of a Robin Cook thriller. Each character, including secondary players, is carefully drawn, and Bohjalian keeps the tension high all the way to the surprising finale. Bohjalian's many fans and newcomers alike will be satisfied. Author tour. (Mar.)"
(c) Copyright PWxyz, LLC. All rights reserved
Additional Information