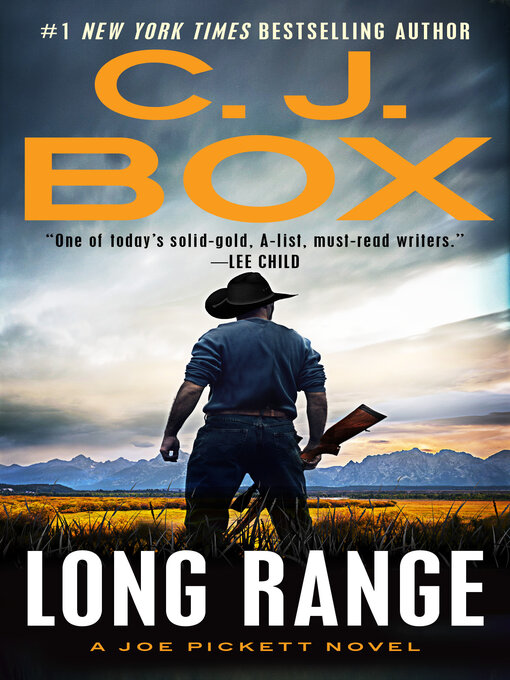 Long range
Format:

Kindle Book

2020

2020

Adobe EPUB ebook

OverDrive Read

Availability:

Unavailable

0 of 18 copies
3 people on waitlist
Summary
"Wyoming game warden Joe Pickett must investigate an attempted murder--a crime committed from a confoundingly long distance--in the riveting new novel from #1 New York Times bestselling author C. J. Box"--

Published Reviews
Booklist Review:
"After 19 hot-selling novels featuring low-key Wyoming game warden Joe Pickett, Box has secured his reputation as an author who can take this increasingly popular genre--the modern western--and make it do whatever he wants. Here Joe starts out in his usual just-folks Gary Cooper way, the country boy explaining things to the bonehead cop. He's about to look into a fatal bear mauling that maybe isn't what it seems when the twenty-first century asserts itself with a sophisticated attack using high-tech weaponry on a hard-line judge. Joe seeks advice from his old friend Nate, whose shadowy past includes government wet work. Nate is having his own problems as killers from his past emerge. Suddenly we've put the bears on hold and find ourselves deep in secret-agent territory. Box handles it all with a clear, easy style that plays nicely against the pulse-pounding tension. Box remains the gold standard among writers of modern western-mystery blends, but, for some other fine practitioners, see the adjacent read-alike column."
From Booklist, Copyright (c) American Library Association. Used with permission.
Publisher's Weekly Review:
"In Edgar winner Box's terrific 20th novel featuring Wyoming game warden Joe Pickett (after 2019's Wolf Pack), a retired FBI agent warns Joe's longtime falconer friend, Nate Romanowski, that the Mexican drug cartel whose four assassins Nate helped take down in Wolf Pack have marked Nate as a target for revenge. The cartel has dispatched Orlando Panfile, an expert marksman, to do the job. Meanwhile, someone takes a long-range shot at ill-tempered Judge Hewitt in his home that hits Hewitt's wife, leaving her in critical condition. Could it be Panfile? Joe is asked to join the investigation by the new county sheriff, Brendan Kapelow, who eventually becomes convinced that Nate is responsible for the shooting. Kapelow arrests Nate for attempted murder when a long-range rifle is discovered hidden in one of his falcon pens. Of course, Joe isn't buying it, and conducts his own unauthorized investigation to help clear Nate. But why does Panfile mount an effort to have Nate freed? Clever plotting keeps this conspiracy yarn moving briskly, and the scenes depicting Nate's abuse while in prison are harrowing. This is another top-flight crime yarn illustrating why Box's readers are never happier than when Joe and Nate have reason to "get western." Author tour. Agent: Ann Rittenberg, Ann Rittenberg Literary. (Mar.)"
(c) Copyright PWxyz, LLC. All rights reserved
Additional Information