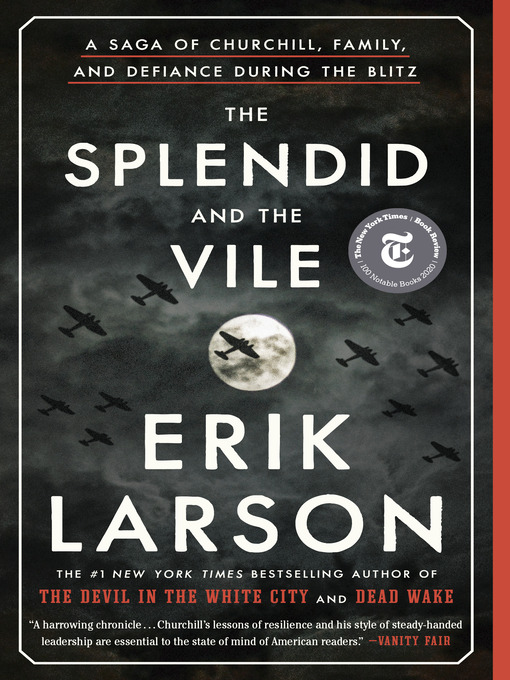 The splendid and the vile
Format:

Kindle Book

2020

2020

Adobe EPUB ebook

OverDrive Read

Availability:

Available from OverDrive

5 of 44 copies
28 people on waitlist
Summary
"The #1 New York Times bestselling author of The Devil in the White City and Dead Wake delivers a fresh and compelling portrait of Winston Churchill and London during the Blitz On Winston Churchill's first day as prime minister, Hitler invaded Holland and Belgium. Poland and Czechoslovakia had already fallen, and the Dunkirk evacuation was just two weeks away. For the next twelve months, Hitler would wage a relentless bombing campaign, killing 45,000 Britons. It was up to Churchill to hold the country together and persuade President Franklin Roosevelt that Britain was a worthy ally-and willing to fight to the end. In The Splendid and the Vile, Erik Larson shows, in cinematic detail, how Churchill taught the British people "the art of being fearless." It is a story of political brinkmanship, but it's also an intimate domestic drama set against the backdrop of Churchill's prime-ministerial country home, Chequers; his wartime retreat, Ditchley, where he and his entourage go when the moon is brightest and the bombing threat is highest; and of course 10 Downing Street in London. Drawing on diaries, original archival documents, and once-secret intelligence reports-some released only recently-Larson provides a new lens on London's darkest year through the day-to-day experience of Churchill and his family: his wife, Clementine; their youngest daughter, Mary, who chafes against her parents' wartime protectiveness; their son, Randolph, and his beautiful, unhappy wife, Pamela; Pamela's illicit lover, a dashing American emissary; and the cadre of close advisers who comprised Churchill's "Secret Circle," including his lovestruck private secretary, John Colville; newspaper baron Lord Beaverbrook; and the Rasputin-like Frederick Lindemann. The Splendid and the Vile takes readers out of today's political dysfunction and back to a time of true leadership, when-in the face of unrelenting horror-Churchill's eloquence, courage, and perseverance bound a country, and a family, together."--

Contents
Bleak Expectations
The Rising Threat
A Certain Eventuality
Dread
Blood and Dust
The Americans
Love Amid the Flames
One Year to the Day
Epilogue.
Published Reviews
Booklist Review:
"It is difficult to imagine a more challenging first year in office than that experienced by Winston Churchill in 1940. Hitler invaded Belgium and Holland on Churchill's first day in office, and the Dunkirk evacuation was only two weeks away. Yet, as Larson (Dead Wake, 2015) so artfully illustrates, it is equally difficult to imagine a leader more uniquely equipped for confronting Germany than Churchill. The broad outlines may be familiar to most readers: the relentless air raids by the Luftwaffe and the heavy burden that England had to bear before the other Allied powers joined the war. What Larson brilliantly provides are the finer details of the effects on England as he focuses on the family and home of its dynamic, idiosyncratic, and indefatigable leader. Larson draws heavily on the diaries and papers of Churchill's inner circle, especially daughter Mary and personal secretary James Colville, as well as correspondence with his trusted advisers: Lord Beaverbrook, physicist Frederick Lindemann, and General Hastings Lionel Ismay. Similarly, incorporating snippets from the diaries of German leaders Goring and Goebbels demonstrates how determined the Germans were to annihilate England, even as they expressed the grudging respect they came to have for Churchill. Larson's skill at integrating vast research and talent for capturing compelling human dramas culminate in an inspirational portrait of one of history's finest, most fearless leaders.HIGH-DEMAND BACKSTORY: Best-selling Larson, a library star, once again masterfully renders history immediate, suspenseful, and relevant.--Bill Kelly Copyright 2020 Booklist"
From Booklist, Copyright (c) American Library Association. Used with permission.
Publisher's Weekly Review:
"Larson (Dead Wake) delivers a propulsive, character-driven account of Winston Churchill's first year as British prime minister (May 1940--May 1941), when the German air force launched "a full-on assault against the city of London" in preparation for an invasion that never came. Larson's profile subjects include Churchill's 17-year-old daughter, Mary; his private secretary, John "Jock" Colville, who kept a meticulous (and likely illegal, due to the national security secrets it revealed) diary; Nazi leader Rudolf Hess; and, to a lesser extent, ordinary Britons. Juxtaposing monumental developments, such as the Dunkirk evacuation, with intimate scenes, Larson notes that on the night Churchill learned French leaders wanted to make peace with Hitler, he raised his dinner guests' spirits by passing out cigars, reading aloud telegrams of support from other countries, and "chant the refrain from a popular song." Larson highlights little-known but intriguing figures, including chief science adviser Frederick Lindemann, who made a multifaceted but unsuccessful case for why tea shouldn't be rationed, and documents the carnage caused by German bombs, including the deaths of 34 people at the Café de Paris shortly before Mary Churchill was set to arrive at the club. While the story of Churchill's premiership and the Blitz have been told in greater historical depth, they've rarely been rendered so vividly. Readers will rejoice. Agent: David Black, the David Black Agency. (Feb.)"
(c) Copyright PWxyz, LLC. All rights reserved
Additional Information