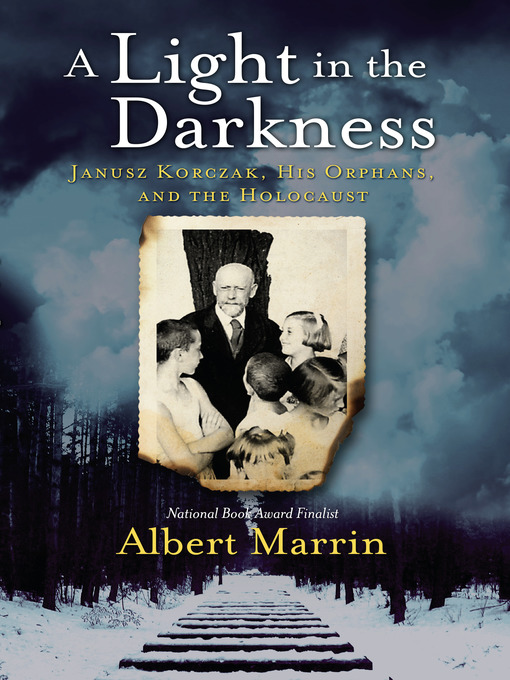 A light in the darkness Janusz Korczak, his orphans, and the Holocaust
Format:

Kindle Book

2019

2019

Adobe EPUB ebook

OverDrive Read

Availability:

Unavailable

0 of 1 copy
1 person on waitlist
Summary
Janusz Korczak was more than a good doctor. He was a hero. The Dr. Spock of his day, he established orphanages run on his principle of honoring children and shared his ideas with the public in books and on the radio. He famously said that "children are not the people of tomorrow, but people today." Korczak was a man ahead of his time, whose work ultimately became the basis for the U.N. Declaration of the Rights of the Child. Korczak was also a Polish Jew on the eve of World War II. He turned down multiple opportunities for escape, standing by the children in his orphanage as they became confined to the Warsaw Ghetto. Dressing them in their Sabbath finest, he led their march to the trains and ultimately perished with his children in Treblinka. But this book is much more than a biography. In it, renowned nonfiction master Albert Marrin examines not just Janusz Korczak's life but his ideology of children : that children are valuable in and of themselves, as individuals. He contrasts this with Adolf Hitler's life and his ideology of children : that children are nothing more than tools of the state. And throughout, Marrin draws readers into the Warsaw Ghetto. What it was like. How it was run. How Jews within and Poles without responded. Who worked to save lives and who tried to enrich themselves on other people's suffering. And how one man came to represent the conscience and the soul of humanity. Filled with black-and-white photographs, this is an unforgettable portrait of a man whose compassion in even the darkest hours reminds us what is possible.

Contents
Prologue: The two saddest nations on earth
The old doctor
The hater
The heart of the tragedy
A dream so terrible
Written in smoke and ashes
Reckonings.
Published Reviews
Booklist Review:
"Janusz Korczak, a Polish Jewish physician and an author of books on children's rights, also served as an orphanage director in Warsaw before and during the Holocaust. The Old Doctor refused all rescue offers for himself, accompanying his charges into the Treblinka extermination camp, where he met his death. Marrin's tribute to the humanitarian is not a traditional biography, however; instead, the National Book Award finalist juxtaposes Korczak, who believed hope comes from bettering the lives of children, with Adolf Hitler, who saw children as raw material to be molded into his racial ideology. Through meticulous research and impeccable storytelling, the result is an astonishing account of the Holocaust that alternates between the worst and best of humankind. The author adds context through background information on how Hitler's ideology later played out in WWII, including anti-Semitism and mass killings of Jews in Poland. Amid the horrific details of these deaths shine rays of light from the resistance movement and individuals who risked their own lives to save those of persecuted Jews. Rarely seen photographs help document both sides. The conflicting views of children continue to the end as Marrin both honors Korczak's legacy and reveals how children are still used by terrorists today. Although intended for YA readers, this eye-opening history also belongs in all adult collections. Painful yet profound.--Angela Leeper Copyright 2010 Booklist"
From Booklist, Copyright (c) American Library Association. Used with permission.
Publisher's Weekly Review:
"Janusz Korczak, a Polish-Jewish pediatrician and writer, established a home for orphans in 1912 and cared for Jewish children throughout both world wars. Much more than a biography, Marrin's introduction to this heroic figure offers an exhaustive study of WWII in Poland and Germany. In straightforward, descriptive language, Marrin (Uprooted: The Japanese American Experience During World War II) explores a vast array of subjects linked to the war, including the history of Palestine and of Judaism in Poland, and he devotes a significant number of pages to a biographical portrait of Adolf Hitler and the growth of Nazism. The narrative, accompanied by black-and-white photos, conveys the horrors of wartime with gruesome details, such as Nazis throwing infants into the air for target practice, and includes tangential subjects, such as sterilization laws in America. Korczak is depicted as a passionate humanitarian with an extraordinary respect and love for children, and as one whose activism was the seed of the human rights movement--in particular, the rights of children. He is often absent from the book, though, as Marrin discusses, in great detail, other topics connected to WWII. Still, there is much to learn and contemplate in this dense yet accessible examination. Ages 12--up. (Sept.)■"
(c) Copyright PWxyz, LLC. All rights reserved
Additional Information