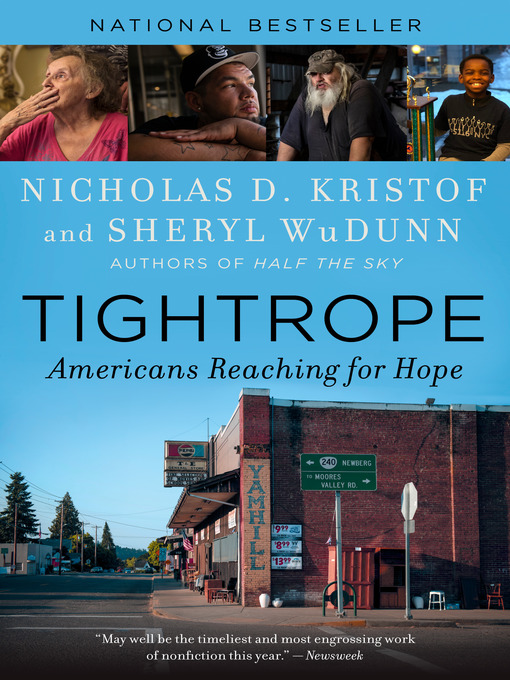 Tightrope Americans reaching for hope
Format:

Kindle Book

2020

2020

Adobe EPUB ebook

OverDrive Read

Availability:

Unavailable

0 of 6 copies
17 people on waitlist
Summary
"A deft and uniquely credible exploration of rural America, and of other left-behind pockets of our country. One of the most important books I've read on the state of our disunion."— Tara Westover, author of Educated     The Pulitzer Prize-winning authors of the acclaimed, best-selling Half the Sky now issue a plea--deeply personal and told through the lives of real Americans--to address the crisis in working-class America, while focusing on solutions to mend a half century of governmental failure. With stark poignancy and political dispassion, Tightrope draws us deep into an "other America." The authors tell this story, in part, through the lives of some of the children with whom Kristof grew up, in rural Yamhill, Oregon, an area that prospered for much of the twentieth century but has been devastated in the last few decades as blue-collar jobs disappeared. About one-quarter of the children on Kristof's old school bus died in adulthood from drugs, alcohol, suicide, or reckless accidents. And while these particular stories unfolded in one corner of the country, they are representative of many places the authors write about, ranging from the Dakotas and Oklahoma to New York and Virginia. But here too are stories about resurgence, among them: Annette Dove, who has devoted her life to helping the teenagers of Pine Bluff, Arkansas, as they navigate the chaotic reality of growing up poor; Daniel McDowell, of Baltimore, whose tale of opioid addiction and recovery suggests that there are viable ways to solve our nation's drug epidemic. These accounts, illustrated with searing images by Lynsey Addario, the award-winning photographer, provide a picture of working-class families needlessly but profoundly damaged as a result of decades of policy mistakes. With their superb, nuanced reportage, Kristof and WuDunn have given us a book that is both riveting and impossible to ignore

Contents
A land made for you and me?
"We're no. 61!"
When jobs disappear
American aristocracy
How America went astray
Drug dealers in lab coats
Losing the war on drugs
Up by the bootstraps
Deaths of despair
Interventions that work
Universal health care: one day, one town
Homeless in a rich nation
The escape artists
A shot in the face
God save the family
The marriage of true minds
We eat our young
Raising troubled kids
Creating more escape artists
America regained.
Published Reviews
Booklist Review:
"Life expectancy in the U.S. has decreased for three years in a row (which didn't happen for the previous 100 years); a fact that hits close to home for Pulitzer Prize-winning journalists and husband-and-wife authors Kristof and WuDunn (A Path Appears, 2014; Half the Sky, 2009). In Kristof's farming hometown of Yamhill, Oregon, where his family still has deep ties, a quarter of his former classmates have died early deaths from addiction, suicide, and accidents. The authors set out here to investigate why the U.S. lags behind, sometimes far behind, many other countries in aspects of health, education, safety, and well-being, and why, for many families, things are worse than they were a generation ago. Moving from the micro to the macro, they tell the stories of their Yamhill friends and others they've met across the country, sharing their photos as well as studies and figures that deepen readers' understanding. While they cover policy failures of the last half-century, they also affirm that we're no longer dealing in Republican or Democratic issues, but issues of Americans' very survival. Highlighting successful small-scale programs like Tulsa's rehabilitative Women in Recovery program, they emphasize that there are potentially nationwide solutions. Both researched and personal, this will be hard for readers to stop thinking about.HIGH-DEMAND BACKSTORY: Best-selling Kristof and WuDunn dig into crucial issues facing Americans in a book that will instigate lots of media discussion.--Annie Bostrom Copyright 2019 Booklist"
From Booklist, Copyright (c) American Library Association. Used with permission.
Publisher's Weekly Review:
"Husband and wife journalists Kristof and WuDunn (A Path Appears) turn a compassionate lens on the failed state of working-class American communities in this stark, fluidly written portrait. In profiling residents of Baltimore, Md., and Pine Bluff, Ark., as well as Kristof's classmates from rural Yamhill, Ore., the authors seek to counteract the "cruel narrative that working-class struggle is about bad choices, laziness, and vices." They urge readers to reflect not only on "individual irresponsibility" but on the "collective irresponsibility" of American society, especially in comparison to other first-world countries where the social safety net is stronger. The authors highlight the successes of local nonprofits, including a Pine Bluff after-school program, but contend that pockets of individual charity cannot solve the nation's systemic problems. Threaded throughout are policy suggestions emphasizing the importance of early childhood education, universal health coverage, fair tax rates, commonsense drug policy, affordable housing, and strong worker protections. Kristof and WuDunn avoid pity while creating empathy for their subjects, and effectively advocate for a "morality of grace" to which readers should hold policy makers accountable. This essential, clear-eyed account provides worthy solutions to some of America's most complex socioeconomic problems. (Jan.)"
(c) Copyright PWxyz, LLC. All rights reserved
Additional Information