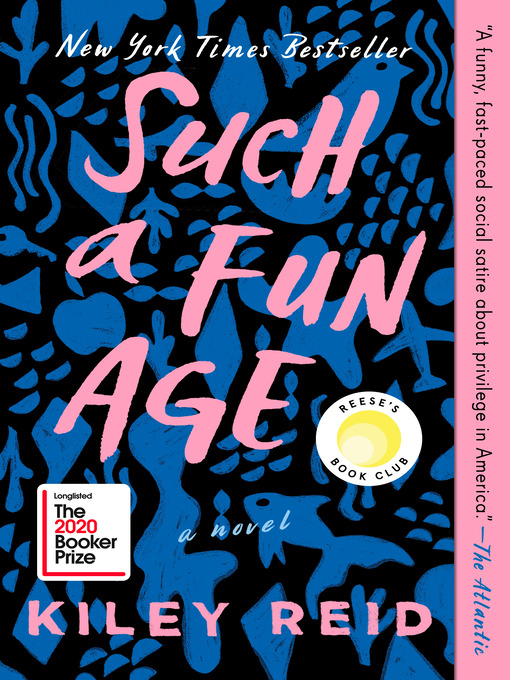 Such a fun age a novel
Format:

Kindle Book

2019

2019

Adobe EPUB ebook

OverDrive Read

Availability:

Unavailable

0 of 101 copies
490 people on waitlist
Summary
Alix Chamberlain is a woman who gets what she wants and has made a living with her confidence-driven brand, showing other women how to do the same. So she is shocked when her babysitter, Emira Tucker, is confronted while watching the Chamberlains' toddler one night, walking the aisles of their local high-end supermarket. The security guard, seeing a young black woman out late with a white child, accuses Emira of kidnapping two-year-old Briar. A small crowd gathers, a bystander films everything, and Emira is furious and humiliated. Alix resolves to make things right. But Emira herself is aimless, broke, and wary of Alix's desire to help. At twenty-five, she is about to lose her health insurance and has no idea what to do with her life. When the video of Emira goes public and unearths someone from Alix's past, both women find themselves on a crash course which will upend everything they think they know about themselves and each other.

Published Reviews
Booklist Review:
"Emira is an educated, Black, 25-year-old babysitter partying late one night when she gets a frantic call to babysit at the last minute. In high heels and a miniskirt, she brings the white toddler along to an upscale grocery store, where she is confronted by a security guard who accuses her of kidnapping the child. Kelley, a concerned white bystander, films the altercation, which leaves Emira shaken. He emails her the video clip, but Emira is not interested in sharing it with anyone. Her white employer, Alix Chamberlain, is a successful and influential mompreneur who overcompensates for the incident and handles Emira with kid gloves. Meanwhile, Emira starts dating Kelley, who, unbeknownst to her, had a traumatic romance with Alix many years ago. Tensions mount amidst unresolved pain between Kelley and Alix, and Emira's discontent with her life and how sharply it contrasts with that of her employer. In her smart and timely debut, Reid has her finger solidly on the pulse of the pressures and ironies inherent in social media, privilege, modern parenting, racial tension, and political correctness.--Andrienne Cruz Copyright 2019 Booklist"
From Booklist, Copyright (c) American Library Association. Used with permission.
Publisher's Weekly Review:
"In her debut, Reid crafts a nuanced portrait of a young black woman struggling to define herself apart from the white people in her life who are all too ready to speak and act on her behalf. Emira Tucker knows that the one thing she's unequivocally good at is taking care of children, specifically the two young daughters, Briar and Catherine, of her part-time employer, Alix Chamberlain. However, about to turn 26 and lose her parents' health insurance, and while watching her friends snatch up serious boyfriends and enviable promotions, Temple grad Emira starts to feel ashamed about "still" babysitting. This humiliation is stoked after she's harassed by security personnel at an upscale Philadelphia grocery store where she'd taken three-year-old Briar. Emira later develops a romantic relationship with Kelley, the young white man who captured cellphone video of the altercation, only to discover that Kelley and Alix have a shared and uncomfortable past, one that traps Emira in the middle despite assertions that everyone has her best interests at heart. Reid excels at depicting subtle variations and manifestations of self-doubt, and astutely illustrates how, when coupled with unrecognized white privilege, this emotional and professional insecurity can result in unintended--as well as willfully unseen--consequences. This is an impressive, memorable first outing. Agent: Claudia Ballard, WME Entertainment. (Jan.)"
(c) Copyright PWxyz, LLC. All rights reserved
Additional Information