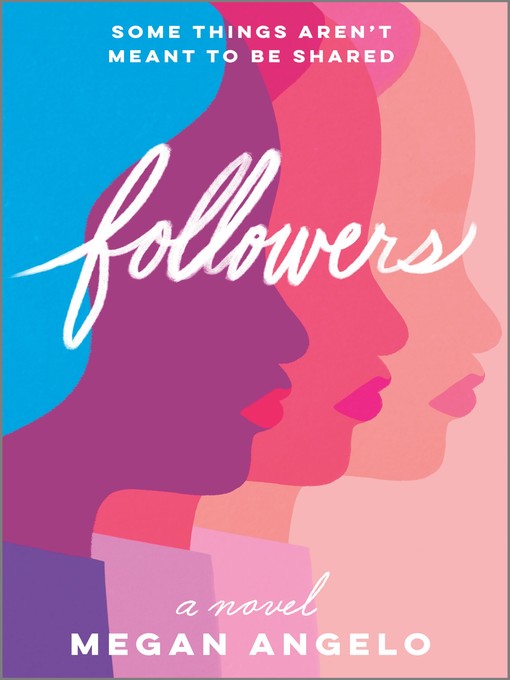 Followers a novel
Format:

Kindle Book

2020

2020

Adobe EPUB ebook

OverDrive Read

Availability:

Unavailable

0 of 10 copies
34 people on waitlist
Summary
Orla Cadden is a budding novelist stuck in a dead-end job, writing clickbait about movie-star hookups and influencer yoga moves. Then Orla meets Floss--a striving, wannabe A-lister--who comes up with a plan for launching them both into the high-profile lives they dream about. So what if Orla and Floss's methods are a little shady--and sometimes people get hurt? Their legions of followers can't be wrong. Thirty-five years later, in a closed California village where government-appointed celebrities live every moment of the day on camera, a woman named Marlow discovers a shattering secret about her past. Despite her massive popularity--twelve million loyal followers--Marlow dreams of fleeing the corporate sponsors who would do anything to keep her on-screen. When she learns that her whole family history is based on a lie, Marlow finally summons the courage to run in search of the truth, no matter the risks. Followers traces the paths of Orla, Floss and Marlow as they wind through time toward each other, and toward a cataclysmic event that sends America into lasting upheaval. At turns wry and tender, bleak and hopeful, this darkly funny story reminds us that even if we obsess over famous people we'll never meet, what we really crave is genuine human connection.

Published Reviews
Booklist Review:
"Orla is a celebrity gossip blogger by day, and at night she fantasizes about a life as a successful author. Her roommate, Floss, meanwhile, has her sights set on becoming an A-list celebrity. Both in a career slump, they scheme up a plan using social media to jump-start their careers. The tool driving their ambition ultimately becomes the catalyst for their downfall. The story also jumps ahead 35 years, to the year 2051 after a catastrophic data spill hacks all technology for three days. Readers meet Marlow, a government-appointed celebrity who lives in a controlled village, Constellation, where her every move is being monitored by followers and every decision made by executives at the network. Angelo masterfully intertwines the lives of Orla, Floss, and Marlow while reflecting a painfully accurate picture of our current fame-driven, tech-obsessed society and its possible destruction. Her writing is crisp and the familiarity of the characters is refreshing. Angelo also weaves in a perspective on contemporary political decisions and the effect they could have on us all in the not-so-distant future. This is an intricate and brave story of friendship, ambition, and love and the lengths people will go to protect it all.--LaParis Hawkins Copyright 2019 Booklist"
From Booklist, Copyright (c) American Library Association. Used with permission.
Publisher's Weekly Review:
"In her spectacular debut, Angelo masterfully explores the dark side of social media. In 2015, aspiring author and Manhattanite Orla Cadden is working as a reporter at celeb blog Lady-ish when she becomes roommates with Floss Natuzzi, who is desperate to become a star. Using her platform at Lady-ish, Orla succeeds in making Floss ultrafamous. They enjoy the perks--invites to swanky parties, free merchandise--until a technology cataclysm in 2016 changes everything. Fast forward 35 years, and a dystopian view of social media is revealed: there are now state-appointed celebrities who are on TV 24/7. Their lives are sponsored by pharmaceutical companies, and their marriages, pregnancies (including designer babies), and relationships are merely story lines for a voracious public. A California woman named Marlow Clipp with 11.6 million followers is facing a pregnancy story line when she decides to research her past--and is astounded by what she finds. Reminiscent of The Truman Show and told in alternating voices of Orla in 2015--2016 and Marlow in 2051, the tale skillfully builds to a terrifyingly believable climax. There are also sly references to a few current pop-culture names--including Charlotte C. Mezvinsky (aka Hillary Clinton's granddaughter) as the mayor of New York in 2051. Angelo delivers a strong, consistently fascinating debut. Agent: Stefanie Lieberman, Janklow & Nesbit Associates. (Jan.)"
(c) Copyright PWxyz, LLC. All rights reserved
Additional Information