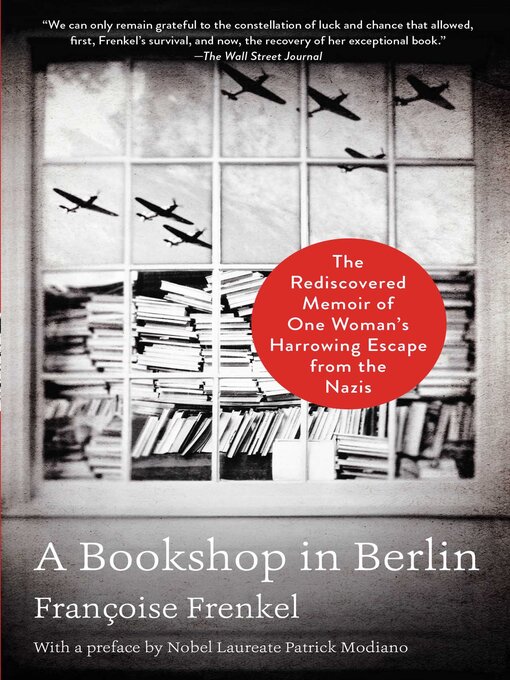 A bookshop in Berlin The Rediscovered Memoir of One Woman's Harrowing Escape from the Nazis
Format:

Kindle Book

2019

2019

Adobe EPUB ebook

OverDrive Read

Availability:

Unavailable

0 of 9 copies
7 people on waitlist
Summary
In 1921, Françoise Frenkel--a Jewish woman from Poland--fulfills a dream. She opens La Maison du Livre, Berlin's first French bookshop, attracting artists and diplomats, celebrities and poets. The shop becomes a haven for intellectual exchange as Nazi ideology begins to poison the culturally rich city. In 1935, the scene continues to darken. First come the new bureaucratic hurdles, followed by frequent police visits and book confiscations. Françoise's dream finally shatters on Kristallnacht in November 1938, as hundreds of Jewish shops and businesses are destroyed. La Maison du Livre is miraculously spared, but fear of persecution eventually forces Françoise on a desperate, lonely flight to Paris. When the city is bombed, she seeks refuge across southern France, witnessing countless horrors: children torn from their parents, mothers throwing themselves under buses. Secreted away from one safe house to the next, Françoise survives at the heroic hands of strangers risking their lives to protect her.

Contents
Intro; Title Page; Preface; Foreword; Chapter I: A French Bookshop in Berlin; Chapter II: Paris; Chapter III: Avignon; Chapter IV: Vichy; Chapter V: Avignon; Chapter VI: Nice; Chapter VII: Somewhere in the Mountains; Chapter VIII: Return to Nice; Chapter IX: Grenoble; Chapter X: At the Border; Chapter XI: Annecy; Chapter XII: Saint-Julien; Chapter XIII: Annecy; Chapter XIV: At the Border; Chapter XV: Heading for Switzerland; Chronology; Dossier; Acknowledgments; About the Author; Photographic Credits; Copyright
Published Reviews
Booklist Review:
"Born in Poland and educated in Paris, author Frenkel opened the first French-language bookstore in Berlin in 1921. It soon became an extremely popular destination for writers and poets, and counted embassy officials and well-known intellectuals among its clients. Despite its fame, the shop and Frenkel (who was Jewish) became victims of the Nazi purges of 1939, resulting in the shuttering of the shop and Frenkel's hasty flight to France. Thus began a nightmarish four-year odyssey of scrambling to secure proper papers, seek safe havens, and avoid capture and deportation to a work camp. Frenkel's chronological first-person narration details narrow escapes, serendipitous respites, and acts of unbelievable cruelty, indifference, bravery, and kindness. Her story is compelling not only because it sheds light on a unique aspect of WWII (foreign nationals trapped in France during the German occupation) but due to the circumstances of its publication. Originally published in France in 1945 under the title No Place to Lay One's Head, the book remained largely forgotten until a copy surfaced in southern France in 2019, leading to this English-language release. Insightful, sympathetic, suspenseful, and eventually triumphant, this memoir is a worthy addition to the WWII canon.--Kathleen McBroom Copyright 2019 Booklist"
From Booklist, Copyright (c) American Library Association. Used with permission.
Publisher's Weekly Review:
"In this riveting memoir, rediscovered nearly 60 years after its original publication, Jewish bookseller Frenkel documents her harrowing experience escaping Nazi persecution in WWII France. Born in Poland in 1889, Frenkel fulfilled her dream of opening a French-language bookstore called Le Maison du Livre in Berlin in 1921. She fled to Paris after Kristallnacht on Nov. 10, 1938, and escaped Paris in 1940 when the Germans occupied the city. Seeking refuge in Southern France, Frenkel experienced threatening situations while Nazis were "hunting" humans and was smuggled from one safe house to another. She witnessed children being separated from parents and Jews being shipped to camps; while trying to sneak into Switzerland in 1942, she was arrested and held in a French detention center. She was tried for attempting to illegally cross the border and acquitted, and in 1943 successfully found her way into Switzerland, where she began writing her memoir, No Place to Lay One's Head. After the war--and the book's publication--Frenkel returned to Nice. Frenkel, who died in 1975, writes that it is "the duty of those who have survived to bear witness to ensure the dead are not forgotten." Frenkel's remarkable story of resilience and survival does just that, and will truly resonate with readers. (Dec.)"
(c) Copyright PWxyz, LLC. All rights reserved
Additional Information