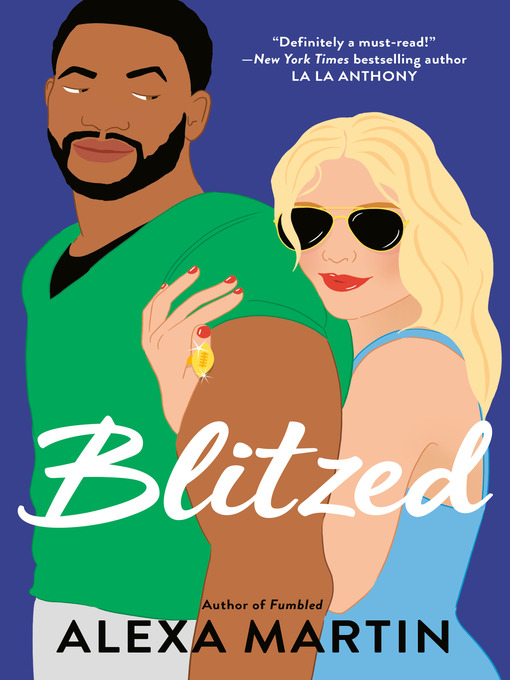 Blitzed
Format:

Kindle Book

2019

2019

Adobe EPUB ebook

OverDrive Read

Availability:

Unavailable

0 of 3 copies
4 people on waitlist
Summary
Maxwell has finally met an opponent that he can't best in this new football romance from the author of Fumbled. According to Brynn Larson, Maxwell Lewis is more trouble than he's worth. She doesn't care if he's a football god with a rock-hard body that brings most women to their knees. After an encounter that ends poorly, she's not interested in giving him a second chance. The last thing Brynn expects is for him to turn up at her bar months later, hat in hand. It doesn't matter if he brings more customers to her business--she's still not going on a date with him. Maxwell knows he made a mistake. He'd been waiting to make his move on Brynn since the day he laid eyes on her and he was finally ready to go for it until he screwed up. He wishes he could tell her the truth about what happened that night, but he just can't. He can't tell anyone, so he'll make amends and hope she'll forgive him. Brynn's not like other women, though. Playing for the Mustangs doesn't impress her and gifts make her scoff. Max will have to bring his A game if he hopes to win her over.

Published Reviews
Booklist Review:
"Martin continues her Playbook series, following Fumbled (2019) and scores again with this perfectly blended sporty-spicy/rom-com cocktail that's so good, you could name a drink after it. And Brynn Sterling, the sassy owner of HERS, the hottest female-owned bar in Denver, does just that: name drinks after her fabulous friends, the Lady Mustangs, that is, the wives and girlfriends of players for the Denver Mustangs. For many years, Brynn has had a front-row seat to the drama her girlfriends endure, which makes her reluctant to get involved with any of the smoking-hot athletes who frequent her establishment. Maxwell Lewis could be the exception to her rule, but his polite and shy demeanor keeps him from approaching. They dance around their unspoken crush for years until an explosive moment in the bar finally breaks the ice. Meanwhile, Martin provides a behind-the-scenes look at life with a professional athlete: fancy clothes, parties, the private suite at the stadium, and TV cameras filming it all for the newest reality TV show, Love the Player. Past family troubles threaten Brynn and Maxwell's romantic progress, but the support of their Mustangs friends carries them over the finish line.--Kristina Giovanni Copyright 2019 Booklist"
From Booklist, Copyright (c) American Library Association. Used with permission.
Publisher's Weekly Review:
"The lighthearted third sports romance in Martin's Playbook series (after Fumbled) focuses as much on strong female friendship as it does on love. Brynn Sterling owns HERS, a female-centered Denver sports bar and the monthly meeting place for the wives and girlfriends of sports players (WAGS) on their new reality show Love the Player. Though Brynn values her friendships with the WAGS, she resists their encouragement to act on her feelings for NFL player Maxwell Lewis, because she doesn't want to get sucked into their dramatic, high-profile world. Despite being one of the Mustangs' most popular players, Maxwell is extremely shy and has been unable to act on the crush he's been nursing on Brynn for years. When he finally works up the courage and Brynn gives into her friends' pestering, Brynn and Maxwell realize they'll have to help each other get over their past heartbreaks in order to move forward. What the slow-burning love story lacks in drama it makes up for with heart. Readers will be delighted by this sweet romance. Agent: Jessica Watterson, Sandra Dijkstra Literary. (Dec.)Correction: An earlier version of this review incorrectly identified this book as the second in a series."
(c) Copyright PWxyz, LLC. All rights reserved
Additional Information