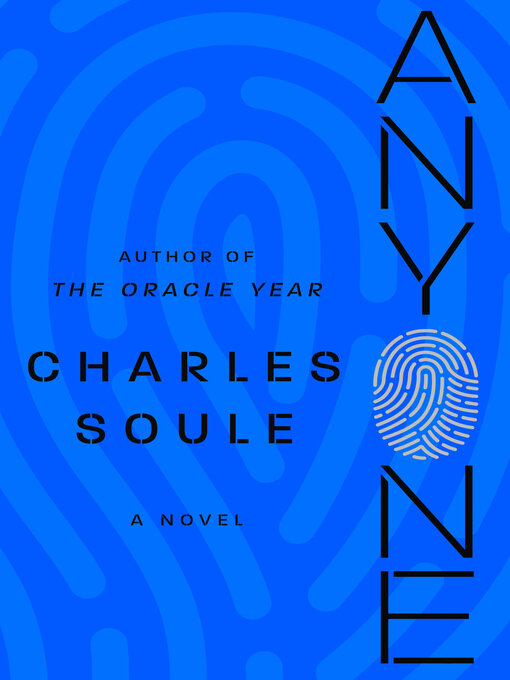 Anyone a novel
Format:

Kindle Book

2019

2019

Adobe EPUB ebook

OverDrive Read

Availability:

Available from OverDrive

1 of 2 copies
1 person on waitlist
Summary
Soon to be adapted for television by Carnival, creators of Downton AbbeyAn Indie Next Pick • A Science Fiction Book Club Pick Bestselling author of The Oracle Year, Charles Soule brings his signature knowledge—and wariness—of technology to his new novel set in a realistic future about a brilliant female scientist who creates a technology that allows for the transfer of human consciousness between bodies, and the transformations this process wreaks upon the world.Inside a barn in Ann Arbor, Michigan, a scientist searching for an Alzheimer's cure throws a switch—and finds herself mysteriously transported into her husband's body. What begins as a botched experiment will change her life—and the world—forever...Over two decades later, all across the planet, "flash" technology allows individuals the ability to transfer their consciousness into other bodies for specified periods, paid, registered and legal. Society has been utterly transformed by the process, from travel to warfare to entertainment; "Be anyone with Anyone" the tagline of the company offering this ultimate out-of-body experience. But beyond the reach of the law and government regulators is a sordid black market called the darkshare, where desperate "vessels" anonymously rent out their bodies, no questions asked for any purpose - sex, drugs, crime... or worse. Anyone masterfully interweaves the present-day story of the discovery and development of the flash with the gritty tale of one woman's crusade to put an end to the darkness it has brought to the world twenty-five years after its creation. Like Blade Runner crossed with Get Out, Charles Soule's thought-provoking work of speculative fiction takes us to a world where identity, morality, and technology collide.

Published Reviews
Booklist Review:
"As Anyone opens, Dr. Gabby White is in debt up to her ears and trying to find a cure for Alzheimer's by running a scientific trial in her rural Michigan barn. But her experiment doesn't turn out the way she planned, and when she wakes up in her husband's body, she knows that the tech she's invented is going to shake society to its core. Indeed, 25 years in the future, young Annami uses the flash to sell her body for money she desperately needs to fund a mysterious mission. The story moves between the two time frames, showing Gabby's quest to comprehend and manage her invention as well as Annami's plans for a secret coup. Both women are being hunted, and their stories come together for an explosive finish. Soule (The Oracle Year, 2018) imagines a future in which humans are addicted to this innovation that provides both benefits and danger and explores how the world could change if we could truly see from others' perspectives. For fans of Blake Crouch (Recursion, 2019) and Tal Klein (The Punch Escrow, 2017).--Cari Dubiel Copyright 2019 Booklist"
From Booklist, Copyright (c) American Library Association. Used with permission.
Publisher's Weekly Review:
"Comics artist Soule's second novel (after The Oracle Year) is a suspenseful tale built on the back of an existential crisis around the nature of human consciousness. In the present day, chemist Gabrielle White stumbles across an intriguing new technology that lets her transfer her consciousness into her husband's body. Interwoven into this narrative is another taking place 25 years in the future, when this new technology, dubbed "flash," has become commonplace, and flash prostitute Annami chronicles her experiences as a vessel for the minds of anonymous users. Soule draws readers into a brave new world where identities are meaningless and manipulation and control are the name of the game. As the two tales twist and merge together, Soule pits his protagonists against the cutthroat denizens of the corporate world. Present-day concerns about technology, privacy, and anonymity are projected into a dystopian but plausible future. Although the dual narratives are sometimes unwieldy, the novel is fast-paced and suspenseful. Soule's uncomfortable vision of the future will please readers of cutting-edge speculative fiction. Agent: Seth Fishman, Gernert Company. (Dec.)"
(c) Copyright PWxyz, LLC. All rights reserved
Additional Information