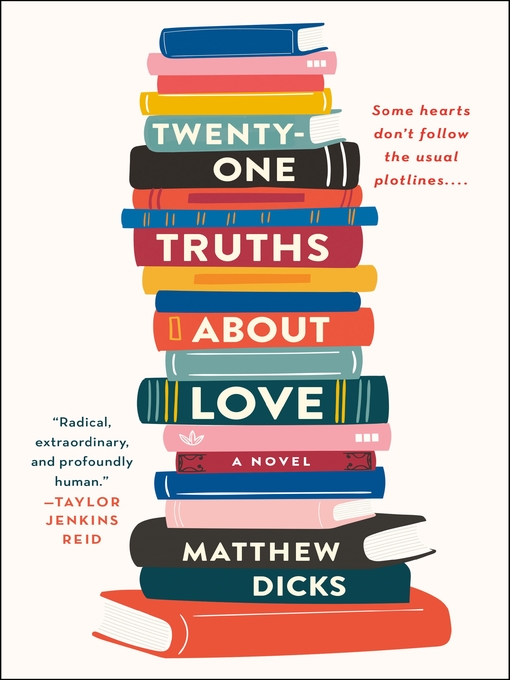 Twenty-one truths about love
Format:

Kindle Book

2019

2019

Adobe EPUB ebook

OverDrive Read

Availability:

Unavailable

0 of 2 copies
3 people on waitlist
Summary
"From the beloved author of Memoirs of an Imaginary Friend comes a wonderful new novel about a struggling man, written entirely in lists. Daniel Mayrock's life is at a crossroads. He knows the following to be true: 1. He loves his wife Jill... more than anything. 2. He only regrets quitting his job and opening a bookshop a little (maybe more than a little) 3. Jill is ready to have a baby. 4. The bookshop isn't doing well. Financial crisis is imminent. Dan doesn't know how to fix it. 5. Dan hasn't told Jill about their financial trouble. 6. Then Jill gets pregnant. This heartfelt story is about the lengths one man will go to and the risks he will take to save his family. But Dan doesn't just want to save his failing bookstore and his family's finances: 1. Dan wants to do something special. 2. He's a man who is tired of feeling ordinary. 3. He's sick of feeling like a failure. 4. He doesn't want to live in the shadow of his wife's deceased first husband. Dan is also an obsessive list maker; his story unfolds entirely in his lists, which are brimming with Dan's hilarious sense of humor, unique world-view, and deeply personal thoughts. When read in full, his lists paint a picture of a man struggling to be a man, a man who has reached a point where he's willing to do anything for the love (and soon-to-be new love) of his life"--

Published Reviews
Booklist Review:
"Dicks (The Perfect Comeback of Caroline Jacobs, 2015) manages to create tension, pathos, humor, and some searing melodrama in a novel written entirely in lists. Daniel Mayrock, soon to be a father, quits a dull teaching position to open his own bookstore. Following the advice of his therapist, he starts making lists, and list-making becomes a compulsion as he submits all aspects of his life to enumeration. He ranks his employees, analyzes his interactions with others, and documents his many foibles and phobias. Through lists, Dan's rich, sympathetic voice shines, and as he organizes his opinions about music, his love of his wife, and his many vices and neuroses, he is funny and insightful. Like Benjamin Kunkel's Indecision (2005) and Joshua Ferris's To Rise Again at a Decent Hour (2014), this tale explores the struggles of a man attempting to navigate contemporary adulthood and his fear that he is unable to function like everyone around him. Often moving, sometimes shocking, always entertaining, this superbly crafted work emphasizes the incalculable variety of the novel form.--Alexander Moran Copyright 2010 Booklist"
From Booklist, Copyright (c) American Library Association. Used with permission.
Publisher's Weekly Review:
"Dicks (Memoirs of an Imaginary Friend) chronicles the mounting economic and romantic anxieties of expectant father Dan Mayrock through Dan's scribbled lists and notes, a gimmick that can't quite be sustained for the length of a novel. Dan's wife, Jill, was widowed when he met her, and Dan constantly compares himself to the specter of her seemingly perfect first husband, Peter. He's certain that Peter would never have done what Dan's done: quit his teaching job, open a bookstore, and lie to his pregnant wife about their financial situation, which is becoming dire. As Dan grows desperate in his attempts to shoulder this burden alone, he cooks up a plan to rob a local bingo night, driven to the absurd ("Be aggressive./ Move fast./ It's better to get nothing than to get caught./ Remember that these are old ladies.") in order to provide for his family. Dicks has impeccable comedic timing and touchingly renders family dynamics, but the exhausting list format will fall flat for readers who don't find Dan charming enough to justify it. This experimental work never quite manages to transcend the essential boringness of flipping through someone else's notepad. (Oct.)"
(c) Copyright PWxyz, LLC. All rights reserved
Additional Information