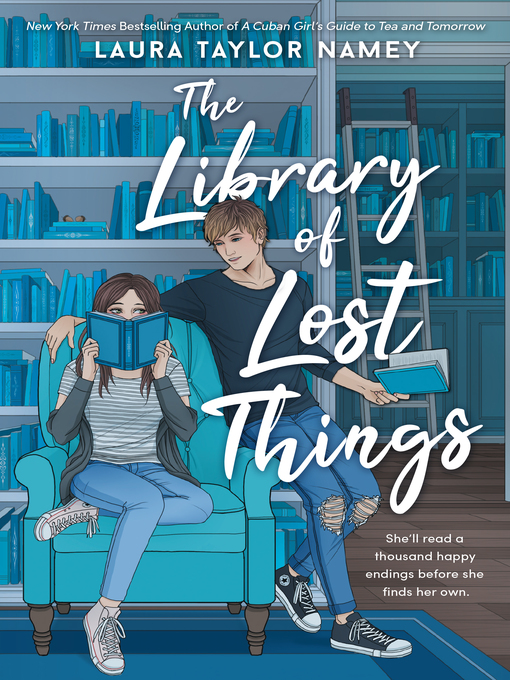 The library of lost things
Format:

Kindle Book

2019

2019

Adobe EPUB ebook

OverDrive Read

Availability:

Available from OverDrive

4 of 5 copies
1 person on waitlist
Summary
"From the moment she first learned to read, literary genius Darcy Wells has spent most of her time living in the worlds of her books. There, she can avoid the crushing reality of her mother's hoarding and pretend her life is simply ordinary. But when a new property manager becomes more active in the upkeep of their apartment complex, the only home Darcy has ever known outside of her books suddenly hangs in the balance. While Darcy is struggling to survive beneath the weight of her mother's compulsive shopping, Asher Fleet, a former teen pilot with an unexpectedly shattered future, walks into the bookstore where she works...and straight into her heart. For the first time in her life, Darcy can't seem to find the right words. Fairy tales are one thing, but real love makes her want to hide inside her carefully constructed ink-and-paper bomb shelter. Still, after spending her whole life keeping people out, something about Asher makes Darcy want to open up. But securing her own happily-ever-after will mean she'll need to stop hiding and start living her own truth--even if it's messy"--Amazon.com.

Published Reviews
Booklist Review:
"Darcy is almost 18, which means she's almost a legal adult, though she's been taking on that role for years, trying to keep her mother from burying them under the weight of her hoarding problem. What once looked like a straight shot to the finish line becomes riddled with obstacles after her grandmother asks Darcy to chose between stability and her mother, her long-absent father suddenly reemerges, and a boy with his own troubles becomes (almost) all she can think about. The Library of Lost Things is a compelling family drama with a literary through line that will delight bibliophiles a classic lit quote begins every chapter, and Darcy works in a bookstore. Though the romance is appropriately sweet, it's Darcy's family dynamics the war waging within her between love and resentment, the desperation to cling to loyalty while running toward independence that sets the book apart. Book lovers will find Namey's story especially compelling because, in Darcy, they'll find a kindred spirit. Hand to fans of Cath Crowley's Words in Deep Blue (2017).--Molly Horan Copyright 2019 Booklist"
From Booklist, Copyright (c) American Library Association. Used with permission.
Publisher's Weekly Review:
"For years, 17-year-old Darcy, who seems to be white, has hidden her single mother's shopping and hoarding addictions from everyone except her Cuban/Mexican best friend, Marisol, and Marisol's brother, who does repairs in their chaotic San Diego apartment. Bent on keeping others out, Darcy has turned inward, burying herself in books, but the new apartment manager's plans for interior renovations forces her back to reality. Worried that she and her mother will have to move if the manager sees the state of their unit, Darcy must face the harsh truths about her mother's disorder, even as she experiences her first romantic feelings for a boy she meets at her local bookstore job. Bighearted Asher is open about the physical and emotional challenges he faces after a car accident, and Darcy seeks the courage to be as honest about her life. In this complex romance, debut author Namey paints a painfully realistic portrait of a teen playing an adult role in a dysfunctional family. Darcy's emergence from her protective shell of fictional characters and worlds creates an emotional journey. Featuring a strong supporting cast--including Darcy's boss, the owner of a wig shop--this compassionate, insightful novel will be relevant to anyone who has felt burdened by a secret. Ages 13--up. Agent: Natascha Morris, BookEnds Literary. (Oct.)"
(c) Copyright PWxyz, LLC. All rights reserved
Additional Information