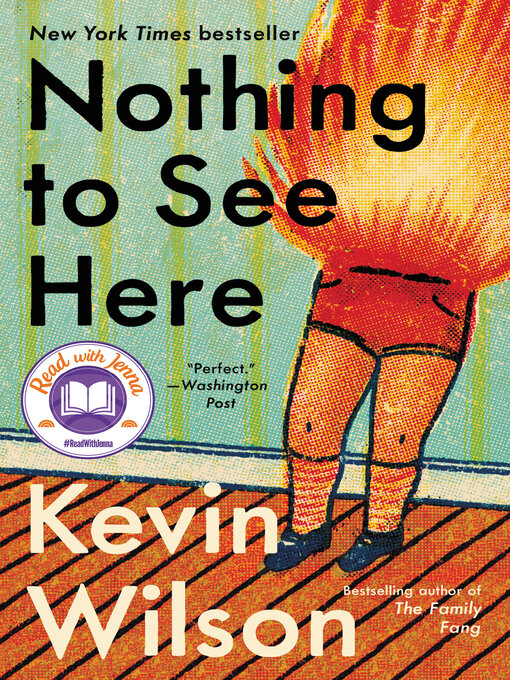 Nothing to see here
Format:

Kindle Book

2019

2019

Adobe EPUB ebook

OverDrive Read

Availability:

Unavailable

0 of 35 copies
134 people on waitlist
Summary
"Kevin Wilson's best book yet--a moving and uproarious novel about a woman who finds meaning in her life when she begins caring for two children with remarkable and disturbing abilities... Lillian and Madison were the unlikeliest of roommates at their elite boarding school: Madison, the daughter of a prominent Atlanta family, being groomed for greatness; Lillian, a scholarship student, plucked out of nowhere based solely on her intellect and athletic prowess. The two were as tight as could be, reveling in their unique weirdnesses, until Lillian had to leave the school unexpectedly. Years later, the two have lost touch, but Madison writes and begs Lillian for help. Her husband's twin stepkids are moving in with them and she wants Lillian to be their caretaker. However, there's a catch: the twins can spontaneously combust when they get agitated, flames igniting from their skin in a disturbing but beautiful way. Disbelieving at first but ultimately too intrigued by these strange children, Lillian agrees. And as they hunker down in the pool house, Lillian and the twins learn to trust each other--and stay cool--just as Madison's family is bracing for a major announcement. It all seems impossible to manage, but Lillian soon accepts that she and the children need each other, urgently and fiercely. With a white-hot wit and a big, tender heart, Kevin Wilson has written a most unusual story of deep parental love that proves to be his best book yet"--

Published Reviews
Booklist Review:
"Slighter in scale than Wilson's previous novels, this one is powered, like his strange and funny short stories, by an element of fantasy. It's about the children of a wealthy and powerful Tennessee politician who, when emotionally stressed, catch fire literally. The pol's latest wife, Madison, a child of wealth herself, calls on her best friend from prep school, Lillian, for a big, well-remunerated favor: take care of the kids for the summer. Lillian, from way on the other side of the tracks, had accepted the expulsion from school Madison deserved and has foundered ever since. But her loving admiration of Madison still burns bright (and is not unrequited, entirely), and she agrees. Lillian tells the story, revealing immediately that she's another of Wilson's normal extraordinary protagonists, like Annie and Buster in The Family Fang (2011) and single mom Izzy Poole in Perfect Little World (2017). She fills the book with her wry humor and large, embracing heart as she ponders the love of friendship and the love of family and then acts on what she discovers.--Ray Olson Copyright 2010 Booklist"
From Booklist, Copyright (c) American Library Association. Used with permission.
Publisher's Weekly Review:
"Wilson (Baby, You're Gonna Be Mine) turns a bizarre premise into a beguiling novel about unexpected motherhood. When aimless, low-achieving 28-year-old Lillian Breaker receives a mysterious invitation from Madison Roberts, her former roommate at a prestigious high school, longtime correspondent, and now wife to a senator, she does not hesitate to travel to Franklin, Tenn. Madison offers her a job as a very discreet governess for the senator's twin children from a prior marriage. Ten-year-olds Bessie and Roland sometimes burst into flames, and Madison is desperate to avoid a scandal upsetting the senator's chances of becoming secretary of state. Lillian accepts and, with begrudging help from Carl, the senator's shadowy right-hand man, guides the children through coping mechanisms in the guest house on the family's lavish estate while Madison and Senator Roberts remain icy toward them. Their progress is upended, though, when the senator's prospects rapidly change and Lillian has to decide where her loyalties are. Lillian's deadpan observations zip from funny to heartbreaking while her hesitancy and messy love satisfyingly contrasts with Madison's raw drive for power and tightly controlled affection. Wilson captures the wrenching emotions of caring for children in this exceptional, and exceptionally hilarious, novel. Agent: Julie Barer, the Book Group. (Nov.)"
(c) Copyright PWxyz, LLC. All rights reserved
Additional Information