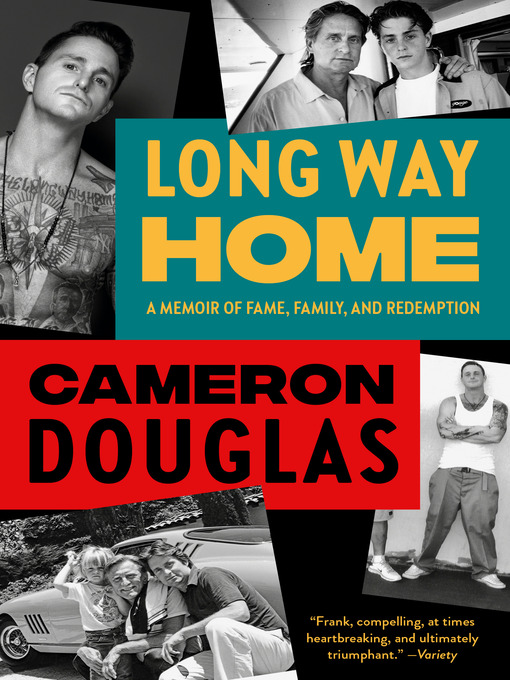 Long way home
Format:

Kindle Book

2019

2019

Adobe EPUB ebook

OverDrive Read

Availability:

Available from OverDrive

3 of 3 copies
Summary
Douglas is born into wealth, privilege, and comfort. His father a superstar, his mother a beautiful socialite, his grandfather a legend. But by the age of 32 he had become a drug addict, an armed robber, and-- after a DEA drug bust-- a convicted drug dealer sentenced to five years in prison. In prison he began to reverse his savage transformation, to understand the psychological turmoil that has tormented him for years, and prepare for what will be a profoundly challenging, but eventually deeply satisfying and successful re-entry into society at large. -- adapted from jacket

Contents
2004: "Don't gaslight me"
Mom
Dad
2004: A consummate hose
1983: What about this guy?
1991: Thirteen
2005: Spin out
1993: Gooned
1977-1995: Mom and Dad
2006: More Cheeva
1995: King of the shits
1995-1996: The most troublesome Douglas
1996: The juvie archipelago
2006: Oblivion
2006: Logistics
1996: Booty juice
1997: Hands over your head
2007: Inspector Gadget
1998-2004: False spring
2008: A cascade of unfortunate events
2009: Yes it's really me
2009: Crazy legs
2010: Acquired situations narcissism
2010: Camp
2010: Cancer
2010-2011: Night runner
2011: Badge of courage
2012: One of the bad guys
2012: Hole time
2013: Notable inmates
2013: As a man thinketh
2014: The boy with the Nazi tattoo
2015: Orange isn't the new black
2016:Kashi vanilla Pepita
2017: Planning for the past.
Published Reviews
Publisher's Weekly Review:
"In an unblinking, meticulously detailed memoir, Douglas--son of actor Michael Douglas--discusses his crippling "liquid cocaine" and heroin addiction and recovery. Born in California in 1978, Douglas grew up surrounded by wealth but often felt neglected by his parents, especially his father, who once hired a busboy to serve as his son's nanny and "more constant male influence." The book jumps back and forth between Douglas's troubled years as a teen (he began smoking pot at 13) and desperate adult, as he became increasingly unhinged on multiday benders. "Every shot, I want to take myself right to the brink of overdose," he writes. He shot up in his closet; robbed a motel for cash; sold crystal meth and coke; and was arrested on drug charges in 2009. Douglas charts his seven years at various prisons, into which he smuggled drugs ("t has been a revelation to me just how much contraband the lower bowel can accommodate") and where he eventually kicked his habit. Douglas ends with a hopeful overview of his post-prison life beginning in 2016, during which he started a family and began acting. Douglas's raw examination of addiction and prison life serves as a cold reminder of the destructive power of drugs. (Oct.)"
(c) Copyright PWxyz, LLC. All rights reserved
Additional Information