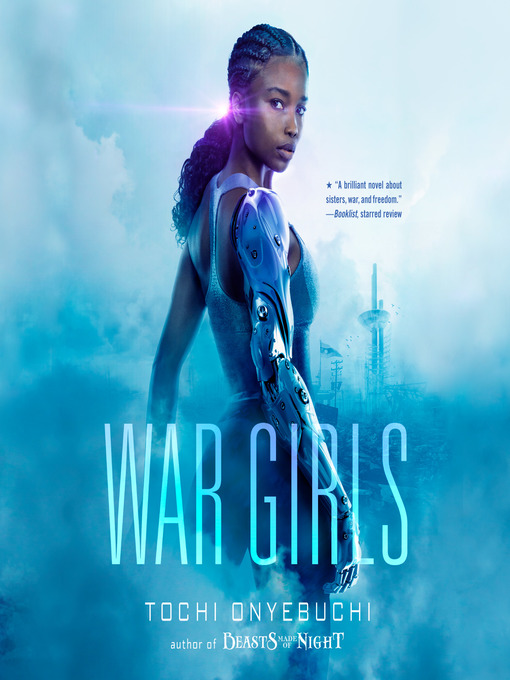 War girls
Format:

OverDrive MP3 Audiobook

2019

2019

OverDrive Listen

Availability:

Available from OverDrive

1 of 2 copies
Summary
In 2172, when much of the world is unlivable, sisters Onyii and Ify dream of escaping war-torn Nigeria and finding a better future together but are, instead, torn apart.

Published Reviews
Booklist Review:
"In a futuristic Nigeria torn asunder by civil war, catastrophic battles are fought using soldiers augmented with bionic limbs and artificial organs. Sisters Onyii and Ify find themselves on opposite sides of the war. Eldest sister Onyii is the practical one. She's a caregiver and leader who will stop at nothing to see Ify have a better life. However, Ify doesn't necessarily like being coddled. When a years-long civil war rips the sisters apart, they will do anything to fight their way back to each other. Onyebuchi (Beasts Made of Night, 2017) uses a sf setting to explore very heavy, real-world issues, like climate change, nuclear disasters, and child soldiers. Onyii and Ify both face horrors as children of war and live with the traumas induced by being exposed to such violence at a tender age. The story also explores bioaugmentation and what it means to be human while asking whether we should use a technology just because we have it. Onyebuchi makes up for the sluggish narrative start with his staggering, imaginative world, which immediately draws readers in and effortlessly makes them feel and root for its characters. This brilliant novel about sisters, war, and freedom should be in every sf collection.--Enishia Davenport Copyright 2010 Booklist"
From Booklist, Copyright (c) American Library Association. Used with permission.
Publisher's Weekly Review:
"In the year 2172, a civil war rages in Nigeria as the Republic of Biafra fights for independence in battles using advanced tech and giant mechs. War Girl Onyii, a Biafran rebel and former child soldier with a bionic arm, has made a safe place away from the war with her comrades and younger sister, Ify, a brilliant hacker who has created an Accent, a tiny technological wonder that "reveal the series of lines and nodes of net connectivity that bind everything--and everyone--together." When their camp is attacked, Onyii is left alive and drawn back into the fight; Ify, captured, is taken to the glittering glass city of Abuja. Four years later, Ify is a trusted confidant to her now powerful kidnapper but questions the treatment of young Biafran prisoners, while Onyii has become a killing machine known as the Demon of Biafra. Their divergent paths, forged in violence, shape them indelibly, ensuring they will never be the same. Onyebuchi's action-packed, high-stakes tale of loyalty, sisterhood, and the transformative power of love and hope brims with imaginative future tech and asks important questions about the human cost of war, mechanization, and artificial intelligence. Set amid the horrors of war in a world ravaged by climate change and nuclear disaster, this heart-wrenching and complex page-turner, drawn from the 1960s Nigerian civil war, will leave readers stunned and awaiting the second installment. Ages 12--up. Agent: Noah Ballard, Curtis Brown Ltd. (Oct.)"
(c) Copyright PWxyz, LLC. All rights reserved
Additional Information