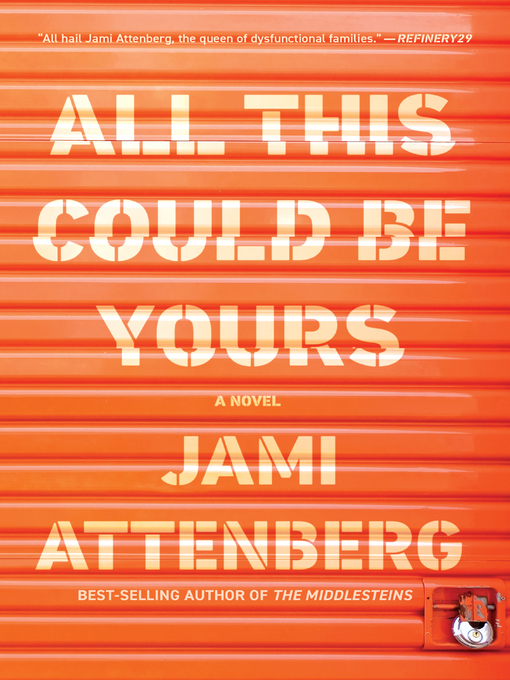 All this could be yours
Format:

Kindle Book

2019

2019

Adobe EPUB ebook

OverDrive Read

Availability:

Available from OverDrive

7 of 11 copies
1 person on waitlist
Summary
"From New York Times best-selling author Jami Attenberg comes a sharp, funny, and emotionally powerful novel about a family reuniting at the deathbed of its patriarch. In reckoning with his secret past, can they rebuild and begin anew?"--

Published Reviews
Booklist Review:
"Adult siblings Alex and Gary respond to their father's impending death with opposing tacks. Alex hops the next plane to New Orleans, where Gary and their parents, Victor and Barbra, live; Gary. meanwhile, is in Los Angeles and can't seem to get himself to leave. His wife, Twyla, joins Alex and Barbra at Victor's bedside in his absence. Barbra wants Alex to make peace with her unconscious father, but Alex is dying to know something even more private: why Barbra, an unequivocally cool customer, has stayed with tyrannical Victor all these years. Information! She wanted nothing more than that. Attenberg's (The Middlesteins, 2012; All Grown Up, 2017) seventh work of fiction is experienced mostly through Alex, Barbra, and Twyla, each one a terrifically nuanced character that's nearly impenetrable to the others yet intoxicatingly available to readers. As the story unfolds largely over a single day, memories are purged and bombshells dropped, not to mention the ever-curious matter of the vexing central character rendered mute for the duration. Attenberg writes with a deeply human understanding of her characters, and the fact that, when it comes to family, things are rarely well enough to leave alone.--Annie Bostrom Copyright 2010 Booklist"
From Booklist, Copyright (c) American Library Association. Used with permission.
Publisher's Weekly Review:
"A patriarch's death strains a family's already fraught relationships in this dazzling novel from Attenberg (All Grown Up). Shady real estate developer Victor Tuchman suffers a heart attack in New Orleans and is rushed to the hospital. During his final, lingering day, his family mentally rehashes key moments of his life in hopes of understanding the man they are losing. His wife, Barbra, still annoyed about leaving their Connecticut mansion, occupies herself with obsessive walking while remembering Victor's quick transition from shy suitor to abusive tyrant. His daughter, Alex, flies in from Chicago, desperate to know the truth about Victor's criminal past, and begrudges her mother's insistence she let it go and make peace. Victor's son Gary, who is in Los Angeles to jump-start his career in the movies, avoids answering calls from the family and intentionally misses his flight. Gary's wife, Twyla, slips into a nervous breakdown during a cosmetic shopping spree, slowly revealing the true root of her distress. As Victor fades, the family's dysfunction comes to light and they make drastic choices about their future. Attenberg excels at revealing rich interior lives--not only for her main cast, but also for cameo characters--in direct, lucid prose. This is a delectable family saga. (Sept.)"
(c) Copyright PWxyz, LLC. All rights reserved
Additional Information