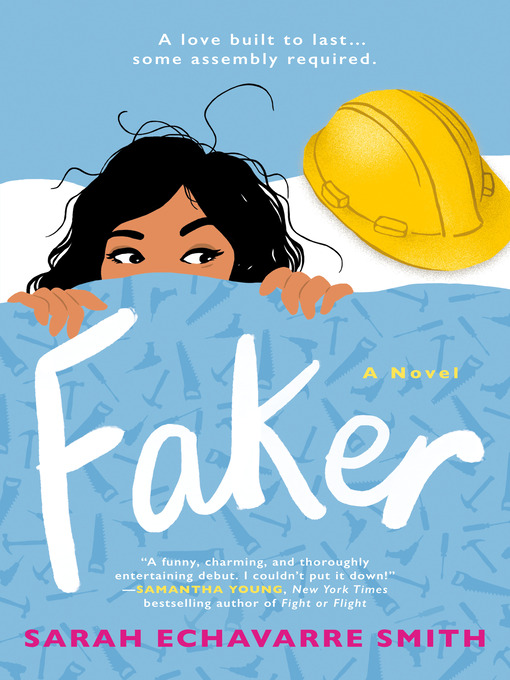 Faker
Format:

Kindle Book

2019

2019

Adobe EPUB ebook

OverDrive Read

Availability:

Available from OverDrive

2 of 6 copies
1 person on waitlist
Summary
"Emmie Echavarre is a professional faker. She has to be to survive as one of the few female employees at Nuts & Bolts, a power tool company staffed predominantly by gruff, burly men. From nine to five, Monday through Friday, she's tough as nails--the complete opposite of her easy-going real self. One thing she doesn't have to fake? Her disdain for coworker Tate Rasmussen. Tate has been hostile to her since the day they met. Emmie's friendly greetings and repeated attempts to get to know him failed to garner anything more than scowls and terse one-word answers. Too bad she can't stop staring at his Thor-like biceps... When Emmie and Tate are forced to work together on a charity construction project, things get...heated. Emmie's beginning to see that beneath Tate's chiseled exterior lies a soft heart, but it will take more than a few kind words to erase the past and convince her that what they have is real"--

Published Reviews
Booklist Review:
"Emmie Echavarre fakes everything from orgasms to her tough demeanor at Nuts & Bolts, a male-dominated power tool company where she is a copywriter. Tate Rasmussen, the company's social media coordinator, is Emmie's nemesis, and that's for real. With their offices mere feet apart, they are forced to stare at each other every day, and are well acquainted with each other's (annoying) habits. When the company takes on a charity home building project, Tate decides that the two should work together, combining the social media and marketing aspect of the project. Unbeknownst to Emmie, Tate has an ulterior motive that is hotter than the sun that beats down on them during construction. Smith brings the heat in more ways than one in this enemies to friends to lovers story with a splash of humor. Readers will love Emmie and her various personalities. With graphic, steamy scenes and a painkiller-induced truth serum, Emmie gradually drops her hard exterior to show a softer side. Perfect for fans of Tessa Bailey and Christina Lauren.--Erin Holt Copyright 2010 Booklist"
From Booklist, Copyright (c) American Library Association. Used with permission.
Publisher's Weekly Review:
"Smith's debut aims for romantic comedy, but misses the mark. Emmie Echavarre is an expert at faking confidence. She's one of five women working at a power tool company, and one of the few nonwhite employees. Her white male co-workers mansplain at her and harass her, and she has to project toughness to survive. Cruelest of them all is the social media manager, Tate Rasmussen, who never seems to have a kind word for her. After they begin working together on a project to build interest in their company's charitable ventures, Emmie has a health scare, and Tate's response threatens to disrupt everything Emmie believes about her tall, blond, and grouchy co-worker. This enemies-to-friends-to-lovers romance hinges on a ton of miscommunication that may frustrate readers. The steamy scenes scattered across its second half aren't enough to convey why Tate suddenly becomes appealing enough for Emmie to risk a workplace romance when she's already being hassled by co-workers. In addition, the subplot about Emmie's anxieties over being Filipina doesn't gel with the rest of the story. Emmie is appealing on her own, but readers will have a hard time believing in her union with Tate. Agent: Sarah Younger, Nancy Yost Literary. (Oct.)"
(c) Copyright PWxyz, LLC. All rights reserved
Additional Information