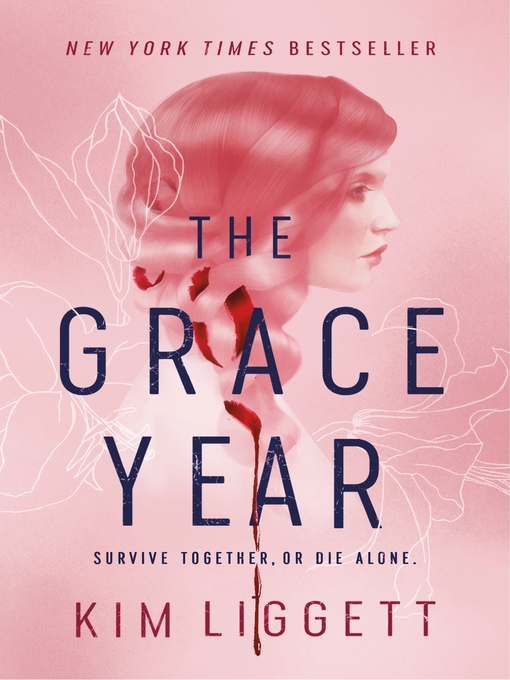 The grace year
Format:

Kindle Book

2019

2019

Adobe EPUB ebook

OverDrive Read

Availability:

Unavailable

0 of 5 copies
29 people on waitlist
Summary
Tierney James, sixteen, struggles to endure the year in which she and other young women are banished to the wild until, purified, the survivors are allowed to return home and marry.

Published Reviews
Booklist Review:
"Liggett prefaces this with quotes from The Handmaid's Tale and Lord of the Flies. Add a heaping spoon of The Hunger Games, and you've captured the essence of this provocative, sometimes disturbing story. It is Tierney's Grace Year, when the 17-year-olds are sent to the wilderness to expel the magic the men of the community fear they possess. The older women don't speak of what they've all endured, so everything comes as a shock. The scarcities, the dangers, including poachers ready to strip them of their skin are matched by the cruel power that group leader Kiersten wields over them. Tierney comes up against it all and emerges as a fully developed heroine whose brushes with danger, both physical and emotional, have a real impact on readers. But this also does a good job of exploring the dark undertones of relationships between women that can be as destructive as the machinations men pursue to keep women down. A dark love story adds tenderness. Although this often recalls other stories, it nevertheless grabs and holds on.--Ilene Cooper Copyright 2010 Booklist"
From Booklist, Copyright (c) American Library Association. Used with permission.
Publisher's Weekly Review:
"Women are submissive, girls are pitted against each other, and misogyny is the governing principle in this heavy-handed mash-up of The Handmaid's Tale, The Hunger Games, and Lord of the Flies. Clever narrator Tierney James lives in a community where men hold absolute power over women, who greatly outnumber them; a woman's only value is as a wife, unmarried women are sent to workhouses and fields, and punishments (hanging, sexual slavery) are doled out on a whim. When young women turn 16, they embark on their Grace Year--banishment to an isolated compound to purify themselves of their "magic" before returning to forced marriage or work. As Tierney begins her Grace Year, she and the others must survive with few resources while poachers prowl the compound's perimeter, hoping to rape and dismember captured girls (they'll bottle and later sell their parts, which are believed to possess magical, medicinal powers). After Tierney is banished from the group by a cruel ringleader, she falls for a kindhearted poacher, whose interest in her threatens his position. Though the prose is evocative and the pacing well done, gratuitous violence and flimsy characters eclipse what seems like intended commentary on women's perpetuation of misogyny. Ultimately, the many malignant forces at work in this bloody, over-the-top novel fail to become more than the sum of their parts. Ages 14--up. Agent: Joanna Volpe, New Leaf Literary & Media. (Sept.)"
(c) Copyright PWxyz, LLC. All rights reserved
Additional Information