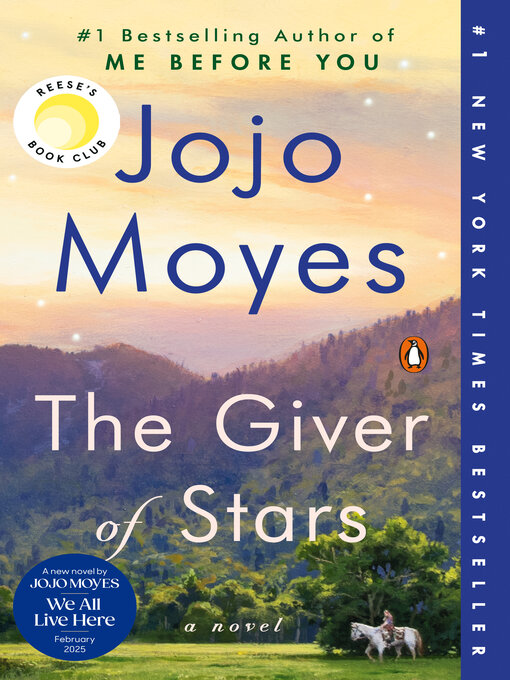 The giver of stars
Format:

Kindle Book

2019

2019

Adobe EPUB ebook

OverDrive Read

Availability:

Unavailable

0 of 133 copies
666 people on waitlist
Summary
"Set in Depression-era America, a breathtaking story of five extraordinary women and their remarkable journey through the mountains of Kentucky and beyond, from the author of Me Before You and The Peacock Emporium Alice Wright marries handsome American Bennett Van Cleve hoping to escape her stifling life in England. But small-town Kentucky quickly proves equally claustrophobic, especially living alongside her overbearing father-in-law. So when a call goes out for a team of women to deliver books as part of Eleanor Roosevelt's new traveling library, Alice signs on enthusiastically. The leader, and soon Alice's greatest ally, is Margery, a smart-talking, self-sufficient woman who's never asked a man's permission for anything. They will be joined by three other singular women who become known as the Horseback Librarians of Kentucky. What happens to them--and to the men they love--becomes a classic drama of loyalty, justice, humanity and passion. Though they face all kinds of dangers, they're committed to their job--bringing books to people who have never had any, sharing the gift of learning that will change their lives. Based on a true story rooted in America's past, The Giver of Stars is unparalleled in its scope. At times funny, at others heartbreaking, this is a richly rewarding novel of women's friendship, of true love, and of what happens when we reach beyond our grasp for the great beyond"--

Published Reviews
Booklist Review:
"When Alice marries the charming, athletic Bennett Van Cleve, she imagines bustling city life in America, so unlike her staid English existence. But when she gets to Baileyville, Kentucky, she finds her peers are suspicious and gossipy, her house is a shrine to Bennett's late mother, and her father-in-law sleeps in the room next door. Desperate and lonely, she surprises herself by volunteering to help with the new Baileyville Packhorse Library, run by the indomitable Margery O'Hare, who has an unsavory reputation as a moonshiner's daughter, though no one dares say it to her face. Of course, spreading education and information, especially to the womenfolk, threatens the man who runs the coal mine Alice's father-in-law. Readers familiar with Moyes' very British narrative voice will be thrilled that she translates seamlessly into Appalachian, and she weaves a tough sort of protofeminism in with labor unrest and romance in this story that doesn't stereotype but lifts up the work of the women who run the library and the lives they impact. There are tears and laughter in this homage to the power of reading and the strength of community.HIGH-DEMAND BACKSTORY: Moyes is a must-read for women's fiction fans, and her newest historical tale is already in development with Universal Pictures.--Susan Maguire Copyright 2010 Booklist"
From Booklist, Copyright (c) American Library Association. Used with permission.
Publisher's Weekly Review:
"An adventure story grounded in female competence and mutual support, and an obvious affection for the popular literature of the early 20th century, give this Depression-era novel plenty of appeal. Alice Wright escapes her stifling English family by marrying an American, but this choice leads to further misery in the rural Kentucky household of her unaffectionate husband and his domineering father, the owner of the local coal mine. She finds respite in riding with the women of the new WPA-sponsored horseback library. She's sustained by her friendships with the other women, especially the brash, self-sufficient Margery O'Hare, and the appreciation of the isolated families she serves. But powerful men in Baileyville oppose the library, as it employs a black woman, influences women and children's minds with fiction, encourages previously illiterate families to defend their rights against encroaching mining companies, and teaches women about intimacy through a secret copy of Married Love. Moyes (Still Me) stereotypes her antagonists a bit, but provides tremendous warmth among the librarians and centers their perspectives thoroughly. There's plenty of drama, but the reader's lasting impression is one of love. Agent: Sheila Crowley, Curtis Brown (U.K.). (Oct.)"
(c) Copyright PWxyz, LLC. All rights reserved
Additional Information