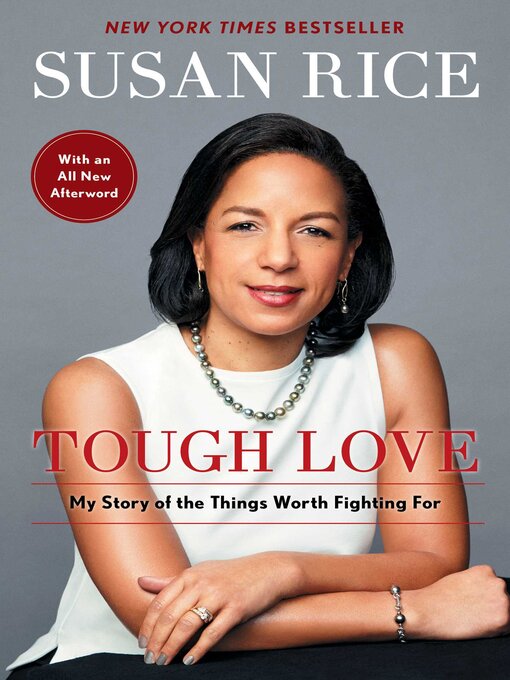 Tough love my story of the things worth fighting for
Format:

Kindle Book

2019

2019

Adobe EPUB ebook

OverDrive Read

Availability:

Unavailable

0 of 5 copies
12 people on waitlist
Summary
"Recalling pivotal moments from her dynamic career on the front lines of American diplomacy and foreign policy, Susan E. Rice -- National Security Advisor to President Barack Obama and U.S. Ambassador to the United Nations -- delivers an inspiring account of a life in service to family and country"--

Contents
Prologue: Farewell to the moral universe
Service in my soul
Coming up
Growing up too soon
Twice as good
Go west, young woman
Busting out
Rookie season
Always Africa
Storming state
"I remember when I too was a young assistant secretary"
Going global
Represent
High-stakes diplomacy
The Arab Spring comes to New York
Star Wars cantina
Benghazi
Running the table
The furies
Point guard
Putting points on the board
The fourth quarter
"He f#%@ing won?"
Bridging the divide.
Published Reviews
Booklist Review:
"The daughter of up-by-their bootstraps Jamaicans and African Americans, Rice achieved early success through disciplined hard work, intellectual brilliance, and friendships with the likes of Madeline Albright. With an award-winning PhD thesis on Zimbabwe, Rice was eminently prepared for high-level positions in the Clinton and Obama administrations. Rice's behind-the-scenes take on major foreign policy challenges are fascinating. As UN ambassador and national security advisor she played key roles in the U.S. response to the Darfur crisis, the Arab spring, Syria's civil war, and the Rwandan genocide. But it was her being scapegoated for the Benghazi disaster, in which Libyan rebels murdered four American diplomats, that exemplifies the tightrope of a career in the public eye. Forced to explain a foreign relations disaster on live TV with limited information from the state department, Rice was excoriated by political opponents, accused of incompetence and dishonesty, and ultimately forced to withdraw from consideration as secretary of state. While she prefers not to dwell on the racism and sexism of Washington, her anger comes through loud and clear. Although Rice is frank about the toll her career took on her family, she is able to look back on her experiences with pride, gratitude, and bracing realism.--Lesley Williams Copyright 2010 Booklist"
From Booklist, Copyright (c) American Library Association. Used with permission.
Publisher's Weekly Review:
"Rice, U.S. ambassador to the U.N. during the Obama administration, delivers a stellar debut memoir of her public service career. Born in 1964 in Washington, D.C., Rice credits her mother, a scholar, and father, an economics expert, with inspiring her to work hard. She graduated from Stanford University in 1986, then attended Oxford University's New College, where she studied international relations and was "the only black person." She then worked on national security and peacekeeping during the Clinton administration beginning in 1993, and dealt with the failed military mission made famous in Black Hawk Down ("The Somalia crisis also taught me to be skeptical of Congress's capacity" to address national security crises, she notes). Rice broke with the Clintons in 2007 to back Obama for president and enthrallingly covers her time in Obama's administration: she recalls her appearance on various news programs during the 2012 Benghazi controversy, after which she was branded a liar by Republicans in "a selective and misleading parsing of my Sunday show statements," as well as successfully working with Iran in 2013 to halt its nuclear weapons program. Along the way, Rice writes of juggling work and motherhood, and of the importance of being one's own advocate. Rice's insightful memoir serves as an astute, analytical take on recent American political history. (Oct.)"
(c) Copyright PWxyz, LLC. All rights reserved
Additional Information