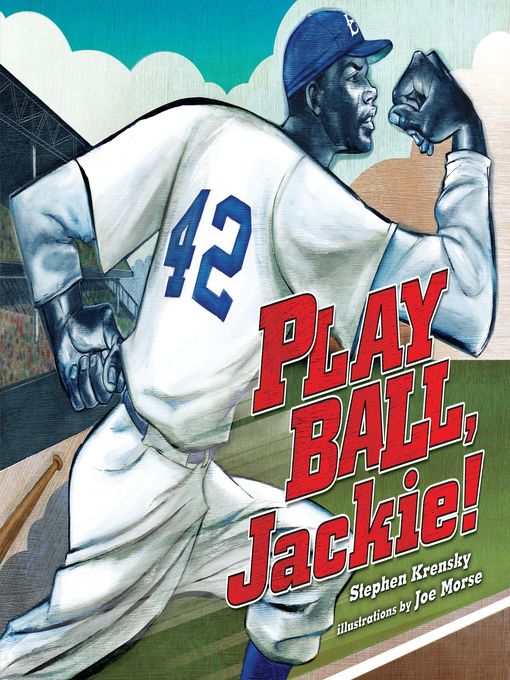 Play ball, Jackie!
Format:

Kindle Book

2010

2014

Adobe PDF eBook

OverDrive Read

Availability:

Unavailable

0 of 1 copy
Summary
On April 15, 1947, Matt Romano and his father watch the Brooklyn Dodgers season-opener, during which Jackie Robinson, a twenty-eight-year-old rookie, breaks the "color line" that had kept black men out of Major League baseball. Includes facts about Jackie Robinson's life and career.

Contents
Cover
Front Flap
Copyright Information
Title Page
Author's Note
Further Reading
Back Flap
Back Cover.
Published Reviews
Booklist Review:
"There's no shortage of picture books about pioneering baseball players, but this one takes a different tack than most. A father brings his son to the opening-day game at Ebbets Field in 1947, where a notable rookie is making his debut for the Brooklyn Dodgers. The father scored the tickets because a coworker, like a lot of people, refused to attend and watch a black player. Should Jackie Robinson be here? the boy asks his dad, who replies he only wants to see the best players on the field, no matter their color, a sentiment the boy echoes during the seventh-inning stretch, when another young fan makes racist comments. This fan's-view account solidly, if a bit woodenly, brings home the lesson of an important moment in racial integration, but the real treat here is the Dodger-blue-and-graphite kineticism of Morse's stylized, limber figures and dynamic layouts. Consider this book as a leadoff hitter to set the table for the slugger, Kadir Nelson's We Are the Ship (2008).--Chipman, Ian Copyright 2010 Booklist"
From Booklist, Copyright (c) American Library Association. Used with permission.
Publisher's Weekly Review:
"In 1947, a boy learns how his father got free tickets to the Opening Day game between the Brooklyn Dodgers and Boston Braves: Jackie Robinson is the Dodgers' new first baseman, and many fans are outraged. Matty's father also expresses his opinion: "I want to see the best players out there... I don't care what color they are." Some members of the stylized crowd wear "I'm for Jackie" buttons, while others raise their fists, heckling Robinson, who is drawn in resolute steel blues. Morse's dramatically grained, exaggerated artwork plays up the intensity of the era's racial tensions and the dynamism of the game, while Krensky adeptly moves between the action on Ebbets Field and Matty's conversations with his father. An intimate and powerful account of a historic day. Ages 7-10. (Mar.) (c) Copyright PWxyz, LLC. All rights reserved."
(c) Copyright PWxyz, LLC. All rights reserved
Additional Information