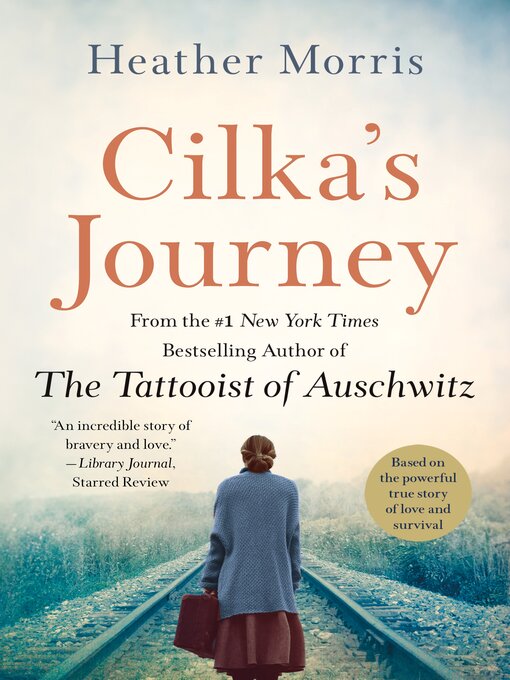 Cilka's journey a novel
Format:

Kindle Book

2019

2019

Adobe EPUB ebook

OverDrive Read

Availability:

Unavailable

0 of 30 copies
122 people on waitlist
Summary
From the author of the multi-million copy bestseller, The Tattooist of Auschwitz, comes the new novel based on an incredible true story of love and resilience. "She was the bravest person I ever met." —Lale Sokolov on Cilka Klein, The Tattooist of Auschwitz Cilka is just sixteen years old when she is taken to Auschwitz-Birkenau Concentration Camp, in 1942. The Commandant at Birkenau, Schwarzhuber, notices her long beautiful hair, and forces her separation from the other women prisoners. Cilka learns quickly that power, even unwillingly given, equals survival. After liberation, Cilka is charged as a collaborator for sleeping with the enemy and sent to Siberia. But what choice did she have? And where did the lines of morality lie for Cilka, who was sent to Auschwitz when still a child? In a Siberian prison camp, Cilka faces challenges both new and horribly familiar, including the unwanted attention of the guards. But when she makes an impression on a woman doctor, Cilka is taken under her wing. Cilka begins to tend to the ill in the camp, struggling to care for them under brutal conditions. Cilka finds endless resources within herself as she daily confronts death and faces terror. And when she nurses a man called Ivan, Cilka finds that despite everything that has happened to her, there is room in her heart for love.

Published Reviews
Publisher's Weekly Review:
"In the stirring follow-up to The Tattooist of Auschwitz, Morris tells the story of a woman who survives Auschwitz, only to find herself locked away again. Cilka Klein is 18 years old when Auschwitz-Birkenau is liberated by Soviet soldiers. But Cilka is one of the many women who is sentenced to a labor camp on charges of having helped the Nazis--with no consideration of the circumstances Cilka and women like her found themselves in as they struggled to survive. Once at the Vorkuta gulag in Sibera, where she is to serve her 15-year sentence, Cilka uses her wits, charm, and beauty to secure an opportunity tending to the sick and malnourished within the camp. Morris weaves a fast-paced story that captures the immediacy of Cilka's duties caring for prisoners while appeasing guards at every step, but the brisk speed often papers over a lack of emotional depth and character development. Cilka and those around her respond with a positivity that feels unnatural. Even so, Morris's propulsive tale shows the goodness that can be found even inside the gulag. (Oct.)"
(c) Copyright PWxyz, LLC. All rights reserved
Additional Information