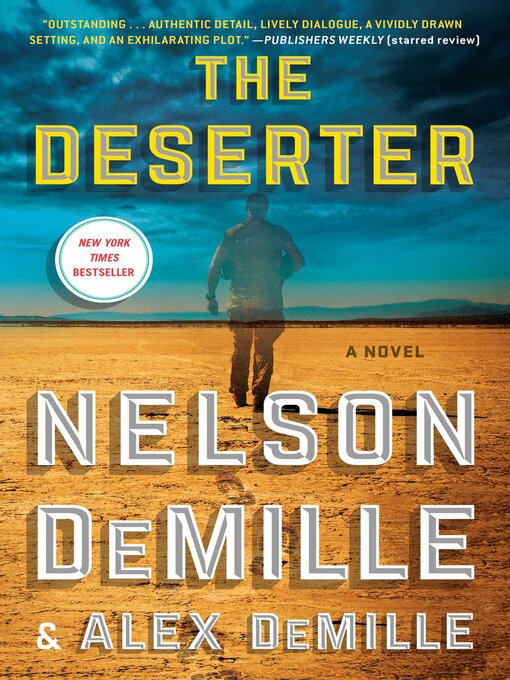 The deserter a novel
Format:

Adobe EPUB ebook

2019

2019

OverDrive Read

Availability:

Available from OverDrive

6 of 18 copies
Summary
"A taut, psychologically suspenseful military thriller from #1 New York Times bestselling author Nelson DeMille--writing with his son, screenwriter Alex DeMille--about two army investigators on the hunt in Venezuela for an army deserter who might know too much about a secret Pentagon operation"--

Published Reviews
Booklist Review:
"The mystery here concerns Captain Kyle Mercer, a special-ops officer in the army's Delta Force, the elite of the elite. Why has he gone rogue, deserting his post in Afghanistan and sending out grisly videos of himself beheading Taliban members? And where is this ""most infamous Army deserter since Benedict Arnold""? These are the questions put to army Criminal Investigation Division detectives Scott Brodie and Maggie Taylor, the leads in this often-dazzling and occasionally irritating collaboration between Nelson DeMille and his filmmaker son, Alex. The trail leads to Venezuela, and too much time is spent painting a sorrowful picture of this beautiful country, where ""the worst elements of humanity had defeated civilization."" For a time, the authors' jaunty, gleeful style, which seems to invite you to have as much fun reading the book as they had writing it, carries the text. But midway through comes a series of chapters that each promise confrontations and resolutions that never happen. Blessedly, an action-charged finale brings everything home. It comes with the spooky observation that a secret world is slowly taking over that other world, our world.--Don Crinklaw Copyright 2010 Booklist"
From Booklist, Copyright (c) American Library Association. Used with permission.
Publisher's Weekly Review:
"This outstanding thriller from bestseller DeMille (The Cuban Affair) and his screenwriter son centers on a search for an Army deserter who has fled to Venezuela after escaping duty in Afghanistan under strange circumstances. On the hunt for Delta Force Capt. Kyle Mercer are Scott Brodie, a hardened ex-soldier with impulsive, rogue tendencies, and Maggie Taylor, a cunning by-the-book Army cop who does her best to rein in Brodie's urges, both investigative and sexual. Brodie, the senior officer, quickly suspects his commanders aren't telling him everything about Mercer; his desertion may have less to do with disobedience than his knowing too much about military atrocities in Afghanistan. Nonetheless, Brodie and Taylor track Mercer to a jungle hideout far outside Caracas, where he's training a group of mercenaries with the apparent backing of President Maduro. In typical DeMille fashion, the last hundred pages move along like a ballistic missile, exploding in a satisfying finale on a remote airstrip. DeMille and son provide it all in this rumble through the jungle--authentic detail, lively dialogue, a vividly drawn setting, and an exhilarating plot. Agents: Jenn Joel and Sloan Harris, ICM Partners. (Oct.)"
(c) Copyright PWxyz, LLC. All rights reserved
Additional Information