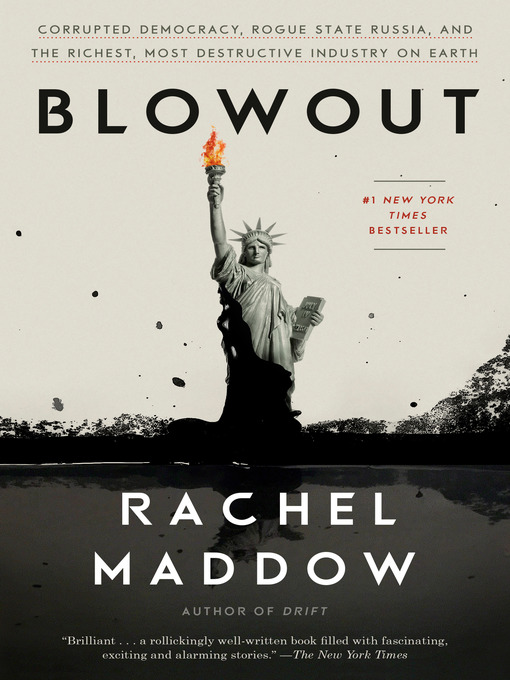 Blowout
Format:

Kindle Book

2019

2019

Adobe EPUB ebook

OverDrive Read

Availability:

Available from OverDrive

3 of 15 copies
2 people on waitlist
Summary
"Rachel Maddow's Blowout offers a dark, serpentine, riveting tour of the unimaginably lucrative and corrupt oil-and-gas industry. With her trademark black humor, Maddow takes us on a switchback journey around the globe-from Oklahoma City to Siberia to Equatorial Guinea-exposing the greed and incompetence of Big Oil and Gas. She shows how Russia's rich reserves of crude have, paradoxically, stunted its growth, forcing Putin to maintain his power by spreading Russia's rot into its rivals, its neighbors, the United States, and the West's most important alliances. Chevron, BP, and a host of other industry players get their star turn, but ExxonMobil and the deceptively well-behaved Rex Tillerson emerge as two of the past century's most consequential corporate villains. The oil-and-gas industry has weakened democracies in developed and developing countries, fouled oceans and rivers, and propped up authoritarian thieves and killers. But being outraged at it is, according to Maddow, "like being indignant when a lion takes down and eats a gazelle. You can't really blame the lion. It's in her nature.""--

Contents
Introduction: In a surrealist landscape
Splendor and fragrance
The genie
Stolen goods
Charlie Hustle
Thunder up!
Rex shrugged
A risk management problem
Poster boy
Practical realities
Who does that?
The other 1 percent
Ultrahazardous activity
A significant strategic step
Trust
The handsome hero
This ain't no disco
Such a man is born once every few decades
Putin zassal
All hail the mercenaries
His idea of America
Because they could
"We greatly value our relationship"
Pobeda!
"Yeah that was crazy"
Active appreciation
It all ties back
"All they have is this"
"Constituency trumps everything"
Containment
Published Reviews
Booklist Review:
"By almost any standard, the oil and gas industry can be viewed as a renegade enterprise that not only enjoys a sacrosanct protection from government interference but also flourishes, thanks to sweetheart tax breaks, bountiful subsidies, and lax regulations. Known for her intense inquiries into complex subjects, Maddow brings her laser-like intuitiveness and keen and wily perception to Big Oil, that stalwart of global economics, and the shadowy nexus of commerce and politics. Maddow likes murky, the murkier the better, and her examination of the intricacies of off-shore drilling, transnational pipelines, and hydraulic fracking is as deep as the coveted wells themselves. But there's more afoot than corrupt practices, including a labyrinthine connection between Oklahoma oil fields and Putin's Kremlin that goes a long way to explaining Russia's 2016 election interference. Cameo appearances are made by familiar Trump team members Rex Tillerson, Paul Manafort, and Carter Page along with Putin henchmen Igor Serchin and Dmitry Firtash and energy titans Harold Hamm and Aubrey McClendon. Maddow's trademark snark is on display, as is her geeky fascination with the minutiae buried beneath these massive social injustices. Like trailblazing journalists before her, Maddow exposes both the slapdash and sinister practices underlying geopolitics and energy policies and revels in peeling back the layers of malfeasance to stoke righteous outrage.HIGH-DEMAND BACKSTORY: As a best-selling writer and the Emmy-winning host of MSNBC's Rachel Maddow Show, Maddow has a large, enthusiastic following who will be eager to check out this important exposé.--Carol Haggas Copyright 2010 Booklist"
From Booklist, Copyright (c) American Library Association. Used with permission.
Publisher's Weekly Review:
"Petroleum-industry profits inexorably subvert good governance, argues this scattershot indictment of the oil and natural gas industries. Maddow (Drift), host of MSNBC's The Rachel Maddow Show, surveys Big Oil's recent misdeeds, including Western oil companies' support for Equatorial Guinea's Obiang dictatorship, the 2010 Deepwater Horizon oil spill, and blocking rules to regulate fracking practices that cause earthquake swarms and pollution in Oklahoma (while the same companies demand tax breaks). Anchoring the book is Russian president Vladimir Putin's cutthroat petropolitics. Maddow contends he turned Russia's oil and gas sectors into cesspools of corruption and inefficiency, seized well-managed private oil companies and arrested their CEOs, and made energy a foreign policy weapon while getting investments and technology from ExxonMobil. Maddow tells these stories in colorful, sardonic prose--she pillories Putin's campaign "to piss in the punch bowl of free elections all over the civilized world"--but the resulting hodgepodge doesn't always support her portrayal of oil and gas as a "singularly destructive industry" that "effectively owns" governments; her absorbing account of Putin's skullduggery is really about a vampiric government victimizing the oil industry (and includes an unconvincing link to Trump-Russia collusion theories). Maddow's absorbing but inconsistent exposé demonizes more than it analyzes. Agent: Laurie Liss, Sterling Lord Literistic. (Oct.)"
(c) Copyright PWxyz, LLC. All rights reserved
Additional Information