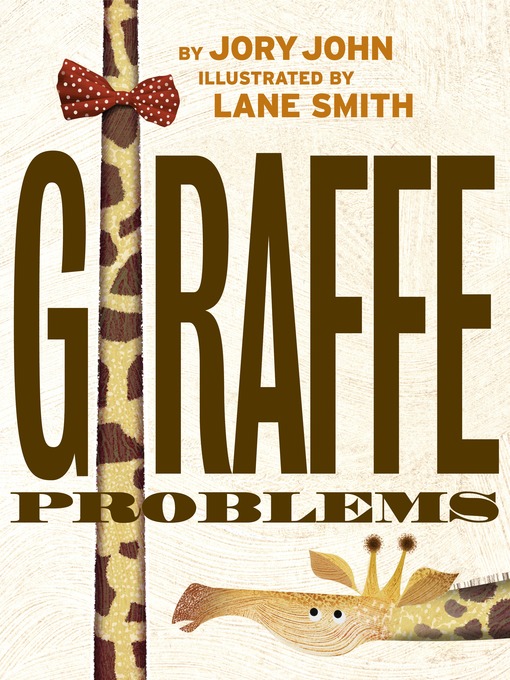 Giraffe problems
Format:

Kindle Book

2018

2018

OverDrive Read

Availability:

Available from OverDrive

1 of 1 copy
Summary
"A giraffe struggles to feel comfortable with his neck"--

Published Reviews
Booklist Review:
"*Starred Review* Less acerbic but no less engaging than the avian whiner in Penguin Problems (2016), Edward the giraffe frets about his prominent neck It's too long. / Too bendy. / Too narrow. / Too dopey and despite his mother's assertion that it's something to be proud of (Yeah, right,), he feels like all the other animals have cooler ones. Until, that is, he meets Cyril, a tortoise with the opposite issue (Pathetic, right? I'm basically neckless), and does him a solid by plucking down a long-coveted banana. You made it look so easy! marvels Cyril. Edward, face it your neck is impressive. Edward, abashed, compliments Cyril's own elegant and dignified neck, and off go the two new friends to explore the world from each other's radically different perspective. Never one to let an opportunity for caricature go to waste, Smith stretches Edward's neck to comical length in the brushy illustrations, decks it with neckties and shrubbery, and then after sending it sinuously spiraling and flopping through various scenes, shows on a climactic foldout that it's the perfect length to reach a bunch of bananas on a tall tree. That it's just right for a giraffe is a notion that Edward, not to mention young readers with self-consciousness issues of their own, will have no trouble swallowing.--Peters, John Copyright 2010 Booklist"
From Booklist, Copyright (c) American Library Association. Used with permission.
Publisher's Weekly Review:
"Nora Ephron felt bad about her neck, and Cyrus the giraffe feels bad about his, too. "Yes, my neck is too necky. Everybody stares at it," he sighs. He confesses to embarrassment ("I've tried hiding it away") and compares his neck to others' ("Take a gander at this zebra's neck. Stripes always look good"). Edward, a turtle, has almost no neck at all, but he also feels bad: "I've felt like such a fool as I stretched my neck toward those greedy branches, only to be limited by my own physical shortcomings." It's easy for Cyrus to retrieve the banana Edward's been eyeing for days, a moment that warrants a vertical gatefold, and being able to help Edward gives Cyrus more satisfaction than all the empty reassurance he's been offered. In this follow up to Penguin Problems, Smith (Grandpa Green) uses earth-toned greens, golds, and browns to create all kinds of brushy, stroked, veined, and lined textures, and his characters' black eyes convey a wealth of emotions. Lighthearted palaver by John (The Bad Seed) flows effortlessly, and the pair's courtly manners ("That means a great deal to me, Edward") are sure to garner laughs as their shared dismay rings true. Ages 3-7. (Sept.) © Copyright PWxyz, LLC. All rights reserved."
(c) Copyright PWxyz, LLC. All rights reserved
Additional Information