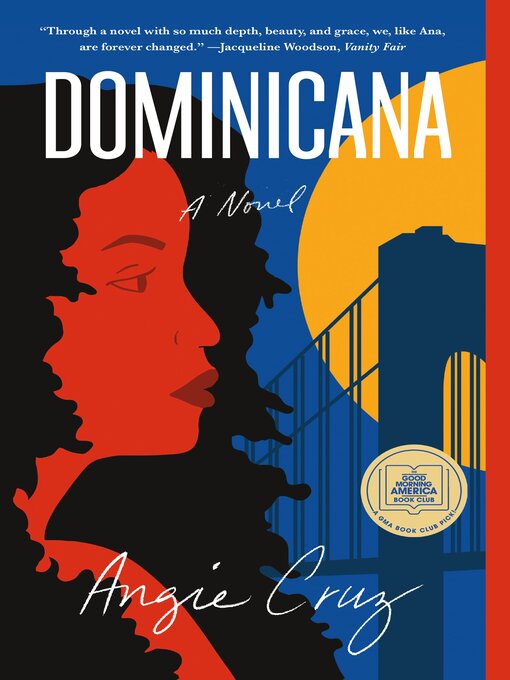 Dominicana a novel
Format:

Kindle Book

2019

2019

Adobe EPUB ebook

OverDrive Read

Availability:

Available from OverDrive

1 of 8 copies
2 people on waitlist
Summary
Fifteen-year-old Ana Canción never dreamed of moving to America, the way the girls she grew up with in the Dominican countryside did. But when Juan Ruiz proposes and promises to take her to New York City, she has to say yes. Their marriage is an opportunity for her entire close-knit family to eventually immigrate. So on New Year's Day, 1965, Ana leaves behind everything she knows and becomes Ana Ruiz, a wife confined to a cold six-floor walk-up in Washington Heights. Lonely and miserable, Ana hatches a reckless plan to escape. But at the bus terminal, she is stopped by César, Juan's free-spirited younger brother, who convinces her to stay. As the Dominican Republic slides into political turmoil, Juan returns to protect his family's assets, leaving César to take care of Ana. Suddenly, Ana is free to take English lessons at a local church, lie on the beach at Coney Island, see a movie at Radio City Music Hall, go dancing with César, and imagine the possibility of a different kind of life in America. When Juan returns, Ana must decide once again between her heart and her duty to her family.

Published Reviews
Booklist Review:
"Cruz masterfully provides insight into the 1960s Dominican immigration to the U.S. through the experiences of her 15-year-old protagonist, Ana Canción. The vivid descriptions of the pressures Ana endures at home set the context for her expedient marriage to the much older Juan Ruiz, who will enable her family to move to New York City. Cruz is consistently strong in her characterization and treats everyone from the desperately ambitious Mama to the conflicted Juan with empathy, while Ana is her crowning achievement as she emerges from girlhood to become a resolute and focused young woman. Sensual and fearful of sin, Ana struggles to choose between obligation and love, her husband and his younger brother. This is not an immigrant tale about magically achieving the American dream or any other successes; instead it captures the gritty reality of starting out in a new land with no real footholds. In Ana's fierce dreams for her child, and Juan's tender hopes for the next generation, Cruz creates an unforgettable portrayal of immigrant motivation. Cruz's ability to create mood and atmosphere with her distinctive writing style make her a strong voice in Dominican American literature.--Shoba Viswanathan Copyright 2010 Booklist"
From Booklist, Copyright (c) American Library Association. Used with permission.
Publisher's Weekly Review:
"The demands and expectations of family are an overpowering force in this enthralling story about Dominican immigrants in the mid-1960s from Cruz (Let It Rain Coffee). Fifteen-year-old Ana Cancion, living in the Dominican countryside, becomes Ana Ruiz when she bends to her mother's pressure and marries the brutish 32-year-old Juan, who has recently emigrated to America and is scratching out a living in New York. Juan and his brothers intend to build a restaurant on the Cancion family land back in the Dominican Republic, and part of the plan is for the brothers to first raise money by working in New York. When Juan brings Ana to the city, she's overwhelmed, learning hard lessons about the locals and her husband--who's abusive until Ana becomes pregnant--and she grows closer to Juan's younger brother, Cesar. Ana comes of age while the Vietnam War protests surge around her in New York, and when the brewing conflict in the Dominican Republic erupts, Ana becomes determined to earn her own money and bring her mother and siblings to the relative safety of the States. The intimate workings of Ana's mind are sometimes childlike and sometimes tortured, and her growth and gradually blooming wisdom is described with a raw, expressive voice. Cruz's winning novel will linger in the reader's mind long after the close of the story. (Sept.)"
(c) Copyright PWxyz, LLC. All rights reserved
Additional Information